A GoPride Interview
Travis Wall
All the Right Moves: An interview with dancer and choreographer Travis Wall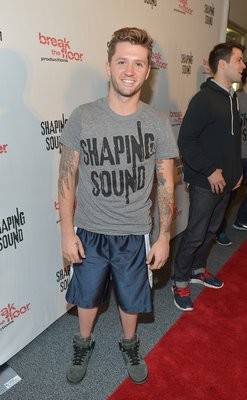 photo credit // shapingsoundco.com
Emmy nominee and "So You Think You Can Dance" Season 2 runner-up Travis Wall was born to dance.
The 25-year-old dancer and choreographer began training at the age of 3 in his mother's studio. At the age of 9, Travis started his career in a national TV commercial for Dr. Pepper. He later made his Broadway debut in The Music Man.
Travis has since appeared on "Dancing with the Stars" and "So You Think You Can Dance", where he remains the resident choreographer. He has choreographed for the Oscars, is a two-time Emmy nominee and now he's the star of his own reality show on Oxygen, "All the Right Moves."
Chicagoans will get a chance to see Travis Wall, along with friends Teddy Forance, Nick Lazzani, and Kyle Robinson, for Shaping Sound at the Harris Theatre.
JN:
(Jerry Nunn) Hey, Travis. I interviewed you for the reality show back when it first started.
TW:
(Travis Wall) Wow, that is amazing.
JN:
I remember talking to the group about hopefully bringing the show here to Chicago and now you are coming. Are you excited?
TW:
Pretty excited but we are still finishing the show so I will feel more excited when it is done.
JN:
So you are rehearsing down to the wire.
TW:
We are in the middle of rehearsals right now.
JN:
Thanks for taking time out to take a breather. Sit down for a second! Where is your first stop on the tour?
TW:
We open in LA.
JN:
Tell our readers about the show. It's modern dance?
TW:
Yes, it is contemporary. We are all technically trained and grew up taking different styles of dancing so we have all of that in our pocket. It is contemporary but very music driven. There are different pieces of music to make us move differently.
JN:
Do you have a favorite section that you are particularly proud of?
TW:
I haven't really seen everything in order because it is a full show and an hour and a half long with an intermission. Every piece bleeds into another.
There will be a lot of moments that will be memorable. There will be visuals that people will really like. There are intimate moments with just two people onstage. There are fourteen of us but lots of single moments.
JN:
What kind of music are you using?
TW:
We will be using songs everyone will know like "Bohemian Rhapsody." We will use older classics like "Sing, Sing, Sing." There will be a speakeasy scene so there will be separate scenes that happen inside of a dream so it causes for a lot of different types of music. There is electronic as well as beautiful classical music. There is alternative and contemporary music. The show is based off our music. We sat down and picked music that we wanted to choreograph to. We wanted to make it all tie together in the story. Music is definitely our biggest inspiration.
JN:
How are the costumes?
TW:
It is awesome this time that I don't have to be literally cutting costumes two minutes before we go onstage and sewing backstage. The past two shows I have done all the costumes. Now we have a costume designer and she just came in today. She is from New York. The costumes are amazing and so good. They are very ethereal and set in a certain era like for the speakeasy scene. They are really gorgeous. With dancers bodies everything fits very well.
JN:
That is the trick with costuming dancers. It has to be something to move in but look good at the same time.
TW:
Absolutely.
JN:
Do you stretch all day before a show?
TW:
We start with a ballet class first to warm our bodies up. We all needed that to begin with. We wanted to improve ourselves as a company and our technique. We are moving everyday. A lot of our rehearsals are teching everyday where they are doing the lighting and stuff so there is a lot of sitting around. It is hard to keep warm but we do have to.
JN:
How do you feel All The Right Moves turned out?
TW:
It wasn't really what we had in mind. Money was an issue with getting the music that we wanted cleared. During meetings we talked about all these numbers we wanted to do. We had to TV everything. We had to dance to pop music and be very commercial. That was what Oxygen really wanted and not our cup of tea. We lost creative process in our own show. We didn't have enough time to work on the concept of the show and filming.
It is a completely different process now because we have room and there are no cameras. Our time together is a lot nicer. We did get great exposure from the TV show as far as what the dance company is. A lot of people know what Shaping Sound is now. We got this tour because of it so I am so happy we did it. I got what I wanted out of it.
JN:
So no more seasons of it?
TW:
Our producers thought about selling it to another network but it doesn't make sense any more since we don't all live together. I have a boyfriend now. We are all separated. We are going on tour so it is better to do this than a reality show.
JN:
I think the concept of two gay guys and two straight guys mixing it up is a good concept for reality TV. I would like to see more of that in general.
TW:
Well, it is still happening! [both laugh]
JN:
You are up for an Astaire Award for dancing?
TW:
Yes, I was nominated last week. It was for the work I did in the movie Step Up 4.
JN:
Congrats, when do you find out if you win?
TW:
June 3rd. I didn't even know I was nominated. Someone just sent me a playbill to tell me. That was cool.
JN:
It must be like living in a bubble rehearsing all the time.
TW:
I literally have been living in a bubble because of this show. I haven't been sleeping. This thing consumes every moment of my life.
JN:
With You Think You Can Dance starting up again are you choreographing any of that?
TW:
Yes, when I get off the tour I will start working on that. It will be around the time of the top twenty duets so I will be off just in time for that.
JN:
Perfect. Any fun plans while you are in Chicago?
TW:
I don't know if we have a day off but if we do then we will find something to do.
JN:
Maybe we can hit the gay bars after the show.
TW:
That would be amazing. Let's definitely do that.
JN:
See you in Chicago soon and don't work too hard!
See Shaping Sound at the Harris Theater, 205 E. Randolph St, on May 28 at 8:00 p.m.

Visit www.harristheaterchicago.org for tickets and details.
Interviewed by Jerry Nunn. Jerry Nunn is a contributing writer to the GoPride Network. His work is also featured in Windy City Times, Nightspots Magazine and syndicated nationally. Follow @jerrynunn