A GoPride Interview
Del Shores
Sordid Lives: Del Shores returns to Chicago with special performances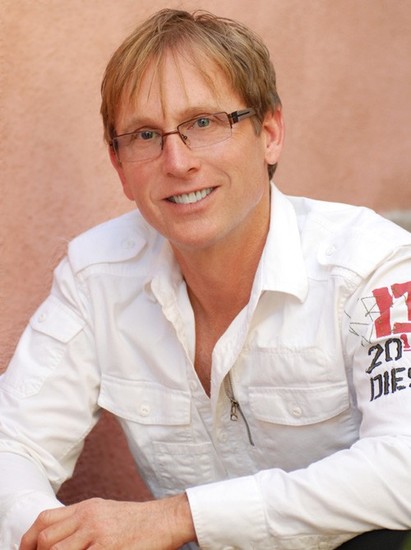 photo credit // alan mercer
Del Shores does it all. He is a writer, producer and actor involved in television, movies and plays. His first play called "Daddy's Dyin': Who's Got the Will?" was adapted into a feature film.
This led to his fourth play "Sordid Lives" becoming a huge hit, which included a screen version and a television series of the prequel.
Shores has been currently touring a new one-man show entitled "Naked. Sordid. Reality." That show brings him to Chicago at Mary's Attic. "Sordid Lives" also returns to the stage locally this weekend with a special midnight performance at the Athenaeum Theatre.
JN:
(Jerry Nunn) Hi, Del. So you are out on the road on tour right now?
DS:
(Del Shores) I am driving out on the road calling you from Birmingham and heading to Murfreesboro, Tennessee. I have a show there tonight.
JN:
My brother lives there.
DS:
Well, tell him to come see my show. It is not quite sold out. It is in a tiny little theater. I think it seats 50 people and there were 48 tickets sold this morning!
JN:
Tell our readers about this show Naked. Sordid. Reality.
DS:
It is like all of my stand up and one man shows. I say in the show that Naked implies exposure. I am going to talk some shit and tell the truth. When old southern women get around 70 or 80 years old then they get permission to say whatever they want and I have just decided to start early. Whatever I think I say so it changes from night to night. I have my standard stories of the past but I really play off the audience. It has ingredients of my older shows as well. I have a real fun letters to Kirk Cameron and Newt Gingrich. I always talk about inspires me to write. I talk about my visit to the real Aunt Sissie. So I talk about ten minutes on that.
JN:
What does the "Real" part entail?
DS:
The Reality part of the show is that I do like reality shows. I combine my love of acting and reality television. I have literally lifted dialogue from reality shows and I act it out. I play all these characters from Hoarders. I play a white trash woman from Alabama to Dr. Robin Zasio, the clinical psychologist. That is my favorite piece to perform in the entire show. It tears it up and I did not change a word!
I do another scene from The Real Housewives of Orange County. I channel Alexis Bellino with a toast she gave to the 40 year olds at her twin's party. It is the most whacked narcissistic toast that I have ever heard in my life.
Then I talk about the divorce and my pain. It is amazing the response I get from that piece. It is done with thought, insight, and humor.
There is a huge piece about church and religion. That seems to be a recurring part of my work. I tell the most f*cked up church story that came out of my life. I have asked 20 cities so far if anyone can top that one and nobody can!
JN:
Were you raised southern Baptist?
DS:
My daddy was a southern Baptist preacher. My brother still is in the ministry.
JN:
I just saw your friend Olivia Newton-John perform recently here.
DS:
Oh yay. I knew she was going to be there but haven't talked to her in a few days. I just love her so much.
JN:
She did a nice job and is coming back.
DS:
I saw her perform before I even knew her. Olivia is the sweetest person and just like her image. That is who she is. It is crazy that we are friends and I was a huge fan before that. You forget very quickly about her being such a super star. I think Levi Kreis was there the same weekend.
JN:
Yes, he was also here for Market Days.
DS:
He is attached to star in a movie that I am writing right now.
JN:
Let's talk about that.
DS:
The one great thing about something earth shattering happening in your life is that it does shake you up creatively. Initially it closed me down and I was a mess. If I had any more religious people in my life I would have been on a lot of prayer lists. I got through it and it was almost like gasoline was thrown on my creative mojo. I am back. I got this tour. I have a couple of projects television wise. My production company is teaming up with Emerson Collins who produced my new movie Blues for Willadean that is coming out.
Louise Beard who produced my play Yellow has teamed with me to produce small movies with the plan to tell stories that normally would not get to be told. It will be a medium that will be fun and economical. I am filming a stage version of Southern Baptist Sissies with Leslie Jordan and Ann Walker. After that I am writing and directing a mockumentary not unlike Bernie or Christopher Guest. The Happy Holloways is about a gospel singing family that is on their last toenail of fame. They are trying to come back. Levi is their cash cow and he has left the group. Leslie plays their manager. It is whacked, wonderful, and fun. It is very inspired by what I do onstage. Caroline Rhea is attached to it and Ann Walker again who I just love.
JN:
Sounds like you have a group of actors that you like to work with such as Christopher Guest and John Waters.
DS:
If I like an actor then I continue working with them. I have been working with Leslie Jordan since 1985. He was in my first play.
JN:
You have been able to watch him rise to fame.
DS:
It is wonderful. I love watching my friends succeed. I have a new movie that is based on my play The Trials and Tribulations of a Trailer Trash Housewife. It was shot in Atlanta last year. It stars Beth Grant, Dale Dickey, David Steen, Octavia Spencer, and Debby Holiday. I was able to give every actor that created their roles onstage their roles in the movie. Octavia won the Oscar last year. Dale Dickey is tearing it up on True Blood right now. David Steen just finished Tarantino's new movie and has a huge role. Debby Holiday is our gay diva, who is having hit after hit.
JN:
How did you feel about Octavia winning the Oscar for The Help?
DS:
For me I was more thrilled than any award I have been handed. I haven't been given an award that big but I have a few on my mantle. I was ready to come out of my body when she won! The writer Tate Taylor of that movie was an original cast member in Sissies and played Olivia Newton-John's boyfriend in Sordid Lives the Series.
JN:
It all comes together. After your performance there is a midnight show of Sordid Lives in town.
DS:
I am going to kill myself because I am going to that after then playing Cincinnati the next day for two shows! That will be a night I can't drink. I need at least six or sevens hours of sleep.
JN:
We can party next time you are in town.
DS:
Well, maybe just one or two…
Look for Shores at Mary's Attic above Hamburger Mary's, 5400 North Clark Street, on Sept. 7 at 9:00 p.m. Visit www.delshores.net for details. To see Sordid Lives head to the Athenaeum Theatre, 2936 North Southport from Sept. 6-8. Call 773-935-6875 or visit www.athenaeumtheatre.com.
Interviewed by Jerry Nunn. Jerry Nunn is a contributing writer to the GoPride Network. His work is also featured in Windy City Times, Nightspots Magazine and syndicated nationally. Follow @jerrynunn