A GoPride Interview
Pandora Boxx
Pandora Boxx: I am excited to be back. I love Spin and Chicago.
I am excited to be back. I love Spin and Chicago.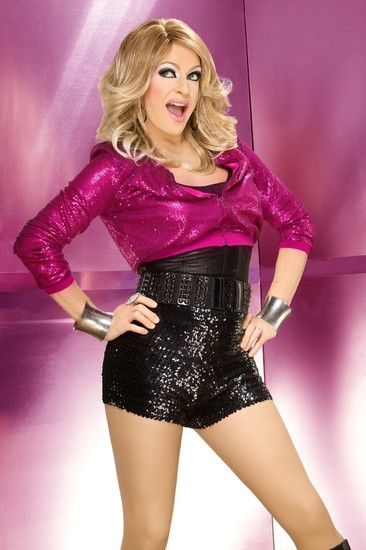 photo credit // nick lovell
Pandora Boxx wants to entertain "U", interview by Jerry Nunn
Known for her comedy and campy style, Pandora Boxx was a fan favorite on the second season of RuPaul's "Drag Race." Although she didn't win that season, Boxx was able to go on to win Miss Congeniality by endearing the audience with impersonations of Carol Channing and Kathy Griffin.
Boxx has since become one of the drag "professors" on RuPaul's "Drag U" where she returns for a third season, starting June 18 on Logo.
Without the wig, Boxx is Michael Steck, from Rochester, N.Y.
Wig in place, the New York host and comedian heads back to Chicago for a return performance at Spin Nightclub on Saturday, June 16th.
JN:
(Jerry Nunn) Hi, Pandora. The last time I saw you perform was in Boston. I was writing a travel story and you popped up at a bar there.
PB:
(Pandora Boxx) Was it Club Café?
JN:
Yes, it was.
PB:
That was fun. Everyone was really drunk!
JN:
Including myself, yeah! (both laugh)
PB:
We all had a great time but I was just surprised that everyone was intoxicated very early.
JN:
Good thing the Spin appearance is later at night. Is this the first time you have met The Princess?
PB:
No, I met her at the premiere party here in LA. It was very brief because it was a hectic night.
JN:
What did you think of this past season on RuPaul's Drag Race?
PB:
It was a great season. They had a lot of fun. There were lots of different characters on the show. I say, "characters," I know they are real people but it was an interesting mix of queens from the show.
I wrote a weekly recap of the show for NewNowNext so I had to re-watch the show and pay attention. I think the show is the strongest it has been. They know what to do and the challenges are a lot better and more fun. They have a bigger budget so they can do a lot more. I thought it was a great season.
I love that Sharon won because she is so different than previous winners. I think she represents a new style of drag.
JN:
I agree. Drag U is starting again.
PB:
It starts this month.
JN:
I know you can't tell me a lot about it but I heard that it is revamped.
PB:
Yes, they made a few changes to it. It is kind of hard to know. We shot it but don't know what it will look like until it is done and on TV. It is focused more on giving the women life lessons to take with them. It is still making them over in drag but giving them more to take home.
JN:
Is it hard to get screen time on Drag U? Do you feel like Raven and the gang tried to hog it all?
PB:
(laughs) I guess it is always a concern. You want to get the most screen time you possibly can but I do my own thing. If they use it then they use it, if they don't, they don't. I can't force them to give me more screen time and I don't want to be like, "Look at me!" It would come across really fake, although not like dressing up like a women isn't fake at all…
JN:
What is going on with this RuPaul's All Stars show?
PB:
I don't really know anything except it is going to air in the fall.
JN:
I went to the Kathy Griffin show last night and thought of you.
PB:
She is amazing.
JN:
You have met her before, right?
PB:
I did. I met her at Syracuse University and they did a meet and greet but it was really quick then. I was out of drag. I got a picture with her and it was fun.
I did meet her on Drag Race. Usually you don't get to meet the judges because you are like a prisoner on Drag Race. It is like a high fashion prison! You can't use a computer and you are kept on lock down but she wanted to meet me and I was called out to the runway after everybody was done. I thought I did something wrong. Then I saw her and we talked and took a picture.
JN:
I heard there a lot of rules with the Drag Race. What is the biggest celebrity you have met?
PB:
Joan Rivers. I met her in New York City after her show. She said I was gorgeous so I was thrilled! She is really hysterical. Her live shows are really dirty too.
JN:
Do you go to shows and concerts in drag or do you just want to relax as a man?
PB:
I usually only get in drag when I am performing in my own show. With Joan Rivers I knew I was going to meet her so I went in drag.
JN:
What has been your favorite song to perform recently?
PB:
My new single called "Nice Car!" that will be available on iTunes in June.
JN:
That is a nice segue! So you have a new single on the way?
PB:
I do. It is a dance song, but it is funny. It is about how sometimes the guys with the nicest cars have the smallest penises!
JN:
Isn't that so true? You hit the nail on the head with that one! Is the video made yet?
PB:
No, the video is not made. We are in the process of figuring out how it is all going to work. We are fine-tuning the song. It needed a little more work. It's sounding really great. I worked with a songwriter from San Francisco named Shango. I think people are really going to like it.
JN:
What is one thing you have learned by working with RuPaul?
PB:
RuPaul is very funny and very generous. He has been around for a long time so he has gone through all different stages of his career. He says that if you believe in yourself that you can make things happen. He is kind of like the Oprah Winfrey of drag.
JN:
He has a positive message and shows you can branch out and do music.
PB:
We can all do more than just lip synch in a bar. I never thought I would release a single and I did.
JN:
I look forward to seeing you perform at Spin.
PB:
I am excited to be back. I love Spin and Chicago.
See Miss Boxx live and in person at Spin Nightclub, 800 W Belmont, on June 16 with ticket information at www.spin-nightclub.tix.com.
Interviewed by Jerry Nunn. Jerry Nunn is a contributing writer to the GoPride Network. His work is also featured in Windy City Times, Nightspots Magazine and syndicated nationally. Follow @jerrynunn