A GoPride Interview
Martika
Martika: The fashion and the good vibes are definitely there. I spent half of my life in the gay clubs.
Wed. November 23, 2011 by Windy City Times
The fashion and the good vibes are definitely there. I spent half of my life in the gay clubs.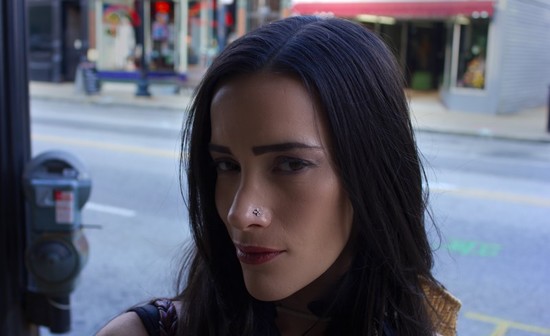 photo credit // ©2011 j8ded pictures llc
'90s star Martika: Chicagoan is still going strong, interview by Jerry Nunn for Windy City Times
Martika marched into our hearts with the song "Toy Soldiers," selling more than 4 million copies worldwide in the early '90s. She starred as Gloria in the long-running television show Kids Incorporated as a child and showed her acting chops with last year's web-based J8ded as Lolly Pop.
What new music has been cooking for Martika? We found her kitchen right in the Windy City!
WCT:
(Windy City Times) Hello, Martika. So you live in Chicago?
M:
(Martika) Yes, my husband has some ties in Chicago. I spend a lot of time there and in New York and LA. I just bounce around a bit.
WCT:
I heard you are in the recording studio.
M:
We are making a really cool record right now. It will be a club record with a hardcore dance mix. It is more intense than anything I did before in that department for sure. I'm a club kid at heart. That is where I started. I am excited from a dance perspective to have this project.
WCT:
We would love to have you at the gay clubs.
M:
I would love it. Are you kidding me? That's where all the cool people are. Everybody knows that! The fashion and the good vibes are definitely there. I spent half of my life in the gay clubs. I can't wait to get out and do some shows.
WCT:
How early did you start performing?
M:
I guess the first time I was on a stage was when I was 4 years old. That was the first time I remember putting on a costume and makeup at a dance recital. [Laughs] I started pretty young. I guess I liked the spotlight.
WCT:
I read you were in Annie the musical movie. Do you still go back and watch that?
M:
I have friends still call and say that they saw me in it. It was wild to be a little kid and go to a big movie studio with another 40 little girls and their bratty mothers.
WCT:
Stage mothers everywhere…
M:
It was quite an interesting experience for me. Picture myself as a little kid with John Huston's arm around me in the director's chair. He seemed like a grandpa to me and I had no idea who this person was. I got to be around Carol Burnett, Tim Curry, Albert Finney and Bernadette Peters. It was an incredible cast of talent and people.
WCT:
I am a huge Carol Burnett fan.
M:
She was amazing! She was so great as Ms. Hannigan. It was an honor to have worked with her.
WCT:
My brother used to watch Kids Incorporated on television all the time.
M:
Yeah, that show was a trip! It was bright. Our wardrobe mistress was actually a very flamboyant gay man. He was a very overweight drag-queen type. When I was in his wardrobe room, honey, I was in happiness. It was feathers, sequence and bright colors. Some of the other kids didn't appreciate all of the showgirl looks that they put on boys that would probably one day turn gay. It was awesome there. I had so much fun in that wardrobe room.
WCT:
You worked with Prince on the album.
M:
We didn't actually work in the studio together. It was from a distance. He wrote some of my lyrics. I got to see Paisley Park and I watched some of New Power Generation. I did get to have my Prince moment. It was cool to see some of the inside scoop on that world.
WCT:
What was it like when Eminem used a sample of "Toy Soldiers" in his song?
M:
I just got a call out of the blue. Apparently, he was a fan of that record when he was young. Of all fans, that a huge superstar like Eminem would choose my song to record was pretty cool. They called and wanted permission to work a sample of "Toy Soldiers" into a new record. I was totally honored. When I get out there and start singing it, my kids are going to ask, "Why is mommy doing the Eminem song?"
WCT:
Where are you from originally?
M:
I am originally from Los Angeles. I was born and raised a California girl. My family actually came to this country in the early '60s from Havana, Cuba. My immediate family were all prodigal refugees from Cuba. I have one older brother who is the first in my family to be born in American soil. I am first-generation North American.
WCT:
You speak Spanish?
M:
Oh, si. [Speaks in Spanish] I speak Spanish because my grandparents always spoke Spanish in the house. I have a very strong Cuban culture in my family. I think people come to this country and want their children to assimilate as much as possible so they won't have discrimination or extremely proud from where they come from. I got that one. I am Cuban, papi!
WCT:
Are you still working on your Oppera Spanish music project with your husband?
M:
We haven't done an Oppera CD in a while, just the two. I don't know if we will make another one or not. Right now I am focusing on a Martika project because I haven't made a record in so long. So many people have been asking over the years. We also have been working on an Internet series for a while called Jaded.
WCT:
Do you know approximately when the new music will be out?
M:
This year is the plan and this fall. I don't have an exact release date yet because we are in the studio making it but definitely this fall. I will get out and start performing some of the new material as well.
WCT:
How can people keep up with you?
M:
My twitter account is MartikaTunes and have links to my Facebook on my website. There are several Martika Facebooks out there and have links to my official one but if they are on facebook/toysolderiersarmy they can find me. We just launched my official social media recently.
I have some really hardcore fans so hopefully not confusing to them. My army of toy soldiers is starting to grow in numbers and unify with the social media. I am video-blogging and there are pictures of me in the studio. There is always a camera in my face! I'm making some "forget your troubles" music in these hard times as well as playing older songs that I haven't played in 20 years!
Martika's official website is www.martikamartika.com/home.cfmInterview by Jerry Nunn for Windy City Times
Interviewed by Windy City Times
Serving the Chicago gay, lesbian, bisexual and transgender communities. ©Copyright 2019 GoPride Networks. All rights reserved.