A GoPride Interview
Ari Gold
Ari Gold interview with ChicagoPride.com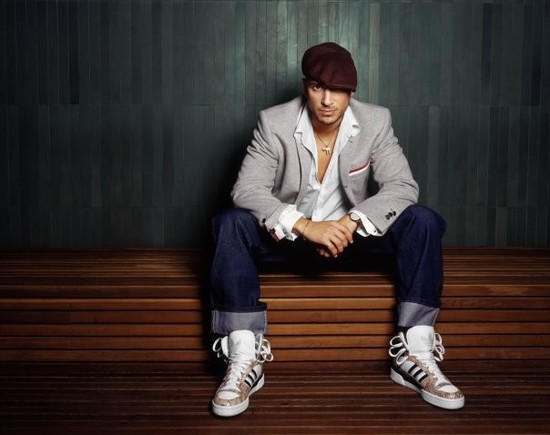 photo credit // arigold.com
Ari Gold, the openly gay Jewish pop singer, is often hailed as a pioneer for coming out as a gay recording artist in 2000 and has since commanded respect in the music industry. Now Sir Ari is bringing his gay entourage to Ft. Lauderdale where he will be performing during
FORTitude Weekend
, a new LGBT benefit weekend featuring over 12 events during President's Day Weekend. It's time for a vacation in the Sunshine State where "Love Will Take Over." Here Gold talks to the GoPride.com Network's Jerry Nunn.
JN:
(Jerry Nunn) How are you?
AG:
(Ari Gold) You take the good, you take the bad you take em both and there you have the facts of life!
JN:
Where in the world are you right now?
AG:
I'm in my hometown NYC! Just celebrated a birthday with all my friends and the incredibly talented artist community I have in New York City.
JN:
Happy birthday! How did you get involved with Fortitude? Ready for some warm weather?
AG:
My last album was distributed by Centaur Music and the owner of that is producing the event so he asked me to do it cause it also helps raise money for a cancer charity he started after his Mom passed.  It's cold here in NYC and there's nothing I love more than the sun and performing so I'm looking forward to both! They better not have rain when I get here!
JN:
Do you work out to keep that body in shape?
AG:
I work out pretty hard, but I'm lucky to have the kind of genes that respond quickly to the gym.
JN:
What do you think of Entourage stealing your name?
AG:
It's pretty trippy to think about fighting for gay visibility within pop music and then having this homophobic straight character becoming so visible. The real and the truth always have to fight to come out!
JN:
Are you into the S&M scene? Your video for "Make My Body Rock" is all about the leather!
AG:
Leather can definitely be sexy and exploring the psychology of S & M is something I've always been interested in.
JN:
Do you like vampires? True Blood watcher?
AG:
I love True Blood! The video for "Body Rock" is a True Blood meets Mad Men deconstruction of heterosexual marriage.
JN:
What do you think of the music business and being an out musician?
AG:
Being out since the beginning of my career and getting to write about this fascinating life and representing an underrepresented community is a huge gift that I take very seriously. As far as the music business? That's a whole other story!
JN:
Are you working on new music?
AG:
Yes! I just finished my 4th studio album which is coming out this spring and I can't wait to debut new material at FORTitude!
JN:
Who would you like to work with but haven't?
AG:
Prince and George Michael
JN:
Good choices. What is your website for fans to visit?
AG:
arigold.com
and follow me on Twitter/
sirarigold
JN:
Are you coming to Chicago anytime soon?
AG:
Chicago is one of my all-time favorite places in the US to perform. Performing at Wrigley Field for the Gay Games was a big career highlight.
JN:
I saw you there!
AG:
The audiences in Chicago really appreciate good music and artistry and I can't wait to come back.
In the meantime head to Fort Lauderdale where he appears with Taylor Dayne and Deborah Cox among other artists on Sunday, Feb 20 during FORTitude Weekend, Feb. 17-21, 2011 in Fort Lauderdale. . For tickets and schedule visit fortitudeweekend.com. The GoPride.com Network is a proud sponsor of FORTitude Weekend.
Interviewed by Jerry Nunn. Jerry Nunn is a contributing writer to the GoPride Network. His work is also featured in Windy City Times, Nightspots Magazine and syndicated nationally. Follow @jerrynunn