A GoPride Interview
Diamond Rings
Diamond Rings interview with ChicagoPride.com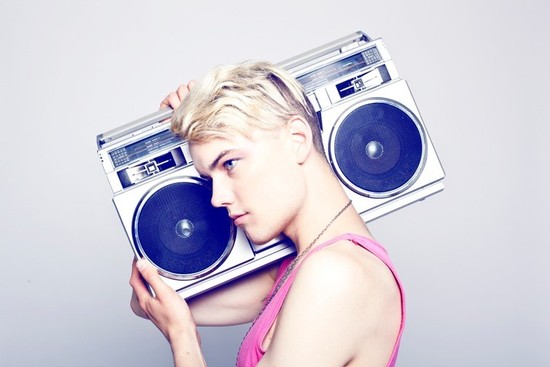 photo credit // norman wong
The singer Diamond Rings has an engagement opening for Robyn in concert. John O' Regan is a Canadian performance artist ready to take over the music scene. GoPride.com went behind the scenes to find out about the man behind the jewelry.
JN:
(Jerry Nunn) Hello, John. Where did the name Diamond Rings come from?
DR:
(Diamond Rings) The name is multifaceted like a diamond itself. On one hand, it's bright, glammy, shiny, poppy, captivating people and holding their attention. Beneath that is my music, there is something deeper and harder about it. That's real and powerful. I like the distinction between those things.
JN:
The problem is when I try to Google you all these actual diamond rings pop up.
DR:
Yes, it depends on the time of year. It may be a hot time to be proposing or something, sometimes its there and sometimes its not. If you type in Diamondringsmusic.com that should work. If you refine the search a little it will probably get you what you want.
JN:
Good. Where are you from?
DR:
I live in Toronto.
JN:
How did you meet up with Robyn?
DR:
I am into her music and knew she was going out on tour. I threw her name in the ring and came out with a really great opportunity.
JN:
It is. The show is already sold out. Have you been to Chicago before?
DR:
Yes.
JN:
Lollapalooza would be good for you also.
DR:
Sure. If they want me to hang out, I would be more than happy.
JN:
Let's talk about your new album.
DR:
It's a pop record. I made it using Garage Band. It was my first attempt at making electronic music and writing pop songs from a personal perspective.
I am proud of it.
JN:
You made it with Garage Band, an application on a MAC?
DR:
Most of it, yeah, all of the backing tracks. It originated on my roommate's laptop that I borrowed. A lot of the songs are very simple and direct mostly because the computer that I was recording on was so old that it couldn't handle more than a dozen tracks at once without crashing. I am into working within limitations. After that I have moved on towards to software like Ableton. I am using that to power my live show. That was a good place to start. I wanted to make music and that was the easiest and the cheapest, the most direct way.
JN:
Interesting. What kind of music influences you?
DR:
Arthur Russell, Kraftwerk, Devo, TLC, Salt-N-Pepa, Janet Jackson and Grace Jones.
JN:
Good choices and very eighties.
DR:
Yeah, a bit of that. I really like some of the Rihanna song that I have been hearing on the radio. Oh, and Kylie Minogue puts out a lot of great records. Anything that's real, honest and daring I am into it.
JN:
You have a glam image with the makeup and the eighties way you dress.
DR:
Yes, I do.
JN:
Are there lyrics with a gay connection on the album?
DR:
The whole record is about self-identity and questioning. There is also uncertainty and fear throughout. I am trying to understand and relate to those emotions. I wouldn't say that any one piece is more specific than another. It is not really my style to come out with anything incredibly direct or politically obvious. I am into more nuanced lyric writing. That is the only music that I find interesting. Where people can get a sense of understanding of what you are talking about while still attaching their own meaning to it.
JN:
Have you listened to Dan Black?
DR:
No.
JN:
You should check him out, in some ways his is similar to you as an artist.
DR:
Wicked.
JN:
Well, Robyn blew it out of the water last time so looking forward to seeing you open up for her.
DR:
We did the first show of the tour last night and it went great.
JN:
This will bring you a lot of exposure, so I am happy for you.
DR:
Cheers!
Diamond Rings shines on The Riviera Theater, 4746 N Racine, on Feb 11. To find your diamond in the rough visit diamondringsmusic.com
.
Interviewed by Jerry Nunn. Jerry Nunn is a contributing writer to the GoPride Network. His work is also featured in Windy City Times, Nightspots Magazine and syndicated nationally. Follow @jerrynunn