A GoPride Interview
Derek Saathoff
Derek Saathoff interview with ChicagoPride.com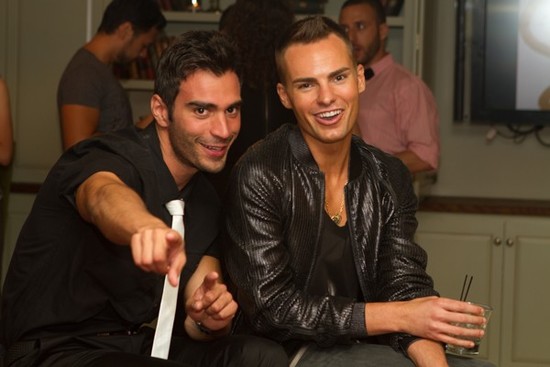 derek saathoff (right) in logo's a-list
Derek Saathoff from The A-List: New York showed what living the good life and spray tans are all about in the popular Logo reality series. He visits Chicago's Spin Nightclub, 800 W. Belmont, on Saturday, Dec. 11.
Derek spoke ChicagoPride.com's Jerry Nunn right after the finale of the show. Here he dishes the behind the scenes details first hand.
JN:
(Jerry Nunn) Hey, Derek. I just watched your big finale.
DS:
(Derek Saathoff) Woooo, I am so glad it's over.
JN:
How do you feel everything came out?
DS:
I am really happy with everything. Everything I said I don't regret. Everything that came out I felt was honest and it was my general feedback from what I saw. Of course there are some things that I say that I am a little embarrassed about. I can't take it back and realize that words have weight. I have to take responsibility for those. But all in all I was really happy about how I was portrayed.
JN:
I thought you were funny.
DS:
Thank you. I had a few bitchy zingers.
JN:
Up until the very end…
DS:
Oh gawd, it became too much at some point! I was so tired of talking about the relationship with those two. Spending a weekend away with them was too much for me. You just saw it all, we just got back from Maine and it was so intense. The whole thing was them talking about their dumb relationship. I was ready to get it over with.
JN:
They were really under the microscope with that relationship.
DS:
Yeah, they opened up about it so much. I realized that very quickly with filming the show. You can control exactly what you want shown out of your life. They didn't understand that and opened up everything, you know?
JN:
Yeah, too much! (both laugh)
DS:
They talked about unprotected sex. I would never feel comfortable talking about that on camera.
JN:
They let it all hang out I guess.
DS:
Exactly, no pun intended.
JN:
I had talked to Reichen before the show had started so I didn't really know what to expect. It would be a different interview now I think.
DS:
Oh, I am sure. Everyone tries to blame things on editing and it showed them in a certain way. He knew it was going to happen. He had been on a reality television show before in the past.
JN:
That's true.
DS:
If anyone should have been ready for it, then Reichen should have been extremely ready for it.
JN:
That's a good point. You had a little bit of a romance on the show.
DS:
I did.
JN:
Have you seen him around?
DS:
Well, I will say for story plot reasons there are a lot things that they didn't show. We broke up in September during Fashion Week and we haven't seen each other since. That is one thing I will say, I understand how Reichen and Rodiney are under the microscope. Roberto was older and not really down for filming so it was difficult for us. It just didn't work out. The timing was wrong and we want different things in life.
JN:
And you are younger.
DS:
I am 27.
JN:
So you are single right now then?
DS:
Yes.
JN:
And you are coming to Chicago, maybe you will meet a boy here.
DS:
Yes. Who knows? Maybe I will move to Chicago! I could do an A-List: Chicago.
JN:
They should do that.
DS:
They haven't even had a Real Housewives of Chicago.
JN:
They have talked about it but it has not happened yet. Is there going to be a second season to this show?
DS:
All signs lead to yes. But we don't have the official confirmation yet. They are looking to other places to maybe do an A-List: Los Angeles or Dallas. But we will know here shortly. I think that would be stupid not to after all our ratings. But I am not sure of all the people who would come back or be interested in doing it again.
JN:
I just talked to Mike Ruiz and he wasn't a big part of the show.
DS:
He came in being scared of how the show could be perceived in a negative way. He didn't want to be involved in a lot of the drama. He didn't take part in many of the group settings. He was doing his own projects. Afterwards, he said he wished he had participated more. But you can't go back.
JN:
Yeah, it's done.
DS:
Exactly. I am sure if they asked him back I am sure he would and be more involved second season. We will see.
JN:
Austin told me he only spent about 30 minutes with Mike the whole time.
DS:
I think all of us can say that it was pretty awkward. Where was our sixth cast member? All the time we asked if Mike was coming. When he actually showed up it was strange. At the beginning we had to get to know each other and that was the most difficult part for me. It was hard for me to have things in common with a 47 year old when I am 27. We were at different places in life.
JN:
Did you know any of these people before the show?
DS:
I did. I had met Reichen a couple of years ago. I had met Ryan and T.J. last year. Austin and Rodiney I didn't know from before or Mike, well I knew who he was but didn't know him personally.
JN:
How did you wind up auditioning for the show?
DS:
I just got a phone call. They asked if I would do a reality show. It was called Kept at the time and it was about younger people looking for rich people. That's when I met Ryan because we did a teaser for it. They later switched the concept and asked us to the do A-List: New York. There were a few names that it went through first. They didn't even tell me. I read about it in the Gawker to find out I was in the show. So I didn't really audition for it but went in and just talked about my life.
JN:
Your and Austin's relationship really changed over the show and was entertaining to watch.
DS:
I couldn't stand him in the beginning! He's one of those people that's not from New York, he just spent some time here with Marc Jacobs a few years ago. He was pushing my buttons and was loud and obnoxious and I was not having that. He was a loose cannon. I couldn't predict what he was going to do. When we were at Fire Island, he got wasted and came at me like no other. I wasn't going to allow him to do that. We had words for sure. He apologized and I saw a different side to him that I had not seen over the summer. I don't think that came across on TV, which is fine. He's a nice kid and he's young. He's twenty-three years old and trying to figure out what he wants in life. I felt bad for him at some point. Who hasn't been there? He needs some guidance.
JN:
He's fun to hang out with. I got to meet him when he was here.
DS:
Oh, yeah, so fun, right?
JN:
Get a few cocktails in him and he's a blast! We will have to have a drink when you are in town.
DS:
For sure!!!
Derek appears live along with Austin Armacost at Spin Nightclub, 800 W. Belmont, Saturday Dec. 11 from 11pm to 2 am. There is a $5 cover or $10 VIP meet and greet, visit www.spin-nightclub.com for details.
Interviewed by Jerry Nunn. Jerry Nunn is a contributing writer to the GoPride Network. His work is also featured in Windy City Times, Nightspots Magazine and syndicated nationally. Follow @jerrynunn