A GoPride Interview
Constantine Maroulis
Constantine Maroulis interview with ChicagoPride.com
Wed. September 15, 2010 by Windy City Times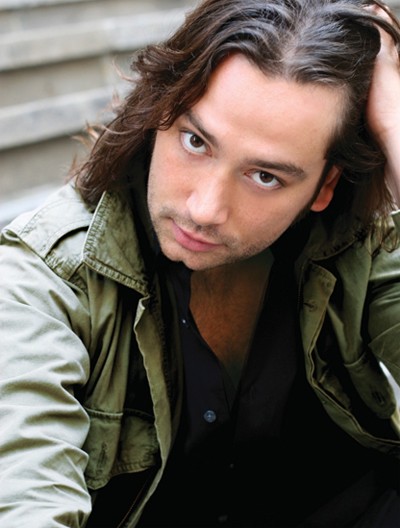 photo credit // broadway in chicago
Constantine Maroulis rocked it in American Idol's fourth season and as lead singer in his band Pray for the Soul of Betty. He brings all that and more to Chicago on the Rock of Ages tour.
WCT:
(Windy City Times) Hi, Constantine. It's great meeting you face to face at the Taste of Chicago. You were on the fourth season of American Idol. What made you want to audition in the first place?
CM:
(Constantine Maroulis) I have an acting background, a theater background. I graduated school that year in 2002, was touring with Rent for a year, had a band and the Rent contract was up. I needed a job, and I'd never seen the show before but I knew what a big deal it was. So I just kind of auditioned on a whim; that's just sort of what I do. I took the Chinatown bus to D.C. from New York City, and here we are.
WCT:
Rent is such a different role than in Rock of Ages. How were they different for you?
CM:
Again, I grew up as an actor and I just kind of took the set of tools I work with as an actor and what I learned in school in Boston and all that and kind of apply it to whatever the work needs. Our show is a ton of fun but at the core of it is this earnest love story. My character, Drew, is this dreamer; he wants so badly to get his music out there and to sort of fall in love and live the dream.
He doesn't exactly achieve all of those things all at once, but he grows up during the course of our show a great deal and he meets the girl of his dreams. They fall in love, she breaks his heart, he gets her back and it all works out. And with Roger, he was a bit more of a desperate sort of guy. He knew his fate, he knew he was dying with this disease, he has a friend that killed himself and he has a whole different set of circumstances. So I think at the core of it, they're both heart characters, and I like to figure out the characters first from a head, heart or groin place, and I think I see more of myself in Drew than I do in Roger, but you try to put a little of yourself in each character.
WCT:
What was it like being nominated for a Tony?
CM:
It was my dream. I grew up loving theater, and I always dreamed to create a role and even be in the conversation for something like that. I think it's a testament to the hard work of our creative team for getting the show to Broadway, starting it in a little bar in Los Angeles. No one was getting paid, [they brought] their own costumes and we eventually got it to off-Broadway—and that's when I joined the company and it really came together.
We have an amazing writer, Chris D'Arienzo; our great director; Kristin Hanggi; and our great producers. They all just gave me the opportunity to be successful, and I'm very grateful for that. So it was a huge day for me. A dream come true.
WCT:
Chicago's the first stop on the tour?
CM:
We'll be opening here in September and we'll only be here for two weeks, so you've gotta get your tickets now. The buzz is out; we're real excited and it'll be great. I'm going to have an entire new cast, so that will be interesting and challenging I'm sure, but I've met some of the people sort of being considered for the tour, and I'm super excited.
WCT:
And you're going to Australia, right?
CM:
We'll see. Rock of Ages has been such a success in New York, that yeah, we've opened a Toronto company, we're opening an Australia company, a London company, Vegas, what not. And who knows, maybe I'll get to do a little bit in each city, I would love to, scheduling is what it is. I'm very committed to this tour, to bringing it to 50 cities internationally; we'll see if we can work it out.
WCT:
That's awesome—and it's going to be made into a movie?
CM:
Yep. New Line Cinema is doing the movie, and they're working on the script right now. Adam Shankman is set to direct the film and, sure, I'd love to be a part of it, if that worked out. You know, I created the role, and it would be nice to be part of its next level of success.
WCT:
What are your plans for after the tour closes?
CM:
I'm working on a new record, working out some new songs and I have a television special in the works called A Night at the Rock Show. It's sort of my solo rock 'n roll songbook show. It's a lot of fun—everything from Bob Seger to Rod Stewart to Green Day and the Goo Goo Dolls. It's sort of like a timeline of my life in rock 'n roll, and there's been a lot of interest. We've been playing sold-out shows in New York City, and I plan on bringing it on the road as well while I'm on tour, to keep working on it, getting it a little better, building it up and we'll shoot the special, hopefully, by the end of the year.
WCT:
So you're doing solo stuff. Would you ever do a band again?
CM:
I would, yeah, if the right opportunity came along. I love being in a band, love fronting a band and the whole camaraderie of that. As a matter of fact, A Night at the Rock Show, my solo thing, it's a lot about being in a band.
WCT:
I look forward to seeing it. Rock on!
Rock of Ages will be at The Bank of America Theater, 18 W. Monroe, Sept. 21-Oct. 3. Constantine will be signing copies of the Rock of Ages Original Broadway Cast Recording at Borders Books and Music, 150 N. State, Sept. 23, at 12:30 p.m. Visit www.borders.com for details.
Interview by Jerry Nunn for the
Windy City Times
Interviewed by Windy City Times