A GoPride Interview
Harvey Guillen
Fans find Harvey Guillén's familiar face at Fan Expo
I want to see real stories be told that live and breathe everyday life involving the queer and Latin communities.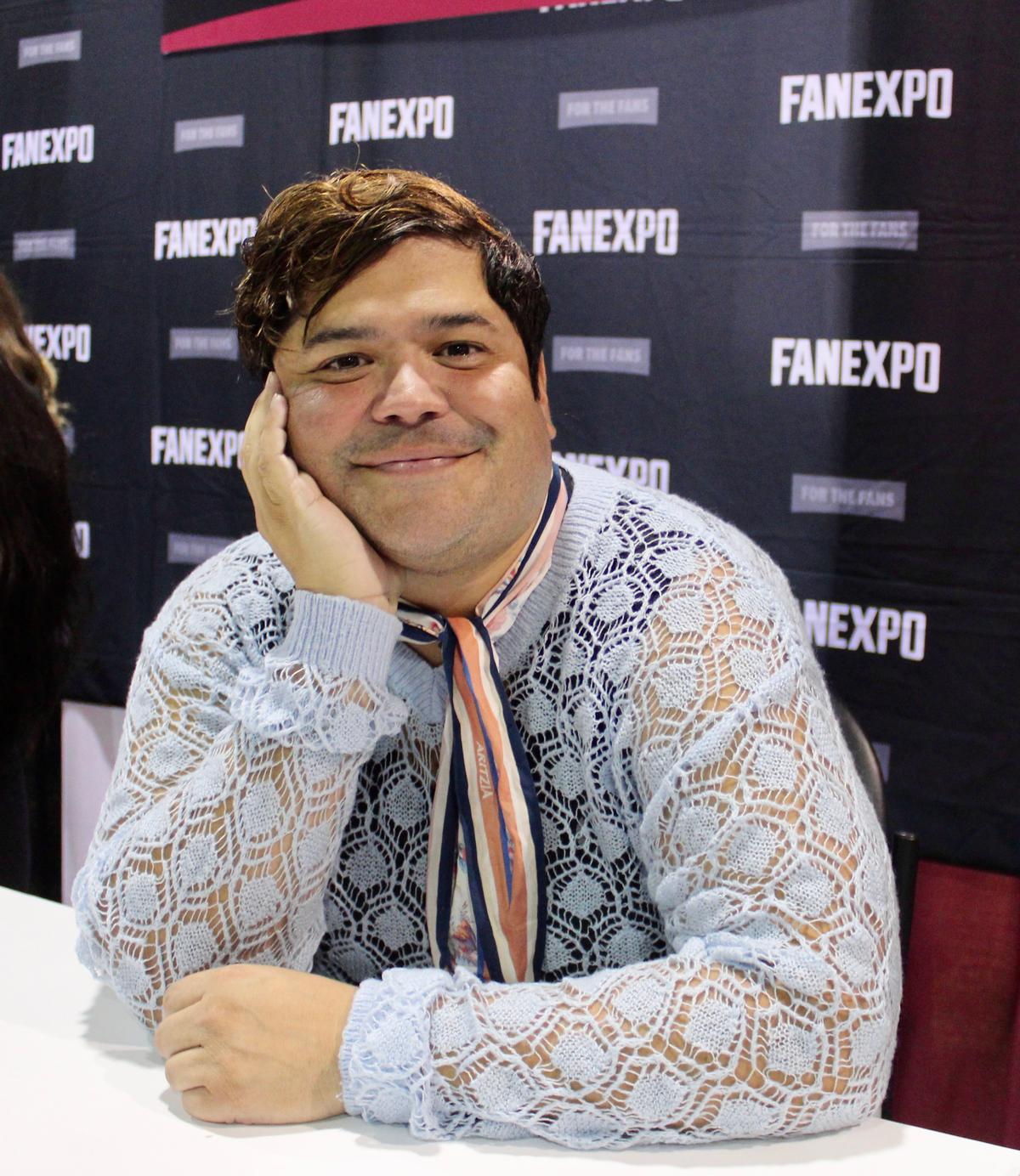 photo credit // jerry nunn
Shadows star comes into the light
Javier "Harvey" Guillén is a familiar figure to many thanks to his role as Guillermo de la Cruz in the television series What We Do in the Shadows. The FX mockumentary show follows vampires in their adventures on Staten Island and Guillermo is one of the vampires named Nandor's familiar.
Before that, he had a previous background on TV with The Magicians and The Good Place. The queer-identifying performer also appeared regularly on Zoey's Extraordinary Playlist and as a guest judge on The Boulet Brothers' Dragula.
Animated voice work includes Perrito in Puss in Boots: The Last Wish, Alton on Archer and Nightwing in Harley Quinn.
As far as film projects he has a small but mighty role as Dr. Jose Francisco Morales Rivera de la Cruz in the Blue Beetle which also stars Xolo Mariduena as the title character and his gal pal Susan Sarandon as Victoria Kord.
Guillén met up before his autograph session began at the pop culture convention Fan Expo Chicago recently.
JN: (Jerry Nunn) Hi, Harvey. I have heard that these fan events can be exhausting. How are you?
HG: (Harvey Guillén) I'm pretty good. At the end of the day it is a lot of energy because everyone is so positive and great. I try to keep up with their energy. It would be different if everyone was negative or bad.
JN: They love you…
HG: They do! I have had some of the best memories with people at conventions because of how much the show means to them.
JN: Has one particular fan stood out in your mind?
HG: Two brothers came up and wanted me to make a video for their dad with words of encouragement because he was battling cancer. As they were making the video they were crying and when I watched them I started crying. After I finished we all just hugged and it was a sweet moment. They were taking care of their dad and it just broke my heart.
Sometimes we forget that entertainment is a big escape for people when we are in our darkest hours at least for a moment.
It is important to respect that about artists too. We give so much to the world and with the current climate we should treat them as so.
JN: Have you noticed many LGBTQ+ fans?
HG: A lot! A gentleman in Seattle who was 56 years old came up to the table and said he loved the show. He watched What We Do in the Shadows with his kids and the coming out episode had him coming out of the closet himself. I asked him if he ever had an inkling before and he said he loved his wife and kids but didn't feel his authentic self. He was afraid to come out and the repercussions, but he finally did.
JN: Do you ever get starstruck around celebrities?
HG: Oh yeah. The first time I met Susan Sarandon it blew my mind. Now we go out to lunch and are friends. We were in Atlanta filming something and she wanted to go to a drag show. Let me tell you going to a drag show with Susan Sarandon is the best time ever!
I get starstruck all the time and grew up idolizing so many people such as comedians and artists.
JN: How was going to the Rufus Wainwright concert at Ravinia Festival the other night?
HG: Oh my gosh, his voice is so effortless. Susan invited me to go. I was talking to Beverly D'Angelo on the plane ride here and told her I was going to the concert. She exclaimed, "I know Rufus" and called him but the flight attendant told her to get off her phone. She said, "I gotta go, so I will see ya tomorrow, Rufus!"
This is the real Sex and the City that we all deserve with me, Susan, Beverly and Rufus! [laughs]
JN: You are living the life. Is this your first time in Chicago?
HG: No, I have been here before, but it was for a film festival.
JN: What would you like to see change about the representation of the LGBTQ+ community or the Latin community in media?
HG: I would love to see queer Latin characters portrayed in a positive light and not shown as a victim of their circumstances or something that hinders them by being queer or Latin. There shouldn't be a limit on their opportunities or limit their aspirations. That should be opened up and it is not the world we live in. Why do we have to always see queer Latinos as the hairdresser or as the sassy friend that has two lines and doesn't end up with their partner?
I want to see real stories be told that live and breathe everyday life involving the queer and Latin communities.
JN: Well, you are doing your part to move that forward.
HG: Thank you. I appreciate that!
Follow this familiar to Fan Expo Canada from August 25-27, 2023 with information at fanexpohq.com.
Interviewed by Jerry Nunn. Jerry Nunn is a contributing writer to the GoPride Network. His work is also featured in Windy City Times, Nightspots Magazine and syndicated nationally. Follow @jerrynunn