A GoPride Interview
Tanner Adell
Singer Tanner Adell took over the Windy City Smokeout
Beyonce has built a support group of gays and women, so that is my goal too!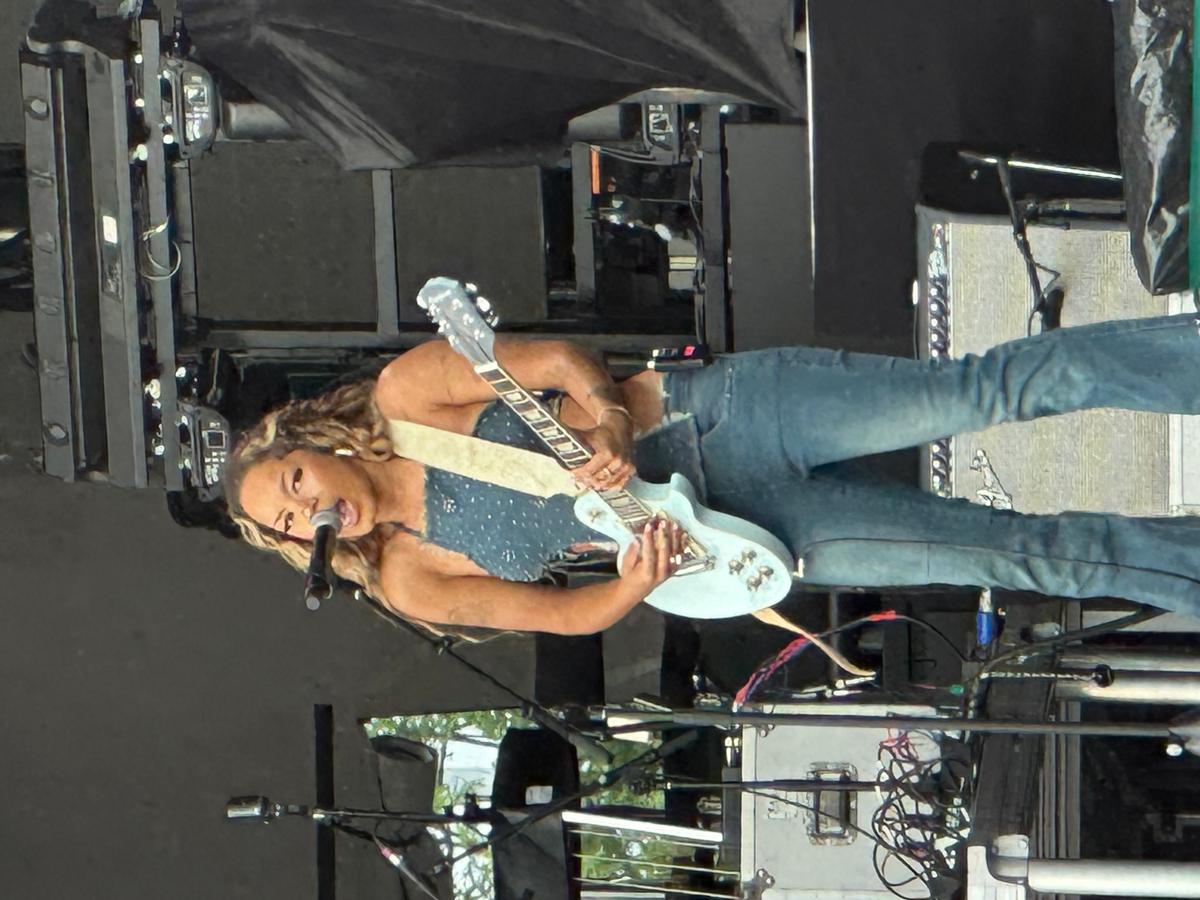 photo credit // jerry nunn
Tanner Adell sings for her supper at Smokeout
Tanner Adell breaks glass ceilings with every performance and is busting out as a major star in a complicated music world. The talented newcomer with a heart of gold and a touch of sass slayed onstage during her first visit to the Windy City and the Smokeout celebration on Saturday, July 15, 2023.
For those that are just now discovering Adell, she is a Californian with roots in the south that have shaped her journey into the country music genre. Tracks like "Trailer Park Barbie" and "I Hate Texas" clearly display that she isn't like anyone else and won't be confined to a stereotypical box.
From early beginnings as a member of the Church of Jesus Christ of Latter-day Saints to later joining a band, the road has not been easy for someone with a fiery spirit. The future looks bright for someone who is currently on the rise and won't be stopped until she is on top.
Adell spoke backstage after her debut set in Chicago during the Windy City Smokeout music festival.
JN: (Jerry Nunn) Hi, Tanner! Let me start off by saying that we have some things in common. I was adopted and went to school in Kentucky right by where you were adopted…
TA: (Tanner Adell) So two for two!
JN: You grew up in California, but spent a lot of time on a ranch?
TA: Yes, I was back and forth between Los Angeles and Manhattan Beach, California. My summers I spent in Wyoming.
JN: Did you always want to sing?
TA: Always. I would listen to music and picture myself onstage singing it, even if it was Beyonce. I love her, but it was always me up there in my mind.
JN: Was country music something you listened to regularly?
TA: Yes I grew up listening to it on the one radio station in Star Valley, which only played country music. I had no choice, but I did enjoy it. When I heard Keith Urban's "Somebody Like You" I realized I loved country music.
JN: Do you like the storytelling aspect of it?
TA: Absolutely. I have a lot to say. Sometimes other genres of music don't leave room to say what a writer thinks. With country music people can write an entire story and make it sound good every time.
JN: Is there an artist you have admired enough to be like?
TA: I would say Beyonce, not because I want to be like her, but because of the amount of support from the community she has. Beyonce has built a support group of gays and women, so that is my goal too! I want to have that same community where everyone loves each other and respects each other. I want to see people trading necklaces and bracelets at my concerts just like at a Taylor Swift show.
JN: Do you feel that the country music business is becoming more inclusive to minorities?
TA: It is always going to be different, but there is no shortage of people who are ready to support others, so I focus on that.
JN: What did you think of the Apple+ series My Kind of Country? That reality competition show was trying to change that in country music.
TA: It was great. The judge on the show Mickey Guyton is a big sister to me. When I am frustrated she is the one I will text or call. Orville Peck was fun to watch on My Kind of Country as well.
JN: So you are signed to Columbia Records and have a mixtape coming out?
TA: Yes, this coming Friday, July 21! After the war I fought to get "Buckle Bunny" released as a single, I decided it was the right song to put on a mixtape with my label. There are two extra songs that no one has heard yet and the rest are some of my past singles. It's a compilation of my work.
JN: I love the idea of making a mixtape in country music, which I have not heard about before from artists in that genre.
TA: No one does that, but this is genuinely a mixtape made from my favorite sounds and all of my feelings. My different moods are all over it.
JN: What do you have coming up after this mixtape release?
TA: We have a couple of shows in August and I am co-headlining a fair in Utah. I am also excited to be releasing holiday music. It is early to say that I will be releasing two original Christmas tracks that I wrote and hopefully a cover song too. I love Christmas and want my own spectacular holiday show. I want to Mariah Carey it up or be in New York with The Rockettes.
JN: Or have a Prime Christmas show like Kacey Musgraves. She had that cute duet with her gay friend Troye Sivan "Glittery."
TA: Yes she did. I have so many gay friends how will I choose just one to sing with?
JN: I had a feeling you have lots of gay friends. Is this your first time in Chicago?
TA: Yes and unfortunately I have to head out tomorrow, so I don't have much time. I have to come back. People were so hyped at this show for my performance.
You never know what you are walking into with some of these festivals and looking like me with the songs that I have can be intimidating, but I give Chicago a thumbs up. I was pleasantly surprised by how engaged the people were just now. They seemed excited to see me.
JN: I was out there supporting you and I know it was a mixed crowd, but you did really well.
TA: Thank you.
JN: You have to come back and we can hit the gay bars together.
TA: Absolutely!
JN: Would you like to have a Tanner World like Dolly Parton has Dollywood?
TA: Yes, I would die for my own theme park! I haven't been to Dollywood yet, but I am dying to go. I am determined to go this year.
I love Dolly Parton. I was adopted and when I found my birth mother after she had passed away I noticed she had a striking resemblance to Dolly Parton. When my brother found me and showed me pictures from the past I grew to have a special place in my heart for Dolly, even more than before. Dolly is a living version of my mom and I think of her that way.
JN: Well, you have to meet her. She has good stories!
TA: I have heard and she is also an amazing songstress.
JN: In keeping with the Windy City Smokeout theme, do you have a favorite barbecue?
TA: I love Lucille's Smokehouse in California is good. I have been to some random barbecue places in Texas and St. Louis that were insane.
I am a rib girl and will order a whole rack. You better not be touching it because I will bite your hand! [laughs]
JN: Back away from the barbecue…
TA: Literally!
Interviewed by Jerry Nunn. Jerry Nunn is a contributing writer to the GoPride Network. His work is also featured in Windy City Times, Nightspots Magazine and syndicated nationally. Follow @jerrynunn