A GoPride Interview
Wendi McLendon-Covey
Wendi McLendon-Covey blows into the Windy City for Elemental
You will leave the theater feeling amazing and want to hug a stranger!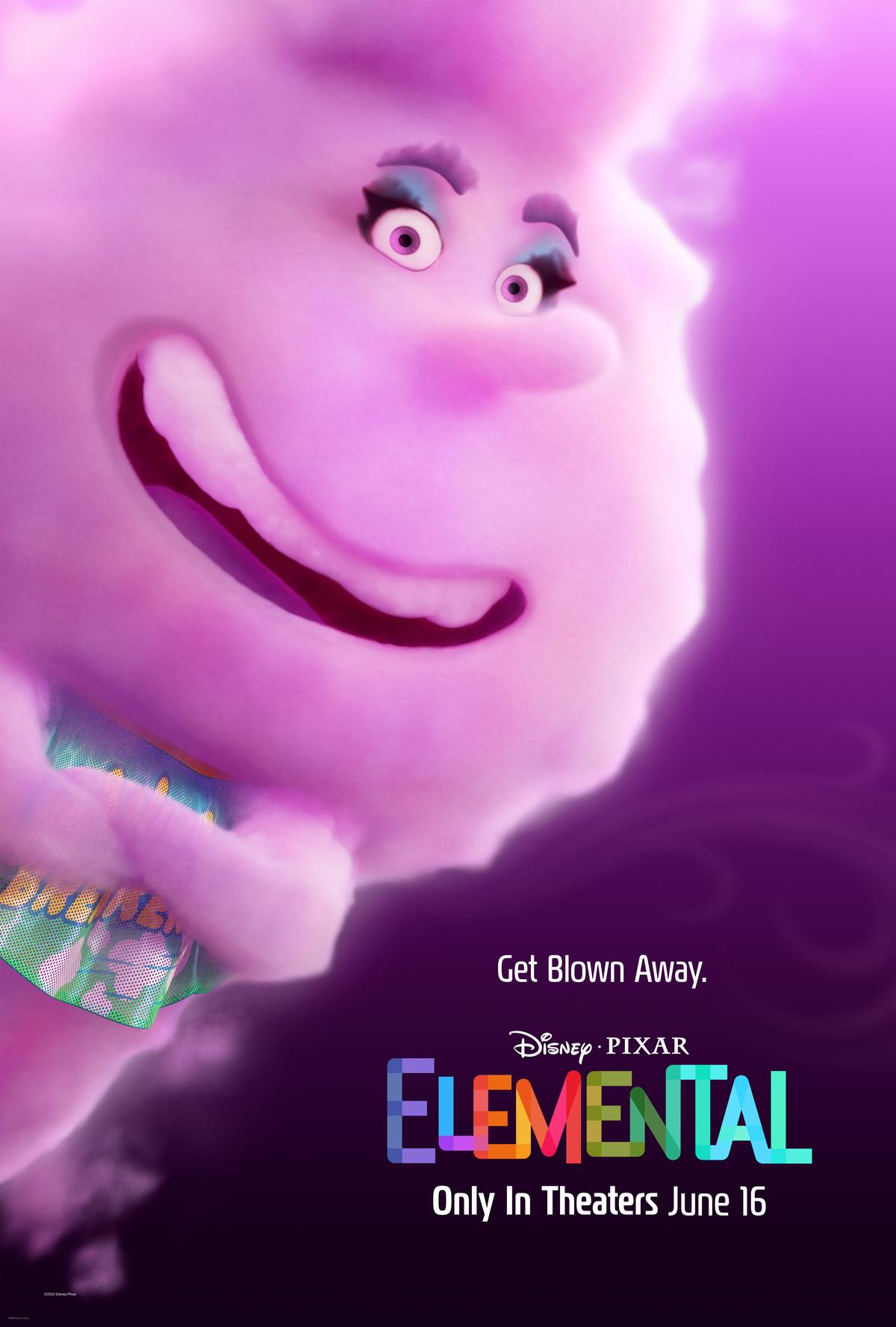 photo credit // disney and pixar
Disney and Pixar's new animated film Elemental sets the world on fire
Disney and Pixar's new feature film Elemental is prepared to set the world on fire with eye-popping animation and a feel-good storyline.
Set in Element City where the four elements live together, Leah Lewis voices Ember Lumen who resides in Fire Town and falls for the damp Wade Ripple, played by Mamoudou Athie.
Actress Wendi McLendon-Covey is Gale Cumulus, an air element and Wade's employer. Her improvisational background began with The Groundlings in Los Angeles and has led to quite an impressive resume. Fans will recognize McLendon-Covey from television shows such as The Goldbergs, Rules of Engagement and Reno 911! Her film roles include Bridesmaids, Hello, My Name Is Doris and Barb and Star Go to Vista Del Mar.
Like a gust of wind, this comedienne flew into the Windy City to talk about this exciting new film.
JN: (Jerry Nunn) Welcome to the Windy City, Wendi!
WMC: (Wendi McLendon-Covey) Thank you so much…
JN: Talk about your character in Disney and Pixar's Elemental.
WMC: Gale Cumulus is a big pink cloud. Hello! Who else would you think of for that and where else would I be? I'm in Chicago and a wind person.
JN: She's a boss?
WMC: Yes, she's a boss and an official in Element City. If you have things that need to be fixed or there are violations she is the person to pay or have your ticket ripped up after greasing the palm or whatever. She's up to maneuver this for people.
JN: I need that person in Chicago. Is a cartoon gig easy where you can phone it in or do you have to visit a studio?
WMC: I have had some cartoon gigs that recorded in a closet, but not with Pixar. No, this is a quality situation and I was happy to do whatever I needed to do. I said yes to this before reading anything. They said "Pixar" and I said "Absolutely!"
JN: Were you in the studio with other stars from the movie?
WMC: I wasn't, but I met one of them at a screening. I still haven't met most of those people and I am sorry for that. It is just the nature of animation.
JN: The merchandise is coming. Did you receive your action figure yet?
WMC: What? Christmas has come and it is only May!
JN: Which zodiac element sign are you?
WMC: I am an air sign so it works. I am a Libra.
JN: It says, "witty, social, intellectual and a little spacey."
WMC: Yes, all of those things at once.
JN: Did you have a favorite cartoon growing up?
WMC: Bugs Bunny on Looney Toons was my go-to character. He always delivered.
JN: Your friend Melissa McCarthy just did a live-action version of the cartoon The Little Mermaid. Would you be up for a live-action Elemental?
WMC: Anytime and anywhere. Anything Disney or Pixar-related will have a finished product that will be amazing. You know it will be well received and there will be a beautiful message in it too, just like there is with this one.
JN: There is a love story in Elemental and the creator was inspired by Moonstruck.
WMC: Yes, I can see that definitely. One character is fire and one is water. They shouldn't get together, right? But they do and it totally works. That is one of the messages of this movie.
All of the elements are different and it would seem like they would snuff each other out, but no, not if you are thinking and leading with your heart. You can make these things work out and develop one big superpower which is love.
JN: We need to work together right?
WMC: We do!
JN: Do you have a favorite moment from Bridesmaids? Rita was a hoot!
WMC: Yes, and I think it lives on the DVD and didn't make it into the movie. There was a time when Paul Feig just let me improv in the Argentine restaurant. I was riffing on different smells and I go on and on. They put it on the DVD as a line-o-rama. I just kept coming up with ridiculous smells, such as what the meat smells like.
JN: You can find the meat scene on Youtube. What do you have coming up?
WMC: Well, besides Elemental hitting theaters on June 16, I am leaving for Winnipeg to shoot a movie about Vicky White, who was the prison guard who broke her boyfriend out of jail. They went on the run for 11 days and now she is dead. I am playing Vicky.
JN: Did you have to go to jail and learn the lifestyle?
WMC: Listen, I did that already for Reno 911! I am an old pro at this police stuff and look forward to that.
I am still doing Big City Greens for Disney+. That animated show is such a blessing. I am also still waiting to hear if my pilot will be picked up called St. Denis Medical.
JN: We will cross our fingers for that. What would you tell people about Elemental to get them to buy a ticket?
WMC: When someone goes in to see Elemental just be prepared for a very emotional and beautifully animated ride. You will leave the theater feeling amazing and want to hug a stranger! [laughs] You will love all mankind. That is something Pixar does really well. They pluck all the right emotional chords so people will feel better than when they came in.
JN: I love that…
WMC: And bring your tissues because there will be a lot of tears.
JN: I am going to cry into my popcorn.
WMC: Yes, you will!
Elemental blows into theaters on June 16, 2023.
Interviewed by Jerry Nunn. Jerry Nunn is a contributing writer to the GoPride Network. His work is also featured in Windy City Times, Nightspots Magazine and syndicated nationally. Follow @jerrynunn