A GoPride Interview
Kaki King
Kaki King interview with ChicagoPride.com
Wed. May 5, 2010 by Windy City Times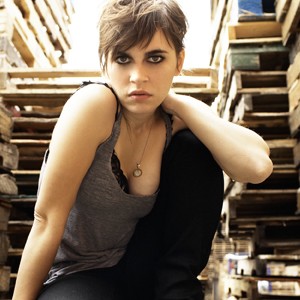 photo credit // gregg delman
Although esteemed by Rolling Stone, most of America has yet to witness how in musician Kaki King's capable hands, an Ovation guitar becomes uniquely percussive, an all-purpose apparatus fit for a one-woman band. However, with a Golden Globe nomination and the scores for two films to her credit, King's fame cannot help but grow. Touring the United States in support of her new album, Junior, she found time to pound out a quick, witty e-mail to The Windy City Times.
WCT:
(Windy City Times) You started out busking in subways. How did that prepare you for stage performance?
KK:
(Kaki King) I learned how to stand up and play for lengthy periods of time and not get distracted. That, and bladder control.
WCT:
Lots of musicians seem to come out of your home state. Is there something about Georgia conducive to musicianship?
KK:
Red clay, fried okra, Clark Atlanta university marching band, Macon, Appalachian foothills, southern swampland, R.E.M., MLK, Jr., Margaret Mitchell, Flannery O'Connor, WRAS 88.5. Yeah, sounds like music to me.
WCT:
You were the first female to make Rolling Stone's "Guitar God" list. What was that like for you?
KK:
HA! HAHAHAHAHAHA!! It was kind of like that.
WCT:
Junior cut "Sunnyside" is about the end of a relationship, and you've said "every reference to every lyric is true to life." What sort of qualms do you have about making your personal life public (if any) ?
KK:
I did realize that putting that song on the record would open my personal life up to more scrutiny than it ever has been. I also worried that it was too much like a private pity party and wouldn't translate to anyone universally. However, a lot of people have been telling me that it's one of their favorite songs and they appreciate that I'm willing to be that open as a person.
WCT:
You scored the film Fish Out of Water, a documentary that scrutinizes the Bible verses commonly used to condemn homosexuality. What drew you to the project?
KK:
The producer and director were blonde and cute, brought empanadas to my gig in Chicago and asked me to do the soundtrack. So that was a pretty easy sell. Once I realized what a great documentary it was and how much of a labor of love it was for them I was really eager to add what I could to the film. It's a truly eye-opening film, even for those who think they are informed, and it contains a message that a lot of people really need to hear.
Kaki King plays Chicago's Park West, 322 W. Armitage, Friday, May 7, at 8 p.m. For more information, visit
www.kakiking.com
.
Interview by: Sarah Terez Rosenblum for the Windy City Times
Interviewed by Windy City Times
Serving the Chicago gay, lesbian, bisexual and transgender communities. ©Copyright 2019 GoPride Networks. All rights reserved.