A GoPride Interview
Lights
Lights interview with ChicagoPride.com
Wed. April 28, 2010 by Windy City Times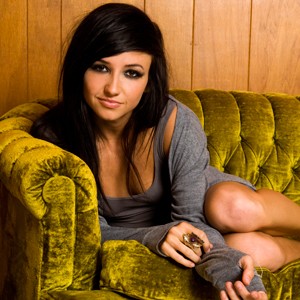 photo credit // caitlin cronenberg
Lights shined in Chicago last year for a concert at the Wicker Park club Subterranean. This Canadian synth-pop princess sat down for a face-to-face interview Nunn on One before her upcoming show with Owl City.
WCT:
(Windy City Times) Hi, Lights. First off, where did that name come from?
L:
(Lights) It is from my last name, which is Poxleitner.
WCT:
I read your parents are missionaries. Are they strict?
L:
They were for a couple of years. My dad is actually an architect. My parents are amazing. They are the greatest parents in the world. They are the reason that I do music.
WCT:
You wrote a song from the Bible at 11?
L:
That was the first song that I wrote. I just learned a few chords on the guitar. I thought, how on earth am I going to do this? Where is a whole bunch of poems that are already written and not copy written? Psalms!
WCT:
Tell our readers about The Listening.
L:
It is my first record. I had an EP out for a little while. Four songs from that one went on to my new record. It is basically a collection of electro-pop songs.
WCT:
The video for "Ice" is very clever. Did you have input into making it?
L:
Actually the video that you saw is the original "Ice" video. There will be a sequel. With that one I actually made the video myself and cut out all the cards. My mom and I made all the costumes.
WCT:
You won the best new artist category recently at the Juno Awards.
L:
I didn't even have an album yet. That was based on six songs. Not only that but it was a really independent project. I had no support from big labels yet. It proves that you can do anything you set your mind to.
WCT:
What music inspires you?
L:
I love Bjork.
WCT:
I met her once.
L:
Are you kidding me? She is one of those girls that I hold in such high respect.
WCT:
I heard you are a comic-book fan.
L:
I tried to reflect Watchmen with my cover on the album. There is a happiness and childishness but I like the juxtaposition. This may sound bizarre but the cover was also inspired by the beginning of Sailor Moon. They are transforming into their spirit bodies, just spinning and you can only see their eyes.
WCT:
You are touring with Owl City?
L:
I am looking forward to it. He is doing the same thing as I am. We are kind of like the same. We have been fans of each other since day one on Myspace.com. We have watched each other grow and this seems natural.
WCT:
Do you have a Web site?
L:
Iamlights.com
and it is worth checking out. Captain Lights is my comic-book character on the site who I am living vicariously through. It's a new way to get music to people because music videos are becoming obsolete. I do the voiceovers and my music is in the background to a live animation comic book. Everything is based on real pictures of me. Nothing is fixed. If there is something I don't like about myself I didn't change it. It made me realize that I don't need to.
Lights will be in the big city opening for Owl City at the Aragon Ballroom, 1106 W. Lawrence, Friday, April 30, starting at 7 p.m. Visit
www.aragon.com
or
www.ticketmaster.com
for more information. Also, look for Lights on the Lilth Fair tour this summer, although not at the Chicago stop.
Article written by Jerry Nunn for the Windy City Times
Interviewed by Windy City Times
Serving the Chicago gay, lesbian, bisexual and transgender communities. ©Copyright 2019 GoPride Networks. All rights reserved.