A GoPride Interview
Sasha Sloan
Singer Sasha Sloan returns to Chicago in March
I have a lot of LGBT friends that would love to continue to support.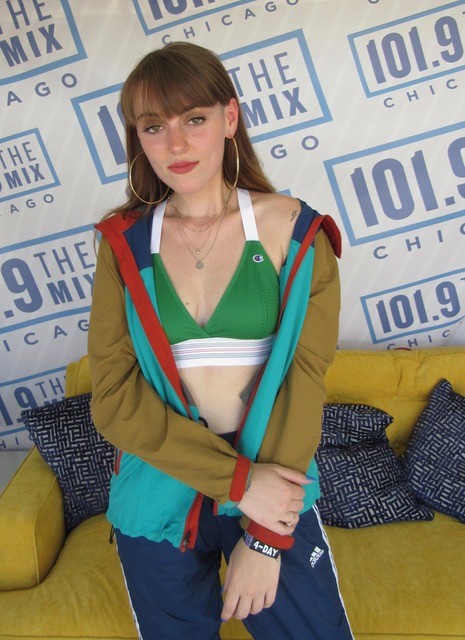 photo credit // jerry nunn
Sasha Sloans Grows Fierce
Singer Sasha Sloan promises to have a big year in 2019. She came into prominence performing "Phoenix" by Kaskade then wrote several songs for Idina Menzel,  one for John Legend and notably the massive hit for Camila Cabello "Never Be the Same."
She is finally breaking out on her own with a tour that lands her back in Chicago as a solo artist at Schubas on March 26. Her debut EP titled Sad Girl showcases deeply personal lyrics and she followed it with another EP Loser featuring the single "Ready Yet" that has been streamed more than 19 million times on Spotify.
JN: (Jerry Nunn) Where are you from originally?
SS: (Sasha Sloan) I'm from Boston. When I was 19, I moved to LA because I wanted to be a songwriter. 
JN: Boston is great and I've been to Provincetown. 
SS: I love Provincetown. 
JN: It's the gayest place on earth. 
SS: [laughs[ It's amazing. Best fudge in the world, too! 
JN: I don't remember the fudge. 
SS: You have to go back and try the fudge for sure. 
JN: Were there artists that you looked up to?
SS: Yes, like Regina Spektor, The Carpenters, The Killers, and Green Day. I was definitely a weird music kid. I liked to listen to unusual songs. Oh yeah, Sara Bareilles…
JN: Did you see the musical Waitress yet?
SS: I haven't, but I heard it's amazing. I really want to see it. 
JN: Talk about your song "Normal."
SS: I wrote that with Martin and Ian from Chvrches, We just sat by the piano and talked about how much we hated LA. They are from Scotland and I'm from Boston. That is where the song came from. 
JN: Is it hard to make friends in LA?
SS: It is pretty tough. I was 19 so I couldn't get into bars or anything. I was super lonely at first. I found my crew slowly but surely. 
JN: The song is about wanting to be liked. 
SS: Yeah. It is about being an introvert and trying not be. I struggle with that every day. 
JN: It can be exhausting to be introverted 
SS: It is really tough sometimes. Especially as a songwriter you have to have to bare your soul a bit. 
JN: During an interview Amy Schumer and Oprah Winfrey both said they are introverts. They said they are exhausted after doing a lot of socializing. 
SS: That makes sense. I mean same. It's tough.
JN: How was it seeing a little girl version of you in the video for "Older?"
SS: It was really freaky. I kept making fun of everyone because it was like I had the same haircut for 20 years! 
It was really emotional actually. I didn't expect to feel so much because the song had been out for a minute, but making the video drew that song into a whole new light for me. 
JN: My friend on the podcast is wrestling with having bangs or not. 
SS: I might grow mine out. 
JN: Isn't it hard as an artist to get stuck in a look?
SS: It is because you do photos and don't want to ruin your hair for the photos that are coming out. 
JN: Remember Jessie J? She cut off all of her hair. Anyways, tell me about Kygo. He's cute. 
SS: Oh, he's very cute. I'm surprised I even got to write a song with him because I was distracted by him. 
JN: Do you want to move into more electronic music?
SS: No. I think I'm going to stay away from that. I mostly got into that because I was writing with DJs and they liked my voice so I sang on it. At the end of the day I would just stay on it. electronic music is not really my thing. It was my intro into the world. 
JN: I'm talking to Dua Lipa later today and I hope you can break out like her. 
SS: I would love that. She's amazing. I look up to her. I did a little writing trip with her in Jamaica. She was the coolest, most down to earth person. 
JN: I was booked to be here but was asked to go to Jamaica. They are trying to get gay people to go because of how it is there. 
SS: Really? 
JN: Yes. Speaking of gays, Troye Sivan is a big supporter of yours. 
SS: Yes. He's in LA and we have written a couple of songs together. You know when you meet someone and know they are a star? That's Troye Sivan. He is humble and nice to everyone when he walks into a room. There is a glow about him. He starts singing and you lose your shit because he has the voice of an angel. He's the complete package for me. I absolutely love him and writing with him. 
JN: I know Taylor Swift brought him on as a special guest at the Rose Bowl. 
SS: I heard about that. 
JN: I was there writing a travel story. 
SS: I heard that was an amazing show. 
JN: Would you be interested in playing at Pride festivals?
SS: Sure. I would love to be a part of that. 
JN: The LA Pride is really great.
SS: Yes. I have been, too. It's really dope. I have a lot of LGBT friends that would love to continue to support. 
JN: Tell me about the new EP.
SS: The problem is I have written too many songs so it is hard to pick. The first song is called "Only." I am really excited about it. It's about when I was 19 and moved to LA alone. It's about how lonely I felt. I got a hotel room for a month, didn't know anyone and tried to be a writer. 
It is very emo and for people who are ready to be emotional. 
JN: It sounds like it't healthy to purge this and get it out there. 
SS: Exactly. It will be out by the end of the year. 
JN: Then you come back to Chicago?
SS: Yes. 
JN: Then we can go to the gay bars!
SS: I'm so down!
JN: Have you been to Chicago much?
SS: No, this Lollapalooza is my first time. It is beautiful and reminds me of Boston a lot. It is bigger and nicer. I'm sure in the winter it would be my living hell, but it's beautiful now. 
JN: How are you on social media?
SS: I think I am more active on social media after I smoke a joint. My social anxiety goes onto Instagram and Twitter so I am afraid to post. If I am smoke then I'm relaxed. 
JN: Do you do the vape?
SS: Oh yeah. I live in California and it is too easy. 
JN: We have medical marijuana here and I just got the vape. 
SS: It just calms me down a lot. I have overanalyzed things for so long and every minute so that helps me relax. 
JN: What if you called your next album I Am… Sasha Sloan, like Beyonce! 
SS: I will give you five percent publishing. You will make five dollars!
JN: Good thing I got this on camera. I love discovering new artists like you. You never know who will be next. 
SS: You never know unless you try.
Interviewed by Jerry Nunn. Jerry Nunn is a contributing writer to the GoPride Network. His work is also featured in Windy City Times, Nightspots Magazine and syndicated nationally. Follow @jerrynunn