A GoPride Interview
Joan Rivers
Joan Rivers interview with ChicagoPride.com
Wed. March 3, 2010 by Windy City Times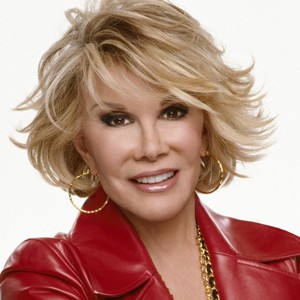 photo credit // charlies william bush
For over four decades Joan Rivers has kept audiences rolling in the aisles at her performances. This comedic icon juggles more plates than a circus act with her stand up act, writing books and selling jewelry. With an upcoming show in Illinois, Windy City Times asked her, "Can we talk?"
Windy City Times: Hi, Joan. What an honor it is to talk to a legend. Did you always have a desire to be a comedienne?
JR:
(Joan Rivers) I never wanted to be a comedienne. I wanted to be an actress. But if you make an agent's secretary laugh then she will like you. I was always making people laugh. Someone said you can make six dollars a night making people laugh in comedy clubs, so it is what started me doing that.
WCT:
You did some acting, though.
JR:
I still do, all the way through college. I have been on Broadway three times and been nominated for a Tony. It goes back and forth and now I do both, which is so great. I just did a play in London. Also, Nip/Tuck—all that stuff.
WCT:
I read that you once played a character in a show about a lesbian who had a crush on Barbara Streisand.
JR:
Yes, that was the first show that I did Off Broadway. It was the first thing that we both did.
WCT:
And you have been friends ever since.
JR:
Not friends, good acquaintances. We don't call each other every night to say, "What a day I have had!" [both laugh] But we are very happy to see each other when we see each other.
WCT:
Who have you wanted to arrest with the Fashion Police on the E! Channel?
JR:
Oh, there is so many! You just say, "Who in gawd's name let you go out like that?" Shakira, whoever did that to that poor girl should be just kicked out, shocking!
WCT:
Your daughter Melissa is producing the show, correct?
JR:
Yeah, and it's getting great numbers. She loves to produce. We are doing another show together called Mother Knows Best. It is a reality show. I would love her to produce it as well but she is just going to be in that one.
WCT:
What network is that going to be on?
JR:
It is going to be on WE tv and start filming in March. We are also doing a second year of How'd You Get So Rich? For TV Land. We start filming that in March as well. It is going to be some March!
WCT:
I don't know how you do it. [Last year] was huge for you.
JR:
It was a huge year and this year is going to be even bigger, which is wonderful. And then all the running around, concerts, concerts, concerts. I travel all over the country. It is great to see America from a terrific hotel room!
WCT:
Do you get to go out a little, at least?
JR:
I usually like to go see something in the town. Like if I am in Aurora and they say there is a pioneer exhibit that I have to see, then I will go. We always try to see one thing in each city that we hit.
WCT:
So what is your show going to be like in Aurora at the Paramount Theatre?
JR:
It is going to be filled with gay men, I hope! If there are gay men in the audience then you automatically get a great show. They are the best audiences in the world. It is going to be about everything. It will be about whatever is happening in the world at the moment. Last week it was Tiger Woods, the week before was Michael Jackson's funeral. It will be about the Academy Awards if anything terrible happened there. It will be about me hating to be on a plane with children, going on a vacation with my grandson and whiny people that I can't stand. It just goes on and on.
WCT:
There is always more material out there.
JR:
There is always more material.
WCT:
Are you excited about the Oscars?
JR:
I love them. This is my month of Turner Classic movies.
WCT:
Have you seen a lot of the Oscar movies?
JR:
No, I only see the ones that they send me for free! If they sent it for free, then I saw it.
WCT:
I watched the Sandra Bullock one last night—Blind Side.
JR:
I haven't seen that one yet. Is it good?
WCT:
It was okay; [it] reminds me of my Tennessee roots too much.
JR:
Melissa is very good friend with Jesse James (Sandra's husband), so we are hoping something nice will happen. I loved Inglorious Bastards. I thought that was great. I loved the George Clooney one too. He was amazing.
WCT:
Your special on the Logo channel An Audience with Joan Rivers-Unedited was hilarious! Your gay following has stuck with you throughout the years especially the drag queens.
JR:
They have stuck with me, Bette, Cher, Lily Tomlin, Liza Liza Liza and, now, Kathy Griffin. I think they just like funny women and funny women love them.
WCT:
Last year you even hosted the pink carpet at the Sydney Gay and Lesbian Mardi Gras parade. [Both laugh] You look better than ever and this year is going to be busy for you.
JR:
I am one of the lucky ones. I love the business and the business has not deserted me. There are so many friends of mine that are real actresses and are just not working. It is awful, you know. There is not that much work for them anymore. How many grandma parts are there?
WCT:
What is your opinion on the late-night talk-show drama?
JR:
I think it's wonderful. It's a win-win for everybody. Of course, Conan was going down, his ratings sucked—suddenly everyone likes him now and he got $40 million. So that's terrific for him. And for Leno, my gawd! How great it is for everyone because we don't have to take Ambient anymore to go to sleep at 11:30. We are back to going to sleep watching him. This is perfect! They save all the viewership money on drugs. Oh boy, he is so boring—such a fucking boring show.
WCT:
I know. Why don't they have women on late night?
JR:
Somebody decided a long time ago that people like to watch men at night. Some old executive decides.
WCT:
A male executive, obviously…
JR:
Obviously. It is still very much a boy's club, network television.
WCT:
I am excited about seeing your show.
JR:
I have never been to Aurora so I am excited, too. Illinois is a good state.
WCT:
Well, I am coming to see you so you will have at least one gay in the audience.
JR:
Oh, you are gay? Bring a friend for gawd's sake—then at least I will get two!
Joan Rivers will walk the talk at the Paramount Theatre, 23 E. Galena, Friday, March 5, at 8 p.m. Tickets start at $39.50; call 630-896-6666 or visit www.paramountaurora.com.Interview by: Jerry Nunn
Interviewed by Windy City Times
Serving the Chicago gay, lesbian, bisexual and transgender communities. ©Copyright 2019 GoPride Networks. All rights reserved.