A GoPride Interview
Gianmarco Soresi
Comedian Gianmarco Soresi sets sights on Chicago in February
I have a mix of dark one-liners where there is a twist at the end.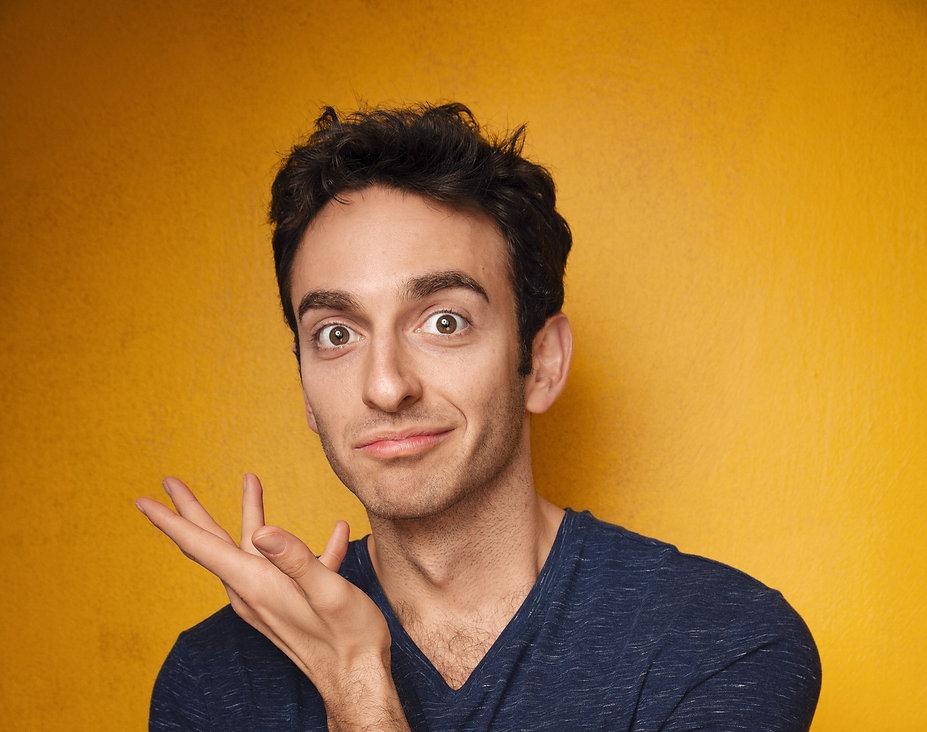 photo credit // mindy tucker
Soresi spills the tea on the Housewives and J.Lo
Comedian Gianmarco Soresi hails from New York and plans a stop in Chicago for his standup act. He has been featured on Comedy Central, Netflix's Bonding and The Real Housewives of New York City. His comedy special Shelf Life was nominated for three New York Emmy Awards.
Television credits include TBS's The Last OG, CBS's Blue Bloods and ABC's Deception. Movie appearances range from Hustlers to Here Today. His weekly podcast is called The Downside with Gianmarco Soresi.
JN: (Jerry Nunn) Start off with talking about your background.
GS: (Gianmarco Soresi) I grew up in Maryland. I was a big theater kid. I went to college for musical theater and joined an acting company. I moved to New York with a lot of dreams.
I never thought of myself as a writer until I couldn't get any work as an actor. I did a show at the International Fringe Festival where I talked to the audience a lot and a friend suggested me being a comedian. I always liked standup but it is a different life. No more nights being free and no money for a long time, so I switched things up. I started working at a club in New York called LOL in Times Square. I did a check spot there where they put down the check while you are performing. It is a tough spot to work.
JN: Because the audience is distracted?
GS: Not only distracted but realizing they have been scammed. They look at the bill and they see it doesn't add up. I did about five shows every day there for a year. I started at 26 years old and I am glad I did because I wouldn't make it if this was now at age 22,
From there, I started getting into more clubs and performed at the Comedy Cellar last year. I was going to tour around the country in 2020 and already had eight dates on the books. Everything was canceled, but now I am back on track!
JN: Do you have a favorite musical?
GS: My favorite is Falsettos by William Finn. More traditional musicals that I like are Sunday in the Park with George and Nine. All the shows have roles I would want to play.
JN: Falsettos is a super gay show.
GS: It is and there are plenty of questions to be asked to this straight man, but there is something about Marvin's narcissism that I relate to.
The summer I stood up to my stepfather was when I saw that show. It is intertwined with my becoming an adult.
JN: Describe your standup act to our readers.
GS: It is very personal. I have a mix of dark one-liners where there is a twist at the end. I make them intimate about my parent's divorce and being egotistical in this world. They are novel and interesting. They are personal in a way that lets people connect with them. I try to capture deep truths about divorce.
I am a theatrical guy and I move around the stage. There is a lot of diversity in my act with one-liners and long-form stories. I try to bring everyone on a journey. It is punchline-heavy. There are a lot of jokes so if you don't like one then there is another one coming in 10 seconds!
JN: Steve Harvey told me once that he wouldn't do standup again because everything is so politically correct. How do you feel about that?
GS: Steve Harvey is not that offensive of a comedian in the first place. There are comedians doing way crazier things out there. Cancel culture is an umbrella term that doesn't really mean anything. There can be a particular joke being taken out of context, but that is like me being scared to cross the street and an invisible car might hit me. I do get nervous about jokes from time to time, but then I fine-tune them and I am no longer nervous about them. My joke about R. Kelly played much better in front of an audience and people understood it. The people that were mad have moved on to something else.
Comedians like to talk about it because it is easy to complain about. If jokes are funny and put together well, then they will be fine.
I say that now but if I get canceled in a few months then I will say, "Cancel culture has gone too far!"
JN: Sounds like your act will be a safe space for the LGBTQ+ community to enjoy.
GS: Yes, I have one joke about musical theater camps: "Straight people go in and come out gay, but no matter how many conversion camps I went to I still wanted Liza Minnelli to sit on my face!" I did hear back about possibly making fun of conversion camps, but that is not what the joke is about. I would be comfortable telling that joke in a room full of gay men and women.
I have a lot of gay material from studying musical theater because I grew up in those spaces. My experience happens to be with a lot of gay people and I am comfortable with my radar knowing when I am insulting a gay person.
JN: I have met Liza and I am sure she would appreciate your joke.
GS: It is my dream to perform that joke in front of Liza. I would let her sit on my face if she could still manage it!
JN: Do hecklers irritate you in the audience?
GS: Yes. I have a lot of planned material. That comes from having a script and working things out. I can engage with people for a moment and then I hope it stops…
People wind up talking the whole show. I was working at a Casino in Milwaukee last week and saw a scary white woman in a plastic tiara, obviously a bachelorette party. They are notorious and we talk about them backstage to be warned not to engage them.
There are comedians out there who will roast the audience, but I am there to live with the written word!
JN: Speaking of uncontrollable white girls, I went to a Countess LuAnn concert and she lets them run wild. How was your Real Housewives experience?
GS: I thought I was doing a podcast with an audience and it was a film shoot. While The Real Housewives of New York were having dinner we put on a standup show next to them. There were people there but they weren't looking at us. LuAnn's ex Jacques Azoulay did standup and they had us all go up and bomb. It was such a no-win situation that a cameraman offered me a joint so I got stoned. I went up and told a 15-minute story. The only people paying attention were the crew in the back of the room. I heard a laugh or two so I hung on that!
None of the Housewives said good job or anything. They were eating dinner and there were 10 cameras on their faces. One of them described it as "dead" but there was no one in the room!
JN: How was meeting Jennifer Lopez in the movie Hustlers?
GS: It was there at 1 a.m. in the morning and we were all tired. J.Lo walked in and she looked like a star. She introduced herself and I tried to keep it casual. It was a scene with three women hitting on me, I complain about having an early morning and then I leave. It called for me to be anxious and nervous so I just channeled what I was feeling.
JN: Sounds like the Hustlers treated you better than the Housewives.
GS: Very true, J.Lo was a big fan! [laughs]
JN: What are your plans for the rest of the year?
GS: The tour is a big thing. I will be at Gilda's LaughFest this year. I am recording some audio for Sirius XM. I am on a sketch team called Uncle Function and we do shows every year.
I will then decide if this is the year where I film another hour special. It is a very strange time in comedy. Platforms like Netflix are picking people with massive levels of fame. I have a social media following so I might put it out that way. I am still at the Comedy Cellar and I am there as much as possible!
See Soresi's standup at The Lincoln Lodge, 2040 N. Milwaukee Avenue on February 17.
Tickets can be found at https://www.eventbrite.com/e/the-lincoln-lodge-presents-gianmarco-soresi-tickets-219376720677
Interviewed by Jerry Nunn. Jerry Nunn is a contributing writer to the GoPride Network. His work is also featured in Windy City Times, Nightspots Magazine and syndicated nationally. Follow @jerrynunn