A GoPride Interview
Penn Jillette
A Magic Immersive experience appears out of thin air in Chicago
We have worked very hard on Fool Us to be more inclusive and to break down the gender roles.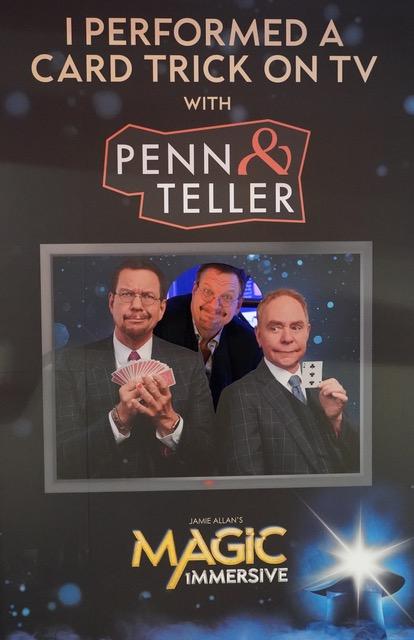 photo credit // carol fox and associates
Penn Jillette talks about new magic experience in Chicago
The legendary performer Penn Jillette is teaming up with iMagician Jamie Allan to present a new endeavor for the masses. Jamie Allan's Magic Immersive Chicago, 360 N. State Street, is presenting different packages to meet everyone's fascination of wizardry this holiday season. Look for 60 minutes of magic in the basic and premium tickets and 90 minutes for VIP ticket holders plus a pre-show experience and early access. Be prepared for 3D projections and live magicians in an eye popping 300,000 cubic square foot space. Socially distancing is respected with Magic Guides who walk spectators throughout the environment.
Jillette and Teller have created a video that will be shown at this location demonstrating a unique trick that everyone can learn. This dynamic duo have had success with a TV show called Penn & Teller: Fool Us along with continually headlining in Las Vegas for many years. Jillette talked about his career recently at the newly reimagined venue.
JN: (Jerry Nunn) I see you still have the trademark red painted fingernail. What inspired your cutting your signature long hair?
PJ: (Penn Jillette) I made a lot of changes at once. I lost 120 pounds and I cut my hair. It all kind of went together. The first time I did this was for Lock of Love, a non-profit organization that collects human hair to make wigs for cancer patients. I cut off like a foot and a half. I have just kept it that way. It still grows out of my head luckily!
JN: Tell our readers about this exhibit.
PJ: What Jamie Allan and his whole team has done is amazing. They have done a deep immersive look into magic. It is a wonderful overview. You learn a lot about the history of magic and the theory behind magic. Audiences will see a huge amount of work with dozens of tricks. It is all in this kind of wonderful environment where they are surrounded.
We do a thing on the screens here that is a really great trick that everyone has right in their hands. Magic is a form of live entertainment. You wanted to see Elvis Presley live or The Beatles or George Carlin, but there are electronic interpretations of that which are pretty good. Even for someone who does a magic show on TV, I will tell you that you cannot see a magic show electronically. It cannot be recorded. Not because it is too hard to record, but it is too easy. The kind of special effects you see in movies have magic tricks on TV competing with that.
It is not the right thing, but it is the willing suspension of disbelief. What we want in magic is the unwilling suspension of disbelief. You can only get that live and when people are violating the rules of time and physics that you have been learning since the cradle and that you know can't be fibbed. Magic is one of the only forms that only happens live.
JN: When I was little I used to put on magic shows in my garage.
PJ: I think I saw those on YouTube…
JN: [laughs] What do you recommend for people starting off with magic?
PJ: There has always been a feeling with magic that it was a cloistered little brotherhood. Teller and I have always fought against that. It should not just be an art form with just old white guys. We have worked very hard on Fool Us to be more inclusive and to break down the gender roles. We have tried to bring in people of all shapes, colors, sizes and affiliations. As much as we have pushed for that we didn't do anything compared to the Internet.
The nice thing is now if you watch Fool Us and you type in everything I say and you just listen to it, you will find out how every trick is done. I am one who believes very strongly that magic benefits from people wanting to find the information very easily. I think magic is good enough and powerful enough that we don't need the coven of unpleasant people. We can be open.
I think, as well as almost everyone in magic, other than Teller, that magic is not fragile and doesn't crumble when people know the secret. There is a great deal of beauty beyond that.
If you look at a lyric sheet and chords of Bob Dylan, it does not take away what is good about Bob Dylan. I think magic is no different.
Here you get the advantage of being able to see the props, see the history of the people that put it together and then see where it is right now. There is other stuff happening here. If you want an overview of magic then this is not only the Rock & Roll Hall of Fame of magic, but also see many different kinds of tricks. There is closeup magic, escapes, big illusions and mentalism. It is a grand overview and whatever level of interest in magic someone has, this is a great addition to the world.
JN: Audiences seem to love all these immersive experiences these days.
PJ: Sure and the way Jamie had done immersive magic is very new and interesting. Magic is always immersive because intellectually you cannot sit back and let it happen. You can let music wash over you but you must engage intellectually with magic or there is no magic.
JN: Jamie Allan made a musical about Houdini. Do you have a favorite musical?
PJ: I am not a big fan of musicals. My favorite musical is Assassins, which I have seen many times. I also like Book of Mormon and Hamilton is good.
JN: What would your musical be about if you made one?
PJ: There is a friend of mine, Jerry Camaro who was a biker who got in a bit of scrape and did a lot of time in prison for his transgressions. He came out after 20 years in prison with the best card moves I have ever seen. I think the musical would be about going to prison to learn good card tricks!
JN: What are you working on next?
PJ: I have another novel coming out at some point.
Teller and I will be doing another season of Fool Us, so right now our main focus is writing 14 new tricks for Fool Us which we will record on tape next year. I just said the word "tape" because I'm so old! [laughs]
Visit MagicImmersive.com for tickets to today before they disappear!
Interviewed by Jerry Nunn. Jerry Nunn is a contributing writer to the GoPride Network. His work is also featured in Windy City Times, Nightspots Magazine and syndicated nationally. Follow @jerrynunn