A GoPride Interview
Patrick Andrews
Patrick Andrews interview with ChicagoPride.com
Wed. January 6, 2010 by Windy City Times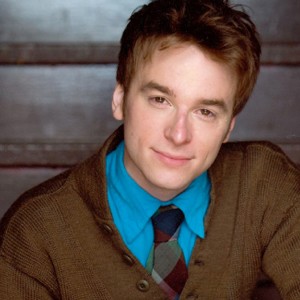 Patrick Andrews, despite being in his early 20s, already has extensive theater experience, appearing in everything from Drury Lane's Cabaret to About Face Theatre's The Laramie Project: 10 Years Later. Now, his skills are being displayed and tested in the Steppenwolf production American Buffalo—a play in which he is the only non-ensemble member of the cast. In an interview with Windy City Times, Andrews talked about growing up artistic in Texas; working with the revered Tracy Letts, Francis Guinan and Amy Morton (of "Buffalo"); and weighing the importance of About Face Theatre.
WCT:
(Windy City Times) You're from Amarillo, Texas. What was it like growing up there?
PA:
(Patrick Andrews) [Laughs] Growing up in Amarillo was interesting. It's in the panhandle of Texas and is right in the middle of the Bible Belt, so it has its unsavory [mix] of religion and bigotry. However, I also thought it was awesome because the liberal-minded artistic types really had to seek each other; I had an awesome community of thinkers around me growing up because that was the community I had to create around me.
I dated this guy for four years who had grown up in the North, and his beliefs had never been challenged. Growing up in the South, you really had to form your opinions and stick by them.
WCT:
So how did you develop a love of the theatre?
PA:
I started in community theater when I was 5 years old, and growing up in community theater is what gave me my backbone for wanting [theatre] to be my livelihood. When you do community theater, everyone's doing it for the love of it. You wouldn't think of it, but Amarillo has a nationally recognized community theater, symphony [and] ballet, so I was able to delve into creating art at a really young age. It started out as a hobby and I pretended that I wanted to be in sports.
My family was really supportive. My dad is a minister. If I wanted to be a Buddhist or an atheist, I'm sure he'd be fine with it—just as long as I was believing in something passionately. He'd talk to me about him having a calling to be a minister. But my dad is a minister and my mom's a social worker; I remember having this existential crisis at 14 [because] I just wanted to create plays. I didn't know how I could make a difference—but I realized that I had a calling [of my own]. At around 14 or 15, I realized that I wanted to do it seriously; I started creating my own pieces.
WCT:
You mentioned the support of your parents. What were their reactions when you came out to them—particularly your dad?
PA:
It's interesting, because my dad is a really liberal minister, and my mother and father have been big advocates of the gay community for years, and my dad preaches tolerance. But it's funny—when it's your own son, you still have these fears and concerns.
My mother was pretty funny. She was proofreading a paper, and she put her pen down and said, "Oh, I figured." My dad and I butted heads a lot when I was in high school, but I think there's something about fathers and sons, and there's going to be that conflict. But he's come up to Chicago and stayed with me and my [ex-]boyfriend.
WCT:
Give me some insight about the life of a theater actor, because what I envision is people going to auditions but they have to hold down part- or full-time jobs. How accurate is that?
PA:
That's really accurate. I've been really blessed to work consistently as an actor, for the most part. But I feel like I'm notorious for never being able to keep a day job. You look at my resume, and it can hold itself up; but if you look at my day-job resume, it looks like the worst person. But, yes, [people work] part-time jobs, and I work with a lot of people who have full-time jobs. And with the theatre schedule, you don't know when rehearsals might be. But I've worked my share of retail jobs, and I've worked in a diner.
I'm working at a gym right now; they've been really great in helping me with my schedule. It's weird, though: You feel like this comic-book character leading a double life.
WCT:
Well, your theater resume is certainly impressive—especially considering you're 24. Tell me about working with About Face Theatre.
PA:
Something I love about Chicago is that you can find groups of people who are really passionate about the art beyond themselves, and [find] some sort of global awareness. I think working with About Face has been wonderful because I feel very much in line with their mission, and it's a community that I'm a part of. So being able to take your wants and concerns for your community, and have a platform to speak about them is really beautiful. When I fell in with them, it felt like going over to a really great friend's house; we have a lot of talk about and a lot to catch up on.
When I was 18, I had to decide where to move. I'd been to Chicago, and saw some performances that rocked my core. I wanted to move to Chicago because I wanted to learn how to be an actor. Coming here has really helped me develop this eye for social awareness within art. About Face is a shining example of what that is all about.
It was really good to fall in with them last year during [About Face's] financial crisis because I think that Stupid Kids (which I was in) literally put the [company's] mission on stage. The play was really in-your-face. We were asking people for money, and it felt like going to work had a purpose instead of doing a fluffy piece of theater.
WCT:
Now, let's talk about American Buffalo. It's about three men who plot to steal a buffalo nickel, correct?
PA:
Yes. The main character, Don, in his eyes, has been ripped off pretty horribly; he gets less money than he thinks he should get. So he is plotting to steal this guy's coin collection. It takes place in one day, and it's pretty claustrophobic because things get pretty intense in this junk shop; these three men have emotional crises with each other. It's like a Greek tragedy in this junk shop. It really speaks to me about the personal dramas that go on with everybody, but it's important to see into those stories and views because it gives you a deeper awareness of the throughline.
It's interesting that [playwright David] Mamet focuses on this class of people in this play; if you saw them coming down the street, you would probably cross over to the other sidewalk to [avoid] them. But their struggles are very universal. The play poses questions about friendship and business that are pretty spot-on, I think.
WCT:
And you're working with Tracy, Francis and Amy. What is that like?
PA:
Well, the first week I was very, very nervous; I was just starstruck and [thinking], "Wow. This person is talking to me." The three of them are just so wonderful and such great artists. It's such an education just sitting in the room with them. But they are people just like everybody else; they drop lines and get frustrated with themselves, just like everybody else.
When a place like Steppenwolf is built up so, it's something to work towards, you know? But there's a support system here, and they're really interesting artists who bring a unique energy.
WCT:
Just so our readers can get to know you, what's one surprising thing about you?
PA:
Oh, God—I don't know. [Pauses] I'm trying to grow my own kombucha. It's a [food supplement] that's good for health. You can grow it in your house; it's this crazy bacteria thing that's good for your body.
American Buffalo runs through Sunday, Feb. 7, at Steppenwolf Theatre Company, 1650 N. Halsted. See
www.steppenwolf.org
.
Written by:
Andrew Davis
Interviewed by Windy City Times
Serving the Chicago gay, lesbian, bisexual and transgender communities. ©Copyright 2019 GoPride Networks. All rights reserved.