A GoPride Interview
Nina Flowers
Nina Flowers interview with ChicagoPride.com
Wed. December 2, 2009 by ChicagoPride.com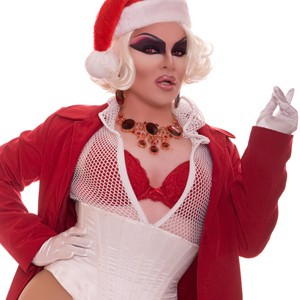 photo credit // norman dillon photography
The fabulous and fierce Nina Flowers, one of the finalists on the first season of 'RuPaul's Drag Race,' makes an outrageous and 'naughty' Chicago debut Saturday, December 5th at
Spin Nightclub
.
Jorge Flores, known as Nina Flowers, was born in Puerto Rico and now lives in Denver, Colorado with his partner Antonio. He got his start while attending beauty school in Puerto Rico and has been performing for 15 years. He is known professionally as a makeup artist, entertainer, DJ and producer.
Drawing inspiration from European Rock Artist, Nina Hagen, the 35-year-old entertainer is quite distinctive with a muscular physique, tattoos and edgy costumes.
Before gaining national attention on 'Drag Race,' the Puerto Rican drag queen developed a solid following with live performances and numerous YouTube videos.
Nina Flowers just released a new single, "Loca."
CP:
Nina, how do you describe yourself? Tell us… who is Nina Flowers?
NF:
My name is Jorge Flores, and I created the character of Nina Flowers. Nina Flowers is an illusion. I describe her as colorful, energetic, charismatic, and entertaining. Nina has a crazy personality, but is very approachable, and she doesn't play the cattiness games that some queens may have. In all, I love to entertain – and that is one way I can do that!
CP:
You're from Puerto Rico… share an experience of life in the Caribbean.
NF:
The experience of living in the Caribbean is extremely beautiful – that includes the people, the weather, my family, my friends, and my fans. All I have to say about Puerto Rico is good.
CP:
Did growing up in Puerto Rico shape your drag style?
NF:
Before I moved to the states, I had been doing drag for over 15 years, so growing up in Puerto Rico absolutely shaped my drag style. Though, because I live in the Caribbean and within the Latin Culture, I also had to make sure I was always changing and evolving, so I was also inspired by European groups. Puerto Rico is such a small island; and because of my need to entertain, I had to keep reinventing myself to please the crowd, because they can get very critical if you're always doing the same thing.
CP:
When did you first get into drag?
NF:
I started doing drag, after attending a beauty school in Puerto Rico. I was around 19 to 20 years old. I practiced on myself and liked how I evolved into a new persona by using make up. One night, some of my closest friends and I went out all made up. The club we went to (now called KRASH) were having a performance contest for drag queens. I was encouraged to enter and did really well. This gave me the bug to continue performing.
CP:
Who are your influences?
NF:
While she is not a drag queen, I was heavily influenced by one of my favorite European Rock Artist, Nina Hagen. Her character and her drama when performing drew me in. I also found Boy George, the Eurhythmics, and Pete Burns, to name a few very inspirational figures that added to my drag character.
CP:
What's the worst thing any up-and-coming female impersonator can ever do?
NF:
As a performer, I would say a drag queen that is performing and not knowing her words; as well as a drag queen that is lacking originality.
CP:
You blew us away on 'Drag Race,' what exactly can we expect at you return to the Windy City?
NF:
I'm really looking forward to performing in Chicago again. This was the city that saw me growing up as an entertainer through the Miss Continental Pageant. I plan to give you a show full of color and energy…
CP:
What is your take on Chicago's drag scene?
NF:
The Chicago drag queens are some of the most beautiful show girls I've ever seen. In my opinion, they are polished and very complete entertainers.
CP:
Any final thoughts?
NF:
Of course, first off I want to thank all the beautiful people of the windy city for their love and support during this drag race year. I hope it never ends.
I'd like to thank the Spin Nightclub for bringing me over.
Additionally, I have to mention for all of you that were waiting for my new single, LOCA, it is now available at
www.masterbeat.com
and ITunes. Believe me, there will be more to come.
Again, much love to all of you.
For more information on Nina Flowers, visit www.ninaflowers.com

Don't miss Nina Flower's Chicago debut show, Saturday, Dec. 5th at Midnight and 1 a.m., Spin Nightclub. To pre-purchase a wrist band to gain access to a special Meet and Greet with Nina after the second show, call 773-327-7711.
Interviewed by ChicagoPride.com
Serving the Chicago gay, lesbian, bisexual and transgender communities. ©Copyright 2019 GoPride Networks. All rights reserved.