A GoPride Interview
Anderson Davis
Anderson Davis interview with ChicagoPride.com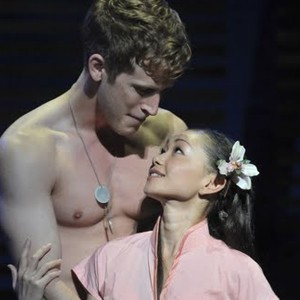 anderson davis in south pacific
The incredibly dashing Anderson Davis dons the role of Lt. Cable in the National Tour of South Pacific. From his humble days as a would be oboe player to strapping leading man, Anderson talks to ChicagoPride.com's ShowBizQ about the impact South Pacific has had on the musical theatre, his blossoming career and his college days at Carnegie Melon along side some of Broadway's greatest up and coming talent. South Pacific runs November 24-29 at the Rosemont Theatre. (ChicagoPride.com
click here
for details on a special ticket discount.)
Q:
When is the first time you got to see a production of South Pacific?
AD:
(Anderson Davis) [Laughing] Well, I was in an 'excellent' production of South Pacific in high school, where I played Emile de Becque. Hopefully all the tapes of that are now destroyed!
Q:
It is amazing how iconic South Pacific has become over the decades. Why do you think the show still relevant after almost 50 years since it premiered?
AD:
There are has always been a lot of controversy that has followed South Pacific in terms of its themes, especially that of racism. One of the things that is so exciting about this production is that a lot of the original script that was cut for the initial Broadway production back in by Bartlett Sher (the Director) and the rest of the creative team. It really points out just how important the story is today, I don't know if it is encouraging, exciting or depressing that the show is still so relevant.
Q:
How has the audience reaction to the revamped South Pacific?
AD:
It has been so fantastic. One of the great things about this show is how it spans the generations, so you have families of all types and all ages coming to see the production,
many who remember the original who are now bringing their grandchildren.
Q:
How do you stay in such great shape?
AD:
Well traveling on the road is hard, so I really have to find time to work at it. And of course I use the 'Perfect Push-up' which really helps!
Listen to the entire interview with Anderson Davis in this
ShowBizQ Podcast
.
Interviewed by Michael J. Roberts. Michael J. Roberts is theatre editor for the ChicagoPride.com covering Chicago's diverse arts and entertainment scene.
Serving the Chicago gay, lesbian, bisexual and transgender communities. ©Copyright 2019 GoPride Networks. All rights reserved.