A GoPride Interview
Santino Fontana
Tootsie takes over Chicago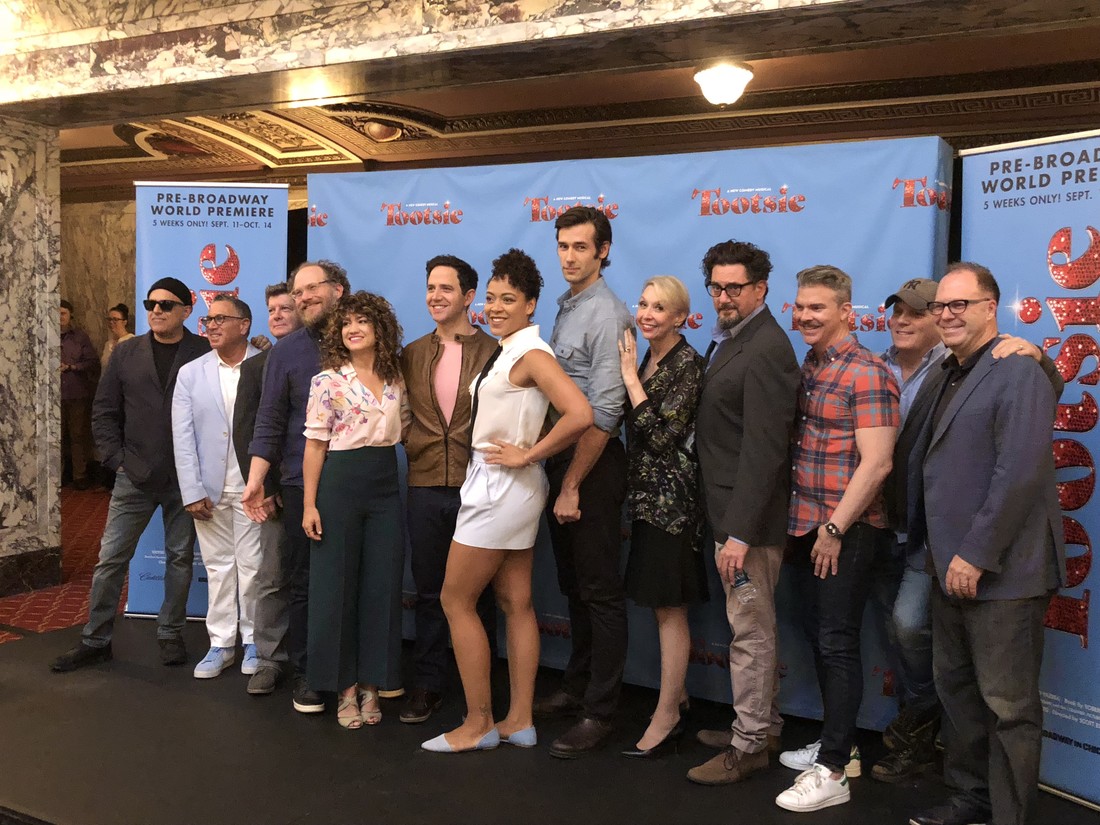 photo credit // jerry nunn
Two lead cast members of the musical Tootsie are interviewed
A new comedy musical Tootsie is heading to Chicago before an upcoming Broadway premiere. Tootsie tells the story of a struggling actor ready to do what it takes to land a role. 
It features an original score by Tony Award winner David Yazbek with a book by Robert Horn. 
Tootsie kicks up her heels at the Cadillac Palace Theatre, 151 West Randolph St from Sept. 11 through Oct. 14.
Tony Award nominee Santino Fontana plays Michael Dorsey and Dorothy Michaels in Tootsie. 
He's known for playing Greg Serrano on the TV show Crazy Ex-Girlfriend and for voicing Prince Hans in the Disney cartoon Frozen. 
JN: (Jerry Nunn) You wrote a musical called Perfect Harmony before?
SF: (Santino Fontana) I wrote the book to the musical, yes. 
JN: Do you have a favorite musical of all time?
SF: My grandfather, when I was kid, babysat me a lot. He would take me to Blockbuster and we would rent musicals and then 12 Angry Men so it was a weird balance! We would watch Singin' in the Rain over and over. 
JN: Favorite memory from Billy Elliot?
SF: The cast. I am still very close with many of them today. Jeff Kready, who is in the ensemble of Tootsie, was also in Billy Elliot with me. We were talking about it the other day. 
JN: Did you feel temptation to be like Dustin Hoffman for Tootsie?
SF: I watched the movie a few years ago to familiarize myself with it. I realized no wonder this movie was a classic comedy. Maybe I should watch it again but it is too late now. The cake is baked!
JN: What should audiences get out of it today?
SF: In a lot of ways so much has changed and yes some things still haven't. There is a reason we love stories where characters make terrible decisions and disguise themselves. In the process of disguising themselves and pretending to be something they aren't, they learn who they really are. That is a story we will tell forever. 
Shakespeare had how many people in disguise? It's constant. There's a reason. 
JN: Is your character like the movie? Insecure and more secure as a woman?
SF: No one wants him as a man. No one wants to hire him or be in a relationship with him. He has a behavior problem. He blows things up and is reactive. 
I desperation he disguises himself and learns a new way to get through the world. He is rewarded for it… 
JN: While he's in drag. Had you done drag before?
SF: No. I did a reading for the writer of To Wong Foo, Thanks for Everything! Julie Newmar named Douglas Beane. He wants to make it into a musical. I did a reading for that once, but otherwise no. This is it. 
JN: There are several creative members in Tootsie that are LGBT like William Ivey Long.
SF: There is also Robert Horn and Scott Ellis.  
JN: Do people ask you to do the Frozen cartoon voice?
SF: Yes, but it is just my voice.
Lilli Cooper also talked about the show at the press conference. She originates from New York and brings a variety of experience to Tootsie as Julie Nichols. She played Sandy Cheeks in SpongeBob Squarepants and before that performed in other musicals such as Wicked and Spring Awakening.
LC: (Lilli Cooper) My dad was an actor so I was always backstage and immersed in the theater from an early age. It was something I always wanted to be a part of. I did theater in high school and went to Vassar for college. I came back to the city and have been working in New York ever since. 
JN: What was your first show?
LC: My first show was Spring Awakening. I was a junior in high school and it was on Broadway. I was doing college tests and tours while also having a Broadway career at night. It was a very strange dichotomy of a high school experience. 
JN: Spring Awakening is such an adult show for a high schooler. 
LC: It was. 
JN: Do you have a favorite memory from it?
LC: Yes, performing on the Drama Desk Awards that took place in my high school, LaGuardia Performing Arts Center so I was performing my Broadway show at my high school. It was very surreal but fun!
JN: Then you performed in SpongeBob?
LC: I did and in Chicago at the Oriental two years ago. It was so fun. We got to fine tune everything to make it the great show that it ended up being. I fell in love with Chicago then. 
JN: How were you cast in Tootsie?
LC: I auditioned for the show about five months ago. I have always loved this movie. I was it about 10 years ago. I rewatched it before the audition. 
I was doing SpongeBob when I was auditioning. The day I watched the movie I had a show that night and Jessica Lange was in the audience. She was in the third row. It was so close enough where I could see her. I thought I was going insane or hallucinating. I thought I was so obsessed with the show that I was seeing people. It was actually her. The timing was nuts!
I felt like it was a sign.  
JN: Did you meet her?
LC: No, I didn't get to meet her. 
JN: I interviewed her once. I heard a gossip columnist asked for a photo with her and she said, "Honey, I don't do that…"
LC: Oh no!
JN: Is the musical set in the '80s?
LC: No, it is set in the present day. It is a modern day take on the classic story. It is about a struggling actor who does anything he possibly can and is so desperate to find a job that he makes a really terrible decision and madness ensues. 
JN: Are there similarities to the movie?
LC: Absolutely. The core of the story is the same. 
JN: So it is not like the musical version of Pretty Woman?
LC: It is not the movie onstage. I heard that Pretty Woman was scene by scene pretty much the same. 
It takes place today. I think the writers have been so successful and brilliant in the way they brought the story into present day. 
JN: Did you have total freedom with your character?
LC: A lot of it, yeah. Jessica Lange and I are very different people. We are different types and it is a different time period. Julie in our show is very strong, passionate character. That is what I really love about our version. 
She has never needed validation from a man in her life and is not seeking that. She doesn't need it. She is an empowered woman. That is what I really love about playing her. 
JN: There's a part where she wrestlers with being a lesbian right?
LC: There is a moment where the two of them are such good friends that she questions what these feelings really are. She soon finds out that he's a man. 
JN: For LGBT audiences there are moments of inclusion?
LC: There are. Michael identifies as a man and makes this as a selfish motivation to get a job. He learns how messed up this choice is that he made. He learns and grows from it. That is another shift from the film that we have really succeeded in. 
JN: Isn't he insecure as a man and then becomes empowered as a woman as in the movie?
LC: It is less about him discovering his empowerment while he's a woman, but more about finding out who he is as a person and how his choices impacted other people. He learns more about himself as a person because he can't be this woman for the rest of his life. He learns from the choices he has made. 
JN: Since it is going to Broadway, are you excited about going back to New York?
LC: Yes, that's the plan! It will be at the Maquis Theatre with performances in April.
Interviewed by Jerry Nunn. Jerry Nunn is a contributing writer to the GoPride Network. His work is also featured in Windy City Times, Nightspots Magazine and syndicated nationally. Follow @jerrynunn