A GoPride Interview
Ky Dickens
Ky Dickens interview with ChicagoPride.com
Wed. November 4, 2009 by Windy City Times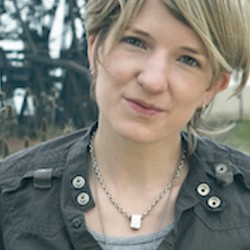 Various churches and religious leaders have spoken against homosexuality citing the Bible as their main resource. But does the Bible really say anything about homosexuality?
Filmmaker Ky Dickens tackles that exact question in her documentary Fish Out of Water. The film asks LGBT church figures and other people (e.g., the Rev. Fred Phelps) their interpretations on homosexuality in the Bible while unveiling new perspective on seven Bible passages that have been commonly used against homosexuality and same-sex marriage rights.
WCT:
(Windy City Times) Let's get right down to it. You've tackled two of the stickier moral debates [homosexuality and religion] in one film. Where did you get the bravery and inspiration to make such a project?
KD:
(Ky Dickens) I wouldn't say bravery as much as necessity. When I came out to my sorority friends in college [Vanderbilt University] I was approached with so much judgment and the majority of the judgment was based on these religion-based beliefs. You know—"You're going to go to hell!" or "That's a sin!"—and at the time I didn't really have any facts to disprove what people were throwing at me. So I started to do research, which led to the documentary.
WCT:
Do you think this research and the evolution to the documentary was also about coming to terms with your own sexuality and acceptance?
KD:
Absolutely. I needed to know what was true and what wasn't and I started to discover that the Bible really doesn't say anything about homosexuality in it. Actually, the word homosexuality isn't even in the Bible. Most of what people use to call homosexuality is a sin based on interpretation; I started becoming more interested in what everyday people's thoughts were about religion and those misconceptions.
WCT:
The title of your documentary, Fish Out of Water, is a popular metaphor, but what does it mean to you and to the film?
KD:
Well, it's a double entendre! You may know this, but the fish is a symbol of Jesus. So that's one angle. The other involves the idea that gay people are already a fish out of water in society. When the church doesn't show much acceptance, where does out community get to go? We're literally fish out of water. It's fun imagery.
WCT:
Speaking of imagery, your film has some fun aesthetics. You use animation mixed with live-person interviews. Can you explain the reason of using cartoons?
KD:
I wanted the documentary to be accessible to everyone and—let's face it—talking about religion can get pretty boring. Two animators from Columbia College [Kyle Harter and Alan Saunders] took on some of my ideas I had to visually describe certain Bible scenarios. It makes it easier for people to separate certain scenarios and characters, too. Like, "Oh, that funny looking character was introduced to us before when we were talking about Genesis."
WCT:
It probably lightens up what can be a pretty heavy topic.
KD:
Totally. Our goal wasn't to throw opinions at people. It was to comfortably integrate facts about something that people have a lot of misconceptions about. I wanted any audience to walk away with knowledge and not feeling like they were just talked at for the entire documentary.
WCT:
You got a talented name to do the soundtrack—Golden Globe nominee Kaki King. How did you get to work with her and how was it?
KD:
That's one of the great things about this project. When I first started, I thought it was going to be incredibly hard to get people to help. But it was the opposite. I had a bunch of people approach me on their own or if I asked. Kaki came along when a friend and I went to a concert of hers and got to meet her back stage. We brought her some tamales from a stand outside and talked about the film. She was all about it. The score is original. We really didn't want it to overshadow the rest of the film, but we wanted her style to be recognizable.
WCT:
So, looking back, what was your biggest challenge with making this documentary? Was it asking the tough questions to religious figures?
KD:
Aside from the actual production difficulties, the biggest challenge I still think about was getting the LGBT community to trust this film.
WCT:
Because it's about religion?
KD:
Well, it's about church and religion and because the LGBT community has been shunned or judged so harshly by the church we've placed this stigma on how terrible it is. When people hear "another film about religion," right away they want to put up defense. It makes people uneasy. I was afraid that I wouldn't reach many audiences because of the topic. But it's been the total opposite.
WCT:
Well, I think you've done your job now that you're highlighted as the centerpiece documentary at the Reeling Gay and Lesbian Film Festival. What's next for your film?
KD:
We're heading out on the road. We're going to do some street marketing and handing out information to people to get the film out. The DVD will be available in the spring of 2010 to purchase and to rent. We just want to keep getting the word out.
Interview by: Byron Flitsch

Fish Out of Water will premiere at the 2009 Reeling Film Festival on Sunday, Nov. 8, at the Music Box Theater, 3733 N. Southport, at 5 p.m. A post-film discussion will take place at In Fine Spirits, 5420 N. Clark. See www.reelingfilmfestival.org.



Interviewed by Windy City Times