A GoPride Interview
Yung Gravy
Tasting some Yung Gravy in Chicago
I want to be able to walk around and have dinner with my mom without being mobbed.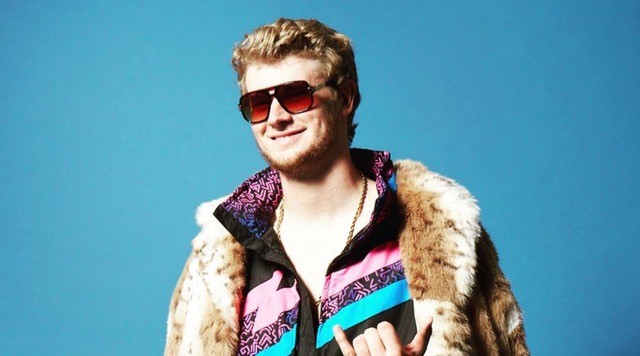 Rapper Yung Gravy talks Barbra Streisand
Matthew Hauri, better known was the rapper Yung Gravy, is originally from Rochester, Minnesota. His 2016 single "Mr. Clean" combined a retro sample with snappy lyrics. His first record Sensational debuted in May of this year and sat down at Lollapalooza to talk about it. 
JN: (Jerry Nunn) Where did the name Yung Gravy start?
YG: (Yung Gravy) I started making music in 2017. I was in college at the University of Wisconsin. The name came from me free styling with some friends at summer camp and I said something about gravy and it stuck. I was Mr. Butter before that, then it turned into Yung Gravy. 
JN: You are from Minnesota?
YG: I am. Now I live half in Minnesota and half in LA. 
JN: Is Yung Gravy separate from you as a persona?
YG: Not really. It was before as personality, but amplified it more. It's about being able to express myself more than at my other jobs. My first year and a half of rapping, I had a job at a start up company where I couldn't be a savage. It was a dope job, but I couldn't say what I wanted to really. 
Now, I am fully throwing it out there as myself and Yung Gravy. Matt Hauri and Yung Gravy are the same thing. 
JN: How was it playing at Metro in Chicago? That seemed like an iconic show. 
YG: It was sick and a dope show. I have done Subterranean and it was my first show in Chicago. I just did it last night for the Lolla after party. I did Bottom Lounge and Metro after that. They were all my favorite shows on tour. 
JN: You must be influenced by older music. Did you parents play that style of music while you were growing up?
YG: Kind of. I have much older parents and they would listen to some of that stuff. I would pick it up on YouTube after school. I would look up '70s funk and soul. I liked The Blackbyrds and Patrice Rushen.
JN: How is Momma Gravy doing?
YG: Splendid. 
JN: I saw her on a YouTube video. 
YG: She almost came this weekend, but Lolla would only give me one extra guest pass. It's the stage I'm on at BMI. My homegirl was in town where I am staying and my videographer had to come. She offered to just be in the crowd, but I didn't think that was a good idea. 
I didn't want her to drive or fly that far. I will be doing more things in Minnesota soon. 
JN: She sounds supportive. 
YG: She's great. She comes to all the shows. She's flying to Atlanta for a few shows. I've got a lot of friends down there. I brought her out onstage during the last 4/20 performances and got her to smoke weed. It was a parent/son bonding moment!
JN: Chicago is passing marijuana in January. How about Minnesota? 
YG: We've got medical. At some venues it's an unspoken rule that you can do whatever you want. 
JN: Tell me about your sidekick DJ Tip. 
YG: He's a fellow Minnesotan. He's a legend. I used to look up to him when I was in high school. He's been in the scene for a while. We hit it off at a Minnesota show. He has the exact same taste in music. He's been my DJ since then. 
JN: He's got great style. 
YG: He's a huge Prince fan and is bringing that back. We will coordinate a show where he has a crazy outfit with one color. I will wear whatever, but a t-shirt and shorts where we match. He makes me look cooler because of how he looks. 
JN: The "Gravy Train" video really gives a behind the scenes of your tour including dildos!
YG: Someone threw a dildo onstage that almost hit me and then we had an interesting rest of the show where dildos were being thrown all over the place. The video became 18+ on YouTube after that. 
JN: It looked fun. 
YG: It is. I had our videographer make a recap of everything in one place. 
JN: I loved the lyric about being the "young Barbra Streisand." Are you calling Babs old?
YG: Everyone jokes about things like, "I'm the young Betty White" or "I'm the white Tiger Woods."
JN: Barbra will be here this week if you want to hang out…
YG: I would love to. She's a legend. 
JN: What didn't make the cut for "Gravy Train?" Was there crazier material?
YG: There were some fights, not with me, but just not cool. We made it family friendly. We are not some weirdos. It was as good as it gets. It was lots of fun and all good. 
JN: What do you want to tell people about your live show that haven't seen it yet?
YG: It's fun and different than most people. Sometimes food is involved, so don't bring your best outfit. I get yelled at a lot for getting milk and cereal on people. We baptize people in gravy. 
There's a big trend in Australia and New Zealand of doing a shoey. You take your shoe off and fill it with beer, then drink it. All of our shows are 18+ and we are allowed to do it. People drink shoeys onstage or I will spray Nesquik into the crowd. 
It's not gross. It's not a Nickelodeon slime situation, but it's a fun show where people go crazy. 
JN: There are different types of gravy, like the white gravy and giblet gravy. Do you have a favorite gravy?
YG: I really like mashed potatoes and gravy. I'm a turkey gravy kind of guy. When it's done well I'm a huge fan of biscuits and gravy with sausage. I go more into that when I'm in the South. When I'm up here, I stick to mashed potatoes and gravy. 
JN: I was raised in Tennessee. 
YG: Gotcha, so when I'm at a Waffle House then I go for the biscuits and gravy. 
JN: We need to get Momma Nunn and Momma Gravy together. My mom can make some mean biscuits and gravy. By the way, how was working with Juicy J?
YG: He's one of my favorite rappers of all time. It was crazy to work with him. He's one of my biggest inspirations. That was dope. 
I had the song "Buttered Up" to give to him and he killed it. It was impressive how fast he did that verse. I was freaking out that he was right there. It wasn't awkward at all. He's a nice guy. 
JN: Is there someone that you would want to work with, but haven't yet?
YG: I love Young Thug and Mayer Hawthorne. Bobby Caldwell if I could. I look for artists that are different rappers or bring a singer back to collaborate that hasn't done music for a while. 
JN: Where do you see your career going in the future?
YG: I love where I'm at right now. I don't want to be more famous. I want to be able to walk around and have dinner with my mom without being mobbed. 
I want to keep doing what I am doing, but branch out. I was offered a Netflix show, but had to bail on that. I was bummed out. I would love to do that. They wanted to cast me as a juvenile character named Leopard. That sounded sick! 
Interviewed by Jerry Nunn. Jerry Nunn is a contributing writer to the GoPride Network. His work is also featured in Windy City Times, Nightspots Magazine and syndicated nationally. Follow @jerrynunn