A GoPride Interview
Rozes
Everything's Coming Up Rozes
We attend LGBT events and try to stop bullying.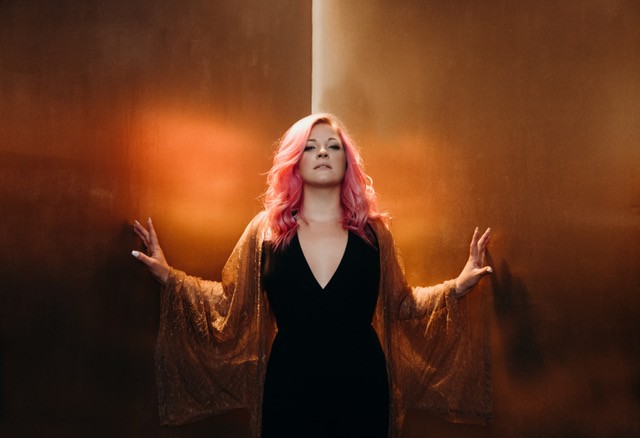 photo credit // justin james muir
Singer-songwriter Rozes talks working with The Chainsmokers, music and more
Elizabeth Mencel, better known as Rozes, is a singer and songwriter from Philadelphia. Born into a jazz-loving family, she began taking to music early.
In 2015, She broke out as the voice behind The Chainsmokers' hit "Roses". The song, which she also co-wrote, brought her onto the Billboard Hot 100 where it peaked at number six and went to number one on the Hot Dance/Electronic Songs.
Her debut self-released EP Burn Wild came out last year and she has since collaborated with other dance music acts like Cash Cash and Big Gigantic.
While in Chicago during a recent tour, the 22-year-old singer sat down with GoPride.com to talk music and gay fans.  
JN: (Jerry Nunn) Let's get to know you as an artist. Are you still living in Pennsylvania?
R: (Rozes) Yes, I am still there. I just bought a house. The love of my life is living near my family. 
JN: I heard your family is religious. 
R: I grew up in a catholic household. So my family was conservative growing up, but it wasn't so strict. My parents were pretty liberal in their political beliefs. It definitely was a home for music.
JN: Did you study music?
R: I always wanted to be a singer. I remember that we had to pick an idol or historical figure in third grade. I picked Paula Abdul. 
I always wanted to be in the lime light or an influencer of something. I have always had a lot of  emotions and I wanted to see if people could relate. That is what always made me feel better, seeing that people could relate to what I am doing and how I feel. 
Being a musician was a no brainer for me, especially because I love writing. 
JN: How was the name Rozes started?
R: I was originally a singer/songwriter in high school under the name Elizabeth Rose. It came to a point where EDM started getting big. I started changing my style and the way I was singing. I was maturing. I changed my named to Rozes and everything snowballed from there!
JN: With The Chainsmokers' song it went along perfect. 
R: With that branding I couldn't have asked for anything more. 
JN: For people who don't know you as an artist, what do you want to tell them?
R: I want people to know I am more than just a feature. I have written these songs. I put my blood, sweat, and tears into the songs. There is more to me than just singing on them. I have written music besides all of the features, for other artists. 
JN: Well, let's talk about your songs. You have a song called "Famous." When did you first feel famous?
R: When I was on Jimmy Fallon with The Chainsmokers. I had grown up my whole life praying and wishing to be that artist on Jimmy Fallon. I discovered bands that way. Hearing music sealed the deal for me. 
JN: Did you write all of the songs on your EP?
R: I am writing all of the music, but I also co-write with a production crew called SSIK Sounds. It is two guys, Ian Walsh and Patrick J. Mencel. Everything I have done has been through them mostly. 
JN: How was working with Cash Cash?
R: I love them. They were just texting me an hour ago because we might want to work on something else together. We worked really well together. Artists have a certain chemistry together and know who they work well with. 
We have a good match up. 
JN: Bebe Rexha told me there are three members of Cash Cash when I thought there were two.
R: There are three but only two that show up to a lot of the gigs. There is a third one that is equally part of the production, writing, and everything. 
JN: You worked with Logic who is doing very well right now. 
R: Logic is huge! He deserves it. It was a last minute thing. I didn't know joining the track. It was awesome. I am so proud of where he is going. Our song was on NBA 2K, which is a video game. 
JN: Who came up for the treatment for the video of "Girls on Boys"?
R: I had nothing to do with the video. It is amazing because there is a correlation to it. I wrote the song about girls loving girls, boys loving boys, and how it is a whole new world. There is an illuminati reference to the industry, not that I am confirming that there is one. I really don't know if there is. It is about being accepted into a crew and you will see things you have never seen before. For me, writing started with a broken heart, and that is what the song is about. 
JN: I saw the LGBT community in the video. 
R: It is definitely LGBTQ. I am a huge advocate for that. I strongly fight for it. I wanted to add that in there when I was writing it. I think we need people who have platforms to speak about it. whether it is through music or what. You never know who is listening to the music. 
JN: Have you played at any gay bars?
R: Oh yeah. We have done drag shows, Pride week, and Pride parades. 
JN: We have to get you in Chicago's Pride Fest. 
R: I would love that! I have someone that books for LGBTQ events so he helps me with that. We have a street team called The Roze Garden. We attend LGBT events and try to stop bullying. We are starting a YouTube channel where we work on mental health. 
JN: Did you know there is a rainbow rose?
R: No. I had no idea! 
JN: How well do you know your roses? So a red rose means?
R: Love. 
JN: Got it! Yellow?
R: I don't know. 
JN: Infidelity. Green?
R: I didn't know there was one. 
JN: It means rejuvenation. A salmon rose means desire. 
R: Oh, I like that. I never thought to look that up. 
JN: You must use roses in your branding. 
R: Oh yeah. 
JN: You are currently on tour with Max. I met him at Lollapalooza. 
R: I would love to be a part of that festival. When you book things it has to be strategic around everything else. You can't do them every year. It is crucial to play it when you have a big break. It is all timing. 
JN: What else are your plans this year?
R: Well, 2017 is coming to an abrupt end. We are trying to get a single out before the end of the year. 
In 2018, definitely a music video and EP release with more music, and touring.
Image courtesy: Justin James Muir
Interviewed by Jerry Nunn. Jerry Nunn is a contributing writer to the GoPride Network. His work is also featured in Windy City Times, Nightspots Magazine and syndicated nationally. Follow @jerrynunn