A GoPride Interview
Inara George
The World Is Buzzing about The Bird and the Bee
It's hard to talk about the politics of this country right now.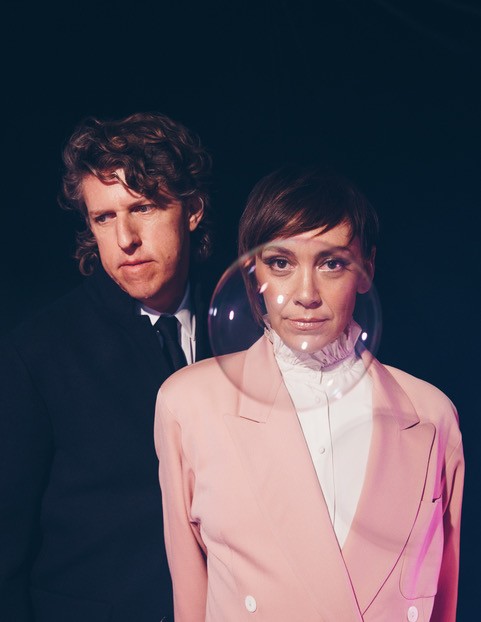 photo credit // alexa nikol curran
Inara George from The Bird and the Bee talks about the band
The Bird and the Bee is a pop music duo made up of Inara George and Greg Kurstin. The group grew out of a mutual love for jazz that led to a self titled album on Blue Note Records. 
Their cover song of "How Deep Is Your Love" was featured on the Sex and the City: Original Motion Picture Soundtrack and their song "Runaway" was on the Trainwreck Soundtrack. 
They made two volumes of Interpreting the Masters with their version of classic hits by Daryl Hall and John Oates and Van Halen. 
George talked about their work before a recent show in Chicago. 
JN: (Jerry Nunn) I have followed your career for a long time. Were you performing pregnant at some gigs?
IG: (Inara George) I did in LA for the first pregnancy. The second pregnancy I had twins, so I didn't do anything. I could barely stand! 
JN: Do you want to have more kids?
IG: No, I am done. I'm 45. I've done my duty in populating the earth. 
JN: You are from LA and studied acting?
IG: I am from LA and studied acting all through high school, then went to college for it. Between from freshman and sophomore year I got into a band. My dad was in a band, so I didn't want to do that. Look what happened. I do really enjoy it, but it took me a while. When you find the right collaborators it can be really fun. 
JN: There was a jazz influence at the beginning?
IG: I always enjoyed jazz. That is how Greg and I bonded. He went to school and studied with a famous jazz pianist. I have always been drawn to that music and songbook. I think it came from watching old movies like Singin' in the Rain. 
JN: How do you make a cover song your own?
IG: Greg and I like broad swath of music. When we started working together we wanted to write songs similar to some other artists. I think we had written so much that it was our anecdote to not touring. In a short amount of time we put out a ton of records. 
When the first Interpreting the Masters came out, we thought it would be fun to make a whole record devoted to one artist. I think the Recreational Love record is very influenced by the Hall and Oates record. It almost felt like a college project. We wanted to reinterpret the songs, but still pay tribute to them. We didn't want to mess with them too much, but put our own slant on it. 
I think you stay present, do what feels good and don't veer too far off.  
JN: Why did you pick Van Halen for the new album?
IG: I think we wanted to challenge ourselves. We are both fans of Van Halen. We had written a song about David Lee Roth on our second LP. We had gone through a list of different artists and Van Halen was the one that stuck. 
It's the same thing with Hall and Oates. It's a band that is insanely popular that doesn't always get its due in terms of the skill and songwriting ability. They both have timeless songs in a very different genre. It's a fun challenge to shed light on bands we think are cool. 
JN: Did you hear from Hall and Oates about that album?
IG: I was pregnant with my first child when we played Hall and Oates. John Oates came and played with us for that show. Daryl Hall has expressed to Greg that he really likes the record. 
JN: How did you meet Dave Grohl from Foo Fighters?
IG: Dave got in touch with me a long time ago, right when we were making the Hall & Oates record. We had talked about Dave playing on our record. Years passed and Greg and Dave both vacation at the same place in Hawaii. They both got to talking. Greg produced Dave's Foo Fighters record, so then we were asked to perform on the song "Dirty Water."
JN: How was opening for Lily Allen?
IG: It was fun. She's insanely bright and sharp. That was our first big tour as The Bird and the Bee. 
JN; "Runaway" is one of my favorite songs. Do you play it live?
IG: We do, but not on this tour. For this tour we are playing three songs from that record. 
JN: How do you feel about LGBT rights?
IG: I'm very liberal. It's hard to talk about the politics of this country right now. I don't understand how someone could support that guy. 
Out artists Samantha Sidley is opening up for me and is on my label. The songs she sings are brilliant. I think about Dusty Springfield and how she sang songs to a man when she was in love with a woman. Samantha is taking back that genre as a jazz singer. 
JN: I saw underwear at the merch table. 
IG: Those are Samantha's with "I Like Girls" labeled on them. 
JN: I saw playing cards too. 
IG: They have our faces on them. It was a super fun project I did with an artist. He was a fan and I liked his stuff. I asked him to make the cards. We actually have a version with the Van Halen band on them too. I need to get it cleared before I sell it. 
JN: There are so much music coming out of LA these days. 
IG: LA has the best musicians. I don't know why it's become New York there may be more jazz centered people. I speak to people in London and they say they come to LA to make a record because of all the session people. I think it's always been like that. 
JN: What is buzzing for The Bird and the Bee for the rest of the year?
IG: This is sort of like a vanity tour. I brought my kids. It's a fun vacation project. I'm exhausted right now because the bus broke down a couple of times on the way here. It's fine now. 
JN: The kids are on the bus?
IG: Yes, that's why we got the bus. The kids go back to school and we return to being normal. 
Interviewed by Jerry Nunn. Jerry Nunn is a contributing writer to the GoPride Network. His work is also featured in Windy City Times, Nightspots Magazine and syndicated nationally. Follow @jerrynunn