A GoPride Interview
Clayton Stroope
Clayton Stroope interview with ChicagoPride.com
Wed. April 22, 2009 by ChicagoPride.com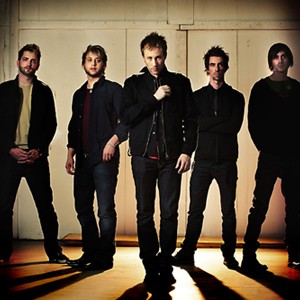 thriving ivory with lead singer clayton stroope
photo credit // www.thrivingivory.com
It takes but a listen to Thriving Ivory's self-titled debut to hear the indelible sound of timeless rock for modern day music lovers. This is a band that effortlessly matches musical grandeur with visceral emotion and cinematic melodies, creating songs that embed themselves into the listener's consciousness. The San Francisco quintet's lyrics enchant with imagery that conjures transcendent spirits of ghosts and angels, yet the words also possess the power to ground listeners in the poetry present in everyday life.
At the center of the sound are the trademark pipes of singer Clayton Stroope, whose vocals possess an awesome power. Critics have raved that Stroope has a voice that's a "throwback to classic rock-opera vocal cords," with "a swagger and shimmy reminiscent of Robert Plant in 'The Song Remains the Same.'" The band has been very busy over the last year promoting their album and its first single "Angels on the Moon," hard work that's paid off in a myriad of ways: the album has reached the #1 spot on the Billboard Heatseekers Chart three different times, and "Angels on the Moon" has been a ubiquitous hit on both the Pop and Hot AC charts. The band was named a VH1 "You Oughta Know" Artist, with their video appearing frequently on the Top 20 Countdown, as well as on LOGO's NEWNOWNEXT. On MySpace, "Angels on the Moon" has been played over 18 million times, while the video has been viewed over 3 million times on YouTube.
Stroope recently took time out of the band's relentless touring schedule to talk about his love of classic rock, his appreciation for the band's gay fans, and the reality of being rock's latest heartthrob.
Q:
Thriving Ivory is a rock band, but the music isn't just about guitars. No matter how big the sound is, the songs are always really melodic. That said, I'd be interested to know how you describe your music.
CS:
(Clayton Stroope) Everything is very piano-based; the songs are always written on the piano. I always get in trouble with the other guys in the band when I say it's "piano rock." They don't want us to be pigeon-holed in any way. But I know that people sometimes need simple descriptions.
Q:
The guitar and the piano together—they're the yin and the yang of rock. The masculine and the feminine, if you will.
CS:
Yeah, the piano definitely gives the music more emotion, which is an important part of what we're trying to convey.
Q:
Was listening to rock music a big part of your youth?
CS:
I listened to a lot of classic rock, stuff like Foreigner, Aerosmith, Bad Company—the ones with old-school front men. You don't see that as much these days. My sense of how a rock singer should sing came from listening to those bands. And then as far as the piano angle, I was definitely into a lot of Elton John, too. I loved Madman Across the Water. I also was in some plays and musicals when I was younger. Things like Guys and Dolls also had an influence on me.
Q:
The lyrics to your songs are very romantic, both in terms of relationships and in terms of the bigger picture—the meaning of life, I guess one could say.
CS:
Scott [Jason, the band's chief songwriter] writes most of the lyrics, and he tries to stay away from being too literal so people can create their own interpretations. His lyrics are poetic without being cheesy. If we were to put things in a box, it would ruin it for some people. I'd say that the overriding theme on the album is hope.
Q:
You guys have been touring a lot over the last year. Do you all get along on the road?
CS:
Definitely. We have our moments, but we've known each other for years. We actually lived together for 3 or 4 years, so we're all very close friends. Sometimes, I think it's like having 4 girlfriends you can't escape [laughs].
Q:
I first became familiar with your music when I saw your video on LOGO. Have you gotten a lot of response from gay people because of that exposure?
CS:
Yes, definitely. I think the lyrics are general enough so that they appeal to all different demographics—men, women, gay, straight, old, young. And we get emails from all kinds of fans who are going through a lot of different stuff. Some of them are pretty tough to read, and it's hard to know what to say when we write back. We've met people at our shows who are HIV-positive, people that are dying, a woman who lost her baby in childbirth. They all say how affected they've been by our music, and that means a lot to us.
Q:
Many artists don't like to hear this because they want their fans to connect to the music first, but a video like "Angeles on the Moon" with 5 hot guys in it definitely has appeal for both guys and girls.
CS:
You know, a compliment is a compliment. Anyone who likes the way I look—I get that to a certain extent. I never really focused that much on how I look, but when I saw the first cut of the video, it was hard to look at myself. I was like, "I look weird in that shot, and my hair's all f**ked up." I've never walked around like I was Joe Cool, so when I hear people responding to the way I look, I try not to take it too seriously. Ultimately, whether it's men or women that are getting into our video, I just hope they really listen to the music and like what they hear.
www.thrivingivory.com
Interviewed by ChicagoPride.com
Serving the Chicago gay, lesbian, bisexual and transgender communities. ©Copyright 2019 GoPride Networks. All rights reserved.