A GoPride Interview
Jana Mashonee
Jana Mashonee interview with ChicagoPride.com
Wed. March 4, 2009 by ChicagoPride.com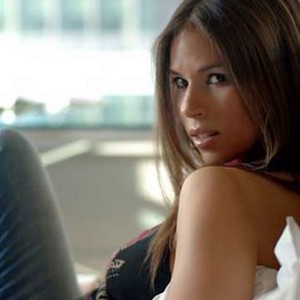 photo credit // www.janamashonee.com
With her latest album
New Moon Born
, Jana Mashonee is poised to burst onto the mainstream music scene. The album represents a significant departure from her previous endeavors, taking on a decidedly more upbeat rhythm and blues flavor. "The album is about rebirth and new beginnings," she says. "It reflects a phase in my life that has taken on a different shape and direction from anything I've done before," she says. In addition to providing all the vocals and piano, Jana wrote and co-produced the album.
In 2006, Jana released her Grammy-nominated concept album,
American Indian Story
. The Lumbee Indian singer-songwriter has also won 7 NAMMY Awards (Native American Music Awards) over the course of her career. At the start of the new millennium, Jana found success with chart-topping club hits like "More Than Life" and her cover of Led Zeppelin's epic, "Stairway to Heaven," earning her the honor of being the first Native American female to land on the Billboard dance charts. Despite her fast-paced career, Jana has still found time to give back by establishing her non-profit organization, Jana's Kids, in 2002. Through the foundation, she helps Native American youth achieve their dreams. Starting in 2007, Jana's Kids began awarding the David L. Boyle Family Scholarship to Native students. "I hope to raise more money so that I can fund a full two to four years of schooling for each person receiving a scholarship. That's my current goal."
In this ChicagoPride.com interview, the singer talks about her diverse musical career, singing in gay clubs, and what it's like to be gay in the Native American community.
Q:
This album has a more soulful vibe than your previous records. Can you talk about how the album came together?
JM:
It was originally going to be a concept album with a 20's and 30's feel. I had this image in my mind of a singer in a smoky bar performing both standards and original music. It was going to be called One Night in October. But I wasn't getting the inspiration I needed, so I got diverted thinking about experiences from my personal life that I needed to get out, things I haven't dealt with on my other albums. My last album, American Indian Story, was also a concept album, and I didn't want to be restricted by a concept or a specific genre of music this time.
Q:
What are some of the personal thoughts and feelings that you wanted to convey with this record?
JM:
It was about realizing that I'm not a perfect person, that I've made mistakes, and now it's time to move forward. The overriding theme of the album is rebirth, moving to another cycle, another stage in your life. Dealing with some of my personal issues on this record has definitely been an eye-opening experience. It's been really cathartic. Recording was like going to a therapist.
Q:
You seem to be addressing past relationships as well.
JM:
Yes, there are a couple of songs about recognizing my selfishness in relationships, not just in romantic relationships, but with family also. The songs deal with certain choices I could have made but didn't. With art, you have to be give up a large part of yourself to what you're creating. You are in love with your work. Being so focused on what you're doing can make you selfish and not as giving as other people may need you to be.
Q:
Is the song "Angel" about someone wanting to commit suicide?
JM:
No, it's not about killing yourself. It's about trying to change bad habits and become a better person. It's about taking a different path to create a new reality for yourself. Reality can be dark, so I try to acknowledge that in some of my songs. I like to convey intense emotions in my music because that's when I feel most intense about life.
Q:
"Carousel," the song that ends the album, is unambiguously upbeat.
JM:
Yes, it's really just about celebrating life. Some people might think its cheesy, but I wanted to celebrate all colors and races.
It a song about unity. I picture this huge circle of people holding hands, and no one cares about whether you're gay or straight or what color or religion you are.
It's was one of those trippy moments for me when I was feeling very optimistic.
Q:
How you ever felt limited by people seeing you as someone who can only sing Native American music?
JM:
There have been periods when I've struggled with certain stereotypes. There was a time when I was a kid that I didn't want to be different. I wanted to be the white girl with blonde hair and the perfect nose.
With ethnicity, you have to face yourself and know who you are. For me, this was a very positive thing. Now, I embrace who I am.
Q:
How do you think you new music will be received in the Native American community?
JM:
In the Native community, they call this kind of music "mainstream," as opposed to the traditional sound of my last two albums. People have expectations of you when you put yourself out there with a certain ethnicity, but I like to do different things. A part of the community only wants to hear Native Americans sing traditional songs with traditional instruments, but I need to branch out. So far, the response has been very positive.
Q:
Do you feel there is still a Native American influence to the songs on this album, just from the very fact of who you are?
JM:
Yes. Being Native is a way of life and a way of thinking. It's not about material things, like dressing in feathers. It's just how you are. If people aren't familiar with me, they don't immediately think Native American. Sometimes you have to kind of put it out there. That's something I'll always do in some way or another.
Q:
I think, for a lot of people, when they hear "Native American," they think of these clichés of people living on a reservation, working at casinos, and worshipping pagan gods. But that's a limited view, right?
JM:
Right. I didn't grow up on a reservation. I grew up in North Carolina, went to a Baptist church, and actually sang a lot of gospel music. There was a kind of "fire and brimstone" aspect to my spiritual upbringing, and although I still consider myself a Christian, I've tried to explore other kinds of spirituality. I have a slight problem with religious rules that were made by man. To me spirituality is more open—I try to explore beyond what the books say. My family is very much that way as well. They've just been so open to whatever I've been doing. People have this conception of Native Americans being polytheists. Natives believe in one creator. Some people call it God, Buddha, Allah; Natives call it the Creator. All living things are in everything. It's about respecting the earth and respecting oneself.
Q:
Let's talk a bit about an earlier time in your career. I think many gay people know you from your dance hits "More Than Life" and "Stairway to Heaven" because of the massive club play they received.
JM:
That was when I had my first record deal. They didn't really know what to do with me—here I was, this Native American girl. I was signed around the time of the big explosion in Latin music, and they had me put out a record as Jana Maria, trying to pass me off as Latin. I recorded "More Than Life" after that, and it just took off on the dance charts. I did a lot of shows in gay clubs at the time, and I feel like the gay community was the first audience to accept me.
Q:
Why do you think that is?
JM:
I think there's a connection that can happen between groups that are out of the mainstream—there is an appreciation of people's differences and the struggles that they share. I think it was also because I had this really big, theatrical stage presence. I went out there with my feathers and really tried to entertain. I've found that people in the gay community really respect you when you're being true to yourself.
Q:
What's it like to be gay in the Native American community?
JM:
People are very accepting, particularly the younger generation. And you might not think so, but even the elders are accepting of gay people. I have a Lakota friend who's a clothing designer, and he told me there's an ancient term for being gay in Native culture—it's called "two spirit." It refers to Natives Americans who fulfill both gender roles--men and women who wear male and female clothing and do the work of both genders. Because you can perform many roles in the tribe, you are thought of as more special. It still carries on today.
Q:
Last question: tell me about the scholarships you award to Native American kids.
JM:
It can be tough for kids growing up in the Native American community. Many kids don't finish high school, there are a lot of broken families, and drugs can be a real problem. I met a lot of kids at my shows who felt like they just didn't have a voice, so I started listening to the kinds of issues they had to deal with. Lack of education is a big problem, so I decided to create an incentive for people to finish high school by starting a scholarship program. I've been able to raise enough money from performing to give something back to the community, and it feels really good. For a long time, the Native American community has been the ignored community. I know some of my gay friends feel that way about the gay community, too. These scholarships are a way to recognize the beauty and potential present in our community, just as they're present in all communities.
New Moon Born
is available April 15, 2009
www.janamashonee.com
Interviewed by ChicagoPride.com