A GoPride Interview
Gene Dante
Gene Dante interview with ChicagoPride.com
Wed. January 14, 2009 by GoPride.com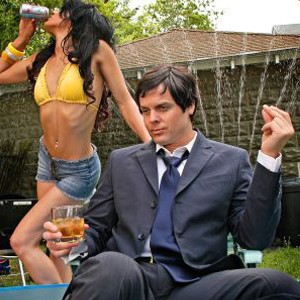 Gene Dante is the master of the dichotomy. He is both a musician and an actor. He's a songwriter with his mind drawn inward, and a performer with his energy focused outward. The music he creates is both flamboyantly glamorous and strikingly gritty. Dante's new album, The Romantic Lead resonates with the sparkle of glitter and the rawness of the gutter. It is both class and trash, edge and polish, emotion and entertainment.

The juxtaposition of such predilections should not be surprising since Dante has walked the line between theater and music throughout his career. Over the years, he has toured with The Rocky Horror Show in Europe, formed a production company in Boston to stage and star in Hedwig and the Angry Inch, and played The Beast in Beauty and the Beast. Now, Dante has focused his lens on his rock career with his band The Future Starlets, where he draws upon his theatrical skills to bring a dynamic visual element to his music.

With the help of drummer Tamora Gooding, bassist Jim Collins, and guitarist Scott Patalano, (formerly of renowned group Mistle Thrush), Gene's engaging songs have been fleshed out into the complex, compelling tracks that comprise The Romantic Lead, which was produced by longtime A&R exec and record producer Peter Lubin. The album was recorded and mixed at Q Division in Somerville, MA and will be released by Omnirox Entertainment on February 3. The Romantic Lead is a fully-realized vision, accentuated with Dante's theatrical flair and remarkable ability to use music to tell a story. "I always envisioned a record much like a show or an opera," he says. "I think a record should have an ebb and flow, conflict and climax."

The crooning on "The Dreamers" and "The Starlet Hits the Wall" and the soaring textures on "Like A Satellite" reveal Dante's ability to draw upon influences like Brian Eno, David Bowie and Neil Diamond in a way that reinvigorates post-glam with new life. Dante says "C Star," (accompanied by a sexy, swaggering video, directed by Michael Pope) is "intentionally unplayable by mainstream radio. If I must wax intellectual, it's a proletariat response to the invasion of tabloid photojournalism and the objectification/devaluation of entertainers as a sub-breed."

Here, the provocatively candid Dante expounds on the Metropolis quality in his music, the process of writing a song called "C*** Star," and his love letter to The Dresden Dolls' Brian Viglione.

Q: What kinds of things inspire you to write a song?

GD: (Gene Dante) I write about imperfections, flaws, things that don't work out. Most of the time it has to do with failure. I don't want to write about the winners. There are plenty of beautiful losers in this world, people who don't deserve to be losers. They've fallen from grace. Those people are much more intriguing than winners. I'm interested in how people struggle. If you look at the people who've created great art, they didn't really have an easy life.

Q: Do your lyrics come from your experience?

GD: Some are based on my life, some are embellished. Nothing is entirely true or entirely untrue. I'm not trying to preach or teach a lesson. I really just enjoy describing things. There's always going to be some smoldering Metropolis quality to what I do, but I don't know if it's always going to have a point.

Q: What's a Metropolis quality?

GD: Something akin to greatness but no longer in its pristine state. I think of Blade Runner with all of this high technology, but everything is rusty and broken--things that have faded from glory, but now take on a new glory. Think about the Rocky Horror castle and costumes. The story is more intriguing because things are falling apart. It makes you think: How did they get that way? How did things used to be?

Q: How would you describe your style?

GD: I always say its post-glam, rocked-out rat pack. I like the style of old Hollywood, like the way the Oscars used to be years ago. Guys like Frank Sinatra, Peter O'Toole, and Cary Grant really rock my world. They are the guys I'd like to be. I love the idea of a black tie affair meeting some kind of trash quality.

Q: What do you mean by trash?

GD: Let's face it—I'm not of the elite. I'd call myself more of a trash prince. Trash makes things more real. Think of old Hollywood combined with Lou Reed in his deepest heroin days. Anytime you can juxtapose two very different things, that's where the magic is.

Q: Who has inspired you musically?

GD: The Bowie influence is definitely there. He pushed musical boundaries, especially his albums with Brian Eno and Tony Visconti, and his lyrics were superior to all of his contemporaries in his glam rock days. If I could dress like Ziggy Stardust and get away with it, I would. But I'm not an anorexic little twink. It just doesn't work. I'd look like Gary Glitter more than Ziggy Stardust, and it would just be ridiculous.

Q: Well, there's a kind of gay sensibility to what Bowie did in the 70s. It's kind of glam rock meets gay pride parade. Do you think you have a gay sensibility?

GD: If I do, I wouldn't even know. What does that mean? Am I sensitive to gay issues? If it means that I'm writing with gay people in mind, I would say yes. I very much try to keep my songs gender neutral, though. I make a conscious effort to make sure I'm not selling one sexuality over another.

Q: But if you were in love with a man, wouldn't it be natural for you to be proclaiming your love for him in a song?

GD: Christian music has single-handedly ruined it for the man-on-man love song. Whenever a guy sings a song about another guy, it always sounds like a Christian rock song. Seriously, listen to the lyrics like, "I love him, I would lay down my soul for him." It's bullshit. Who knows? Perhaps some artist has infiltrated the Christian charts and one day he'll say, "Sorry Jesus... fooled ya! These songs were about my boyfriend!", but I doubt it. Damn... that could've been me. Maybe one day I will write a duet for two guys and get Neil Patrick Harris to sing it with me, but I'm afraid it will sound like something out of Cabaret.



Q: Tell me how your song "C Star" came about. With a title that's short for "Cock Star," it will certainly be of interest to the gay community.

GD: The words just came to me one day--it was like automatic writing. I thought, "Oh my god, can I sing this?" Peoples' jaws were just dropping to the floor in the studio. I spent 3 weeks banging my head against the wall trying to come up with alternate lyrics, but it just wasn't happening. If we get vilified for it, so be it. I have nothing to lose.

Q: It's rare for a musical artist to be so sexually honest and open. Some might say that the song is a shock tactic to get attention?

GD: Every performer and musician wants attention. The ones that say they don't are lying. I just wanted to address my hatred for how much entertainers must give up in order to get a buzz going. It's so easy to exploit unknown artists and actors, particularly when it comes to sex. When I was in New York trying to get work as an actor, my agent at the time was excited because she could secure me an audition for an indie film that would feature actual sex in it. I said, "Wait a minute... a porn film?" She said, "No, it's not. It's an art film." The audition was essentially getting naked and parading around the room. When filming, you would actually have sex. I stared at my agent and said, "This is what you think I have to do to get a job on camera? F*ck that." I have more talent than that. And let's face it, dude, I've seen myself in a full-length mirror. I wouldn't make a very good porn star. I like my porn with no dialogue and my movies with no porn. Maybe I'm a prude, I don't know.

Q: But "C Star" is the opposite of prudery.

GD: I decided to face my fear head on, using a familiar vehicle: songwriting. I'm going to write a song about my dick. It's going to be ironic, self-deprecating, and catchy, and people are going to love it and hate it at the same time. Rock musicians have always written songs about their dicks. Led Zeppelin used a lemon. Motley Crue used a gun. And for me, my dick is a song: not super long, but it pounds like a hammer.

Q: Let's talk about "Brian, My Darling," which you say is a love letter to Brian Vigliano of the Dresden Dolls.

GD: This was written on a dare. The Dresden Dolls came up once in a conversation, and there were some differences of opinions about their songs. I'm definitely a fan of theirs, so I was challenged to write a Dresden Dolls-type song. Brian's dynamite; I love him. He's one of the greatest live drummers I've ever seen; so dynamic and visually interesting. To raise the stakes, I decided to make the song a love note to him. It's a fictitious love note, and – aside from the title – it's not gender-specific. See, I'm consistent.

Q: Do you believe in true love?

GD: I think it's absolutely possible. It happens every day. Whether we're meant to be together forever, I don't know. No animal mates for life in the animal kingdom. I definitely want it to be possible. For me, I think it will happen with someone who sees the kind of life that I live, respects what I'm doing, and wants to be a part of it.
Interviewed by GoPride.com
Serving the Chicago gay, lesbian, bisexual and transgender communities. ©Copyright 2019 GoPride Networks. All rights reserved.