A GoPride Interview
Will Wikle
Will Wikle interview with ChicagoPride.com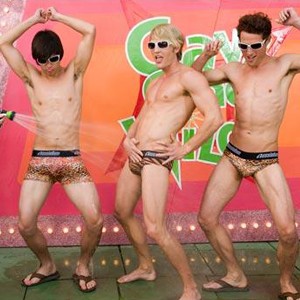 wikle (center) takes part in ags's wet package contest
POP Quiz: Five Random Another Gay Movie-franchise Questions for Will Wikle
Those apt to say that nurses from New York-turned reality TV contestants-turned gay TV/radio personalities can't act clearly didn't see Will Wikle in
Another Gay Sequel: Gays Gone Wild
. While Wikle's appearance on the fifth season of "Big Brother" did not result in victory, his role on the show parlayed his career into a number of spotlighted gay ventures. Following "Big Brother," Wikle was seen as the host of LOGO's "Round Trip Ticket" and heard as a commentator for "Radio with a Twist." Most recently, Wikle appeared in a leading role of
AGS
as the film's main protagonist, a brilliantly played blonde bombshell boy bitch in booty shoots named Jasper.
"I loved
Another Gay Movie
[the first in the film's franchise]," Wikle says. "It was the only movie I've ever seen that made me laugh and get horny at the same time." And of scoring the Jasper role, a mix between Disney villain and "ultimate head cheerleader, bossy bottom," Wikle continues, "So random! I was at the gym and ran into an actor friend who had just auditioned and said I'd be perfect for the part. I got in touch with the casting agent the day before they were going to offer the part to someone else, and went in and acted like the bitch from hell ... You know that mean girls are always the most fascinating, colorful part of any story. I think every skinny, little gay grows up dreaming of being the Head Bitch in Charge for just a day. It was so fun to play the villain. People always remember a fun villain."
Pop Quiz
:
Q:
With RuPaul, Lady Bunny and other drag queens, an ensemble of gay actors, Perez Hilton and porn stars all making appearances in
AGS,
there just had to be some behind the scenes drama. Tell us all about it!
A:
Listen, there will never be a film set without drama. As you would expect there were crushes, tears, sex and booze, and that was just in my room. No drama came from any one you'd expect though. Perez flew in and out and never spent tons of concentrated time on the set. RuPaul is very zen and loves to play charades in her hotel room. Other than that, it was just a bunch of run of the mill hookups.
Q:
Like?
A:
The only thing I won't do is talk specifics about who hooked up with who, because I don't want to be that girl. But it is pretty easy to figure out, right?
Q:
Lame-—moving on, in
AGS
there was a boat-cabin orgy scene where your character is seen getting it in the butt with your legs in the air. During which, I noticed a tattoo on your calf. What is it?
A:
It is the initials of one of my life's dearest friends, Murray Pace, who was murdered in 2001 by a serial killer. She was so full of life and I got the tattoo to carry her with me and allow her spirit to share in all the crazy experiences I know she would appreciate. Murray has been with me in the Big Brother house and film shoots in Buenos Aires, Rome, and Miami, to name a few. She is my guardian angel.
Q:
There are a lot of butt shots in the movie, which must have equated to a lot of full frontal on set. Who had the biggest cock?
A:
When you're on a SAG set, everyone is required to wear "cock socks" when filming nude scenes. They are these flesh-colored pouches that you tie around your dick and balls. I will say that Colton Ford had to have a special one made to accommodate his extra inches.
Q:
In the final scenes, there was poo on your character's face. What was that actually? And as an actor, was it hard to put your face into an exta's naked butt and pretend to rim?
A:
The poo was made of chocolate, peanut butter, and powdered sugar. Even though it tasted delicious, something about it was totally nauseating, even imagining that your mouth was full of poo. I felt so sorry for the other actor. We had to do so many takes because I kept laughing. The makeup artist and Aaron Davies (Griff) were off camera making faces everytime I dove in to act like I was licking his ass.
Another Gay Sequel: Gays Gone Wild
was released on DVD December 9.
Serving the Chicago gay, lesbian, bisexual and transgender communities. ©Copyright 2019 GoPride Networks. All rights reserved.