A GoPride Interview
Deon Taylor
'The Intruder' breaks into theaters: Interview with the star and director
It's an amazing time to be living and I am happy to be this age and be in this place in my career.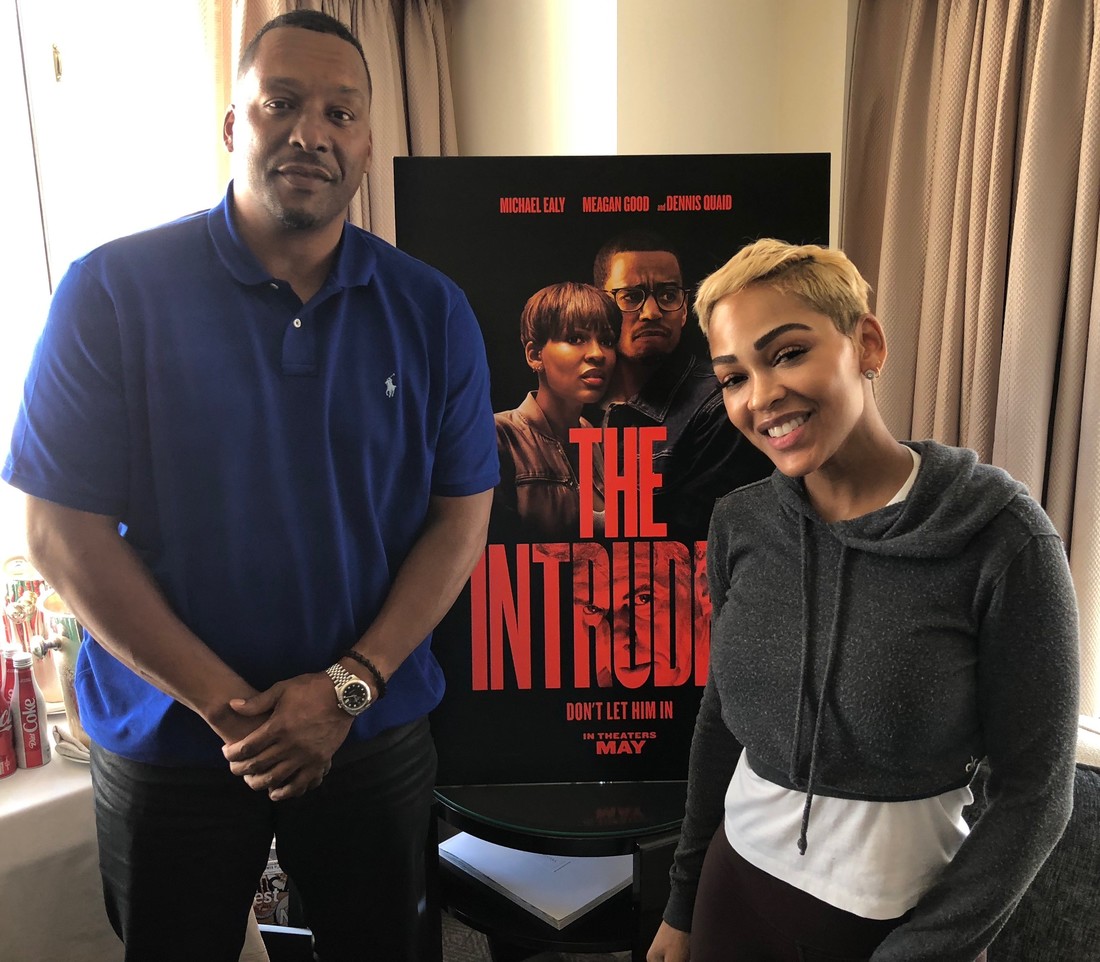 photo credit // jerry nunn
The Intruder is busting into theaters this May telling the story of a married couple buying their dream home in Napa Valley. When the previous owner Charlie Peck, played by Dennis Quaid, won't leave them in peace, things quickly go downhill for the Russells, starring Meagan Good and Michael Ealy. 
Director Deon Taylor was born in Chicago and grew up in Gary, Indiana. He has helmed such projects as Meet the Blacks and Traffik. 
Good started as a child actor, performing in various TV shows and films. In 2011, she was part of the cast of the movie Think Like a Man. Other credits include Friday, Stomp the Yard and Saw V. Some popular television roles have been Minority Report, Californication and Star. 
The two sat down at a hotel in Chicago to discuss their latest project The Intruder. 
JN: (Jerry Nunn) I know Deon is from here, but have you spent much time in Chicago, Meagan?
MG: (Meagan Good) I've shot a bunch of stuff here like Roll Bounce and The Unborn.
JN: With The Intruder, what is the story behind the foxglove flowers? They are poisonous?
DT: (Deon Taylor) Very. I was trying to find a location forever. The movie was done independently. We didn't have very much money. I wanted to shoot the movie in Napa because I live near there. It was just too expensive. 
For the first time ever, my producer asked me to leave the county. We wound up flying over to Vancouver and driving around for almost three weeks. I was over it and thought I would have to rewrite it. We had exhausted everything. I asked about haunted houses. He told me about a place called Foxglove. 
MG: Wait, you knew that house was haunted before we got there?
DT: It was listed haunted! 
MG: Deon, no wonder!
DT: We drove out to the house and when we pulled up I couldn't believe it. When you drive up that driveway, that is what I saw. I shot it just like that. 
It was the creepiest house I had ever seen. I thought no one would live there and some white people walked out. They started talking to me. They told me it was called Foxglove. It was named that because those flowers are very rare. They only grow around that property. I was so intrigued that I put it in the movie. 
Then Dennis Quaid came and he got the same tour. He asked the same questions. He went one day and picked some of the flowers. That part when he comes with the flowers, he did that. This was a poisonous flower that he gives her! 
JN: Were you scared being in a haunted house?
MG: There was one room in the home that was a prayer, church room. It was the room right behind where the tapestry would have been. Every time I would be in that hallway I would feel something. There was an energy that was really creepy. It made my skin crawl. If I walked down the hallway it would get more intense. By the time I got to the room I felt something was in there. 
Not even for a million dollars would I sleep in that room!
JN: How was it working with Joseph Sikora? He remembers me from past interviews.
MG: I am such a fan of his. I pulled up an old video of him in My Best Friend's Wedding. He must have been about 17 years old. It was a song with Julia Roberts and he was singing some song with another kid after inhaling a balloon to sound like the Chipmunks. I sent it to everyone. 
He's just one of those guys that is so humble and kind. He's been at it a long time. People don't know that. He's really just breaking out now. He's an amazing human being. 
It is so fun to watch him in this movie. The interaction with Charlie and the looks he gives him, the audience just eats it up!
JN: Deon, the Charlie character is so in love with the house. Did you ever think about making him be very careful with the surroundings instead of destroying things around the place?
DT: Yes. There was a version where we were messing around with things he did during that. It is still written in the script, but I didn't shoot it. Anything that he would have done in that way would have taken our foot off the gas.
When I watch the film now, I am happy that I did it that way because once it goes, it's going! The seatbelt is off, the bottom drops out and people are screaming. If there was a moment where he was being too careful in the house, I felt it would have been comedy. For Dennis to reach that level he had to go to a dark place to play that role at the end of the film. 
When you see him go around the corner with the gun, that's a different guy. 
MG: What makes it crazier is that you know how much he loves that house. He is just determined to get it done. 
JN: The Shining moment with the door being broken was a Stephen King homage?
DT: Stanley Kubrick. Originally I wasn't going to do that, but when I watched how powerful he was in a couple of different scenes I changed my mind. I had a scene where he goes to a mirror before that moment and knew he was in a different place. I asked him what he thought about doing the broken door scene and he wanted to try it. When he goes through the door with that knife, it's actually a practical door with a real knife and Dennis is doing that. It really took him that long to get through that door. He was determined to get through it. 
JN: That was real and method acting!
MG: There's a lot of method acting, that's for sure. 
JN: Did you have a special mixture of blood?
DT: No. We didn't do a lot of blood. There was more blood on wounds than spraying stuff. 
JN: Meagan, you have had a long career in Hollywood. How has diversity progressed in your eyes?
MG: I still feel we have a long way to go, but I remember going in for certain roles and they would tell me I would be good for the lead, but they didn't want to hire a Black person, because I was told they don't sell well over seas. They would give me the best friend part and beef it up. I remember having at least three of these same conversations off the top of my head. 
The year I did Deception I was the second Black woman to be a lead on a NBC show. It had been 30 years since Diahann Carroll. That was the year Empire started and Scandal took off. That was the year of How to Get Away with Murder. I was watching all of my sisters with a major shift happening. It was the best feeling. I am old enough to appreciate it, but young enough to understand it. It is amazing to be in the front lines and play it. 
With this movie, you don't typically see Black people play these characters. The great thing is, we don't even mention race. It's not about that. It's just great human beings having this experience. White people or Black people or Latin people can all play this. It just happens to be this. It's an amazing time to be living and I am happy to be this age and be in this place in my career. 
JN: Your movie D.E.B.S. had a big gay following, too!
MG: Yes! That was my first action movie. 
JN: What do you both have coming up?
MG: I have Shazam! in theaters right now and I have Monster Hunter next year with Milla Jovovich.
DT: I have Black and Blue with Naomie Harris and Tyrese Gibson. I am really excited about it. It's a much darker film. It's about a police officer witnessing some young kids killed by narcs with a body cam. 
I have another movie with Michael Ealy that we just finished. It's called Fatale with him and Hilary Swank. I hope to screen it in the next week or two. 
I want to ask Meagan to do another film with me because I have a really good idea for a movie that I know for a fact is a classic. 
MG: I am ready!
Interviewed by Jerry Nunn. Jerry Nunn is a contributing writer to the GoPride Network. His work is also featured in Windy City Times, Nightspots Magazine and syndicated nationally. Follow @jerrynunn