A GoPride Interview
AJ Russo
Meet AJ Russo and five other guys who'll tap their way into your hearts
I did meet someone who got the show logo tattooed on their leg once. That was a little crazy.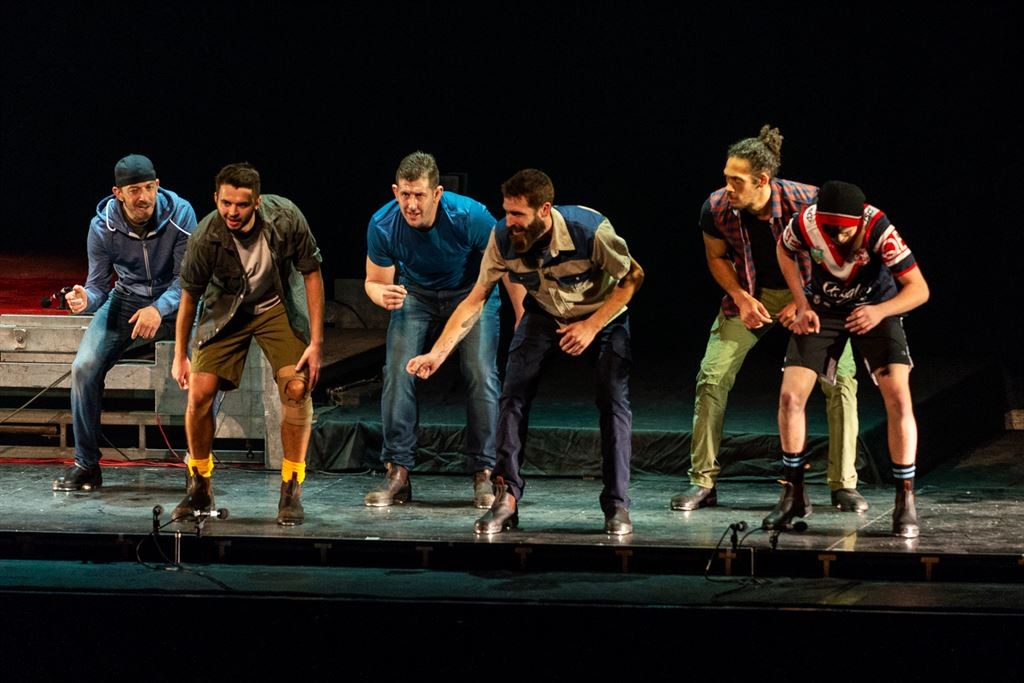 Australia's most successful theatrical export, Dein Perry's Tap Dogs opens tonight and plays through April 21 for a one-week engagement at the James M. Nederlander Theatre.
Tap Dogs returns to the stage with its trademark blend of live music and tap dance. Part theatre, part dance, part rock concert and part construction site, the show is crammed with high-energy dance,theatrical performance, and music performed by the cast and live musicians in this unstoppable spectacular. Whether in water, upside-down or jumping through scaffolding, the Tap Dogs have been performing to the beat of their own drum for over 20 years.
Winners of over 15 international awards including an Olivier Award (UK), an Obie Award (New York) and a Pegasus
Award (Spoleto Festival in Italy), the global smash hit has appeared in over 330 cities on six continents and has been
seen live by over 12 million people. A worldwide television audience of over 3.4 billion saw 1,000 Tap Dogs performing
in the Opening Ceremony of the Sydney Olympics.
Anthony "AJ" Russo (Foreman) talked to GoPride about the production and how he got started with the performance group eighteen years ago when he first joined the 6th national tour of Tap Dogs.
MI: (Matt Inawat) Hi AJ! For those who haven't seen Tap Dogs yet, tell us about the show.
AJR: (AJ Russo) In a nutshell, Tap Dogs is like this mix, this blend of blue collar work, a rock 'n roll concert featuring tap dancing. There is no real storyline. There is no dialogue, but it is very character driven. There are six distinct characters and just like on any construction site there's a foreman, which I play on this tour, and the dynamic of the characters you see onstage it is just a really entertaining group of guys. There is plenty of comedy littered throughout this show. We've had a lot of success on this world tour with this company. The casting is really on point and it's just really high energy, rough, raw, rugged show and you'll see six guys building and creating the set as well as tap dancing. We use angle grinders. We build a scaffolding and tap dance on it. We put a guy in a harness and flip him upside down on the ceiling to do his tap routine.
MI: All those sound pretty unique. So what about your journey to being a part of Tap Dogs. What drew you to the project originally?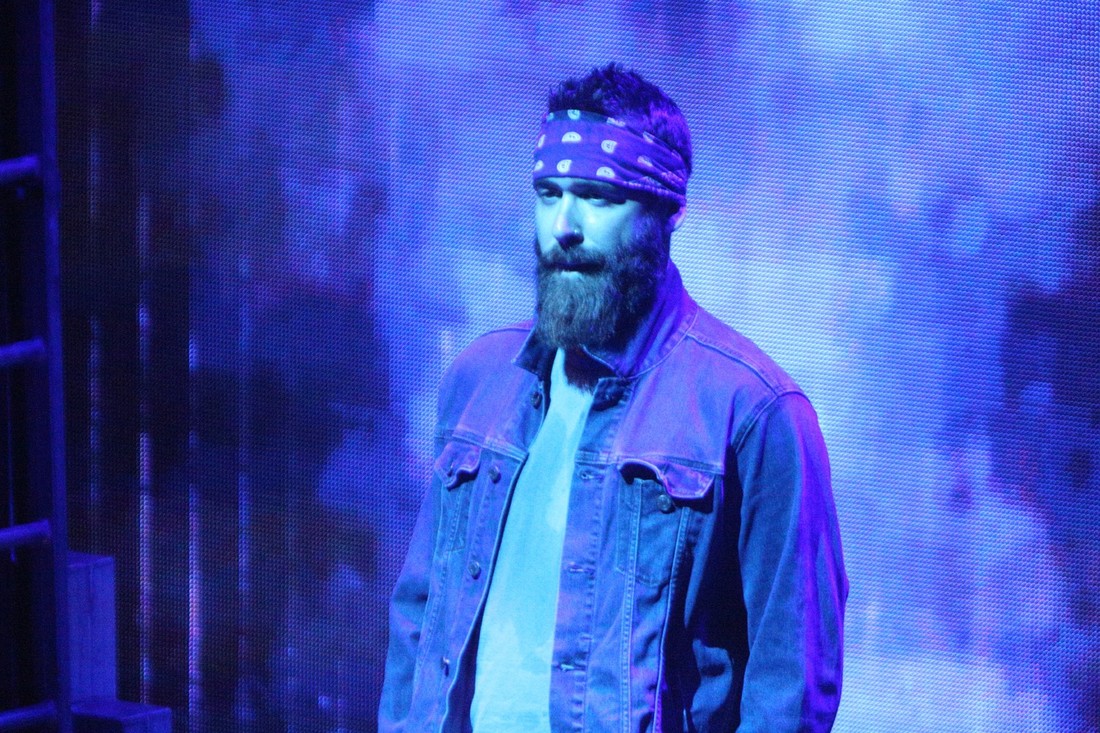 AJR: I grew up in a town outside St Louis called St Charles. My family has owned a dance studio there since 1974. I grew up in it. It was a small town in Missouri where it wasn't the norm for a young guy to be in dance class and when I was about 13 years old I saw Tap Dogs at The Fox Theatre in St Louis. I saw six guys in jeans and t-shirts and a pair of work boots with taps on it, just living their absolute dream and it was really refreshing to see that for the first time.
MI: So that was your inspiration for dancing? Did you ever have any other role models or icons that you wanted to follow?
AJR: Absolutely! The movie Tap wth Gregory Hines came out when I was pretty young. Again like to see people making a living and having success doing this tap dancing thing. You know, junior high school kids are cruel. I definitely had some times where I was like I don't wanna dance anymore. I don't want to be this one guy the dancer in a town where you play football and drive big pick up trucks. 
MI: So how long have you been on the production?
AJR: On and off I've been with this show 18 years in August.
MI: That's amazing! Have the rest of the performers been with it for awhile too? Have you guys kind of formed a family traveling the world together?
AJR: Yeah, this particular group, it's the first time it has been this exact combination of us. Some of the guys have been doing the show around 10 years. Our newest member is actually the creator of the show, Dein Perry's, son is 21 years old and he just joined this company back in August.
MI: That's great! So through all of those years, do you have a favorite fan experience or interaction from all of the previous travels and performances?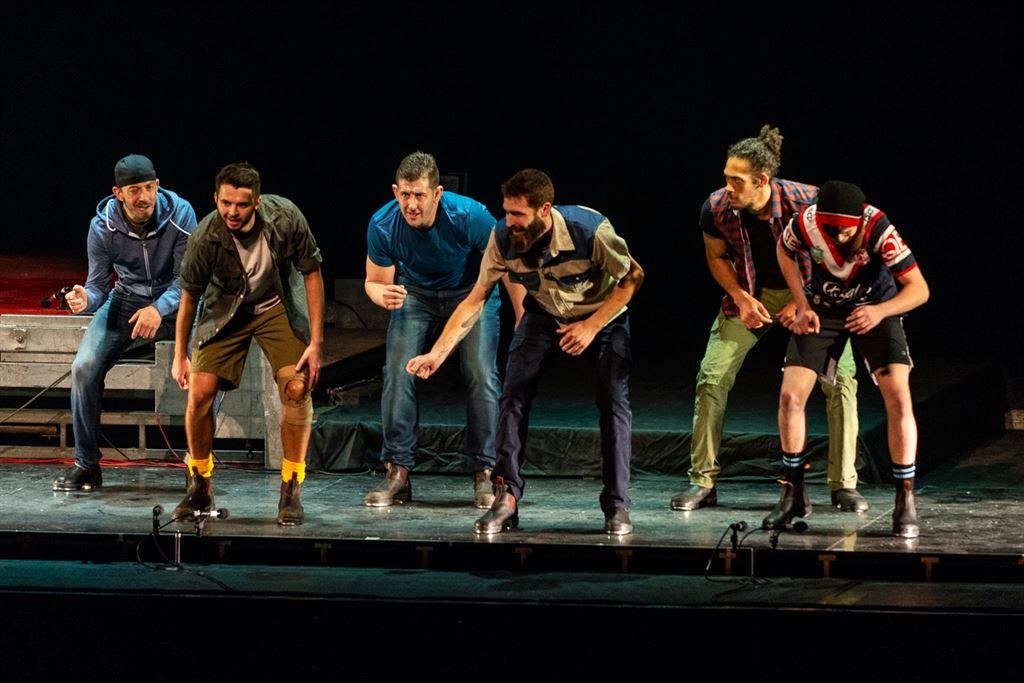 AJR: In Dublin, I did meet someone who got the show logo tattooed on their leg once. That was a little crazy.
MI: That is a little crazy!
AJR: We exited not through the stage door that night.
MI: You touched on briefly that you grew up outside St Louis, so take us back a little bit and tell how how you kind of got your passion for dancing.
AJR: Well I consider myself pretty lucky in that there was a dance studio and it was a family business on my mom's side. Her parents invested and bought that for her and her two sisters who would eventually take over. Now my father, on the other hand, he went to college, went to Marquette, went to Ohio State. He was a theatre carpenter as well as an actor and musician.
MI: That's kind of like the perfect combination there.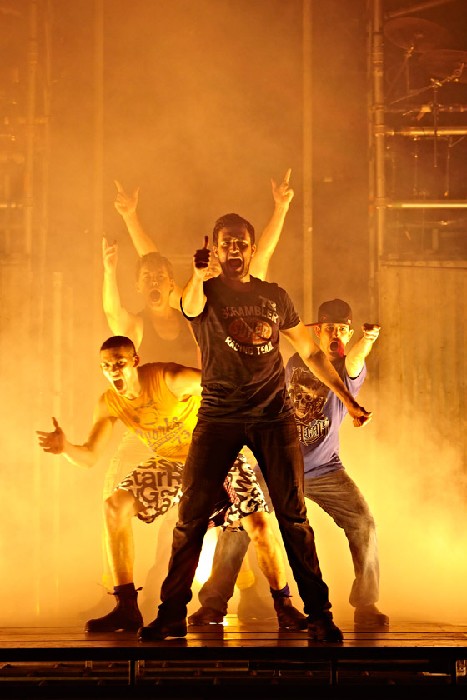 AJR: I honestly couldn't have asked for a better support system. I got the opportunity, I got the offer to go on tour with Tap Dogs when I was 17, like a month before – not even – like weeks before I was supposed to start my senior year of high school. We sat down and we talked about it and honestly from the day I got the phone call it was probably 5 days later I had meetings with guidance counselors, the principal of the school, organized a couple of correspondence classes so I would have enough credits to graduate on time and about 5 days after I got the call we organized all of this, threw a going away party and I was Tunica, Mississippi watching the show in rehearsal less than a week after I got the phone call.
MI: You are very much involved in student education programs too. Tell us a little but about that.
AJR: I lived in New York for about 10 years and after the first couple of years up in New York there weren't a lot of tap shows or tap heavy shows that I really felt drawn to or really wanted to audition for. Just your typical 42 nd Street, Anything Goes. 42nd Street is good and tap heavy where other shows might have a tap number in them so after a few years of not finding a show I was really drawn to the only audition listing I saw that I got excited about said calling all tap dancers, all shapes and sizes and you show up and it was for The Little Mermaid. I personally didn't want to call my family and say come see me on Broadway, I'm gonna be a sea horse! 
So, one of the guys I was living with at the time, a guy by the name of Danny Wallace, we were both traveling with dance conventions and doing work for them and teaching tap and judging competitions and stuff like that to supplement income and every time we would finish working in one of those cities where there was a big dance convention where studios from the surrounding areas would bring all of their kids, all of these dance studios – you know studio owners and teachers would say "hey if you are ever in town again, let us know because we would love to have you come and teach." 
Let us know if you are ever here means two things: I don't want to pay for your flight and I don't want to put you in a hotel, but if you happen to be in town, we want you to come teach. We had heard enough of this and we were like hey lets call everyone's bluff. Let's call and say "hey I'm in town, you said if I'm ever in town you'd bring us in to teach." So we sat down and rolled out a map on our apartment floor, and I said I remember a studio in this town and we'd put a little coin on that town. We sat back and we looked at it
and we had about 16-18 cities and the very next day we got on the phone and we called these people and we said hey, we are gonna be in town on this date if we are there can we come in and teach would you get some kids together? We called it Tap the Map.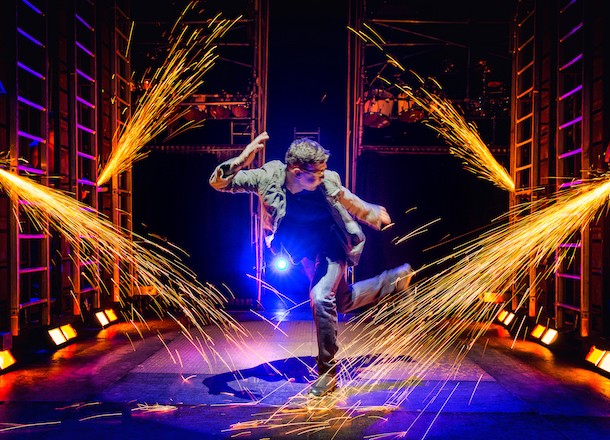 MI: Tap the Map, I love that!
AJR: I maxed out a couple of credit cards, I drained my bank account. We rented a 12 passenger van called up another buddy of ours to join and we drove from New York City down to Fort Meyers, Florida to teach 11 kids. Barely paid for our hotel and gas. Then we drove to Louisiana and we taught maybe 20-something kids. But we had enough work lined up, we drove 9000 miles around the U.S. over 6 weeks and some of the programs were bigger than that. Thank God they were bigger than that cause if we would have kept driving hours and hours and miles and miles to teach a dozen kids we wouldn't have made it. I would have gone broke. But, we did that first tour and we made enough to turn around and I bought a van, I found one down in Florida, so myself and Danny Wallace we took flights down to, I can't remember where it was maybe Naples or something. We took one-way flights down and we bought this van and we drove it to San Francisco and we did a west coast tour. Washington State, Oregon, California and since then we have been to over 100 dance studios around the United States and Canada and it is quite the passion project.
MI: That is such a great and inspiring story! Thanks for sharing it!
Dein Perry's TAP DOGS will play Broadway In Chicago's James M. Nederlander Theatre for a limited one-week engagement through April 21, 2019.
Individual tickets are currently on sale and range in price from $15-$65 with a select number of premium tickets available. Tickets are available now for groups of 10 or more by calling Broadway In Chicago Group Sales at (312) 977-1710 or emailing GroupSales@BroadwayInChicago.com.  For more information, visit www.BroadwayInChicago.com. 
Interviewed by Matt Inawat. Ron Matthew Inawat is president of the GoPride Network and contributes to ChicagoPride.com, PrideLA.com and other sites within the GoPride Network. Follow @cpmatthew