A GoPride Interview
Joey Arias
Joey Arias interview with ChicagoPride.com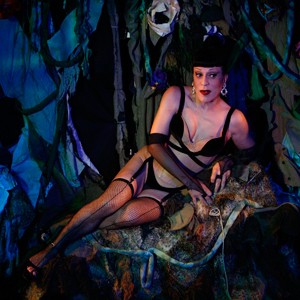 POP QUIZ: Five random questions for Joey Arias
Refer to Joey Arias by the gender-assigning title "mister" and the self-described "artist-slash-jazz singer" and cabaret star giggles. Defining his (or her) career and personal life by the "Z chromosome"—-an incorporation of the "drag element" that's not quite drag (no lip synching) but not entirely trans-—Arias rarely wears men's clothing anymore. When (s)he does, (s)he says it just looks androgynous. So, while calling Arias "mister" doesn't offend him/her, (s)he still can't help but find it somewhat funny.
"Whatever you are, you're beautiful," Arias says. "The new chromosome
Z
, it's the way we're going."
Famed for his/her role as the emcee Mistress of Seduction in the Las Vegas Cirque Du Soleil show "Zumanity," Arias returned to New York after a successful six-year run with the show—-the city where Arias's personal and professional identity came into its own.
"I was 18, and in New York, and starting to reinvent myself," Arias reminisces. "I was following the wrong path until it became the right path."
The right path eventually led Arias to Basil Twist, a third-generation and award-winning puppeteer. Their collaboration gave rise to "Arias with a Twist," an off-Broadway cabaret and puppet show about an androgynous character's journey home. Arias describes the show as an "epic Ben Hur production on a postage stamp."
Touted by the
New York Times, Variety and The New York Post
, "Arias with a Twist" was extended for a second time following its initial run. Shows are scheduled until December 31, 2008.
"I've got a big, wild, hit on my hands," Arias jokes.
Pop Quiz:
Q:
Off-shore drilling, what's the big deal?
A:
Come to my apartment and I'll tell you all about it. We'll drill for something. Go for the gold. Texas T.
Q:
What's the worse thing any up-and-coming female impersonator can ever do?
A:
Walk by a wall of Velcro. She might get stuck.
Q:
If you could go on a date with anyone, living or dead, who would it be?
A:
I would love to go on a date with Billie Holiday and have a big lesbian holiday; an orgy of men and women ... to sum it all up.
Q:
Best childhood memory?
A:
There's so many of them; I have a lot, but I'm going to pick [the time when] my parents took me to see a production of a puppet show-—
Pinocchio
or
Sleeping Beauty
. No, it was
Hansel and Gretel
. I loved the witch. That was my thing.
Q:
Did you learn any sexy, body conformist moves while working for the Cirque Du Soleil?
A:
Did I learn anything or did I teach them anything? I showed them a lot of moves.
"Arias with a Twist" is running at New York's Here Arts Center. For more information visit
www.here.org
and
www.basiltwist.com
. Read the blog at
www.ariaswithatwist.blogspot.com
.
Serving the Chicago gay, lesbian, bisexual and transgender communities. ©Copyright 2019 GoPride Networks. All rights reserved.