A GoPride Interview
Jonny "The Gay Pimp" McGovern and Adam Joseph
Jonny "The Gay Pimp" McGovern and Adam Joseph interview with ChicagoPride.com
Wed. July 9, 2008 by Joel Mancusic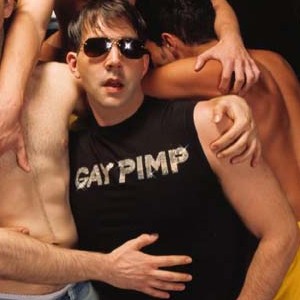 jonny "the gay pimp" mcgovern
THE F WORD: Pop Artists Celebrate "Faggot"
Jonny "The Gay Pimp" McGovern and Adam Joseph are leaders in a new crop of revolutionary gay artists. With their outrageous records and music videos, they - along with a bevy of other talented twinkolicious divas - are ushering in a new genre of club hits to our nation's dance floors. Dubbed "faggot music", the colorful beats celebrate the "f" word and encourage fans to reclaim their inner faggot. Many in the community - especially men under-30 - are doing just that.
But there are some in the community who oppose the word faggot in popular music. They argue its irresponsible of these artists to encourage gay youth to embrace the historically-derogative word.
The opposition has been vocal online for some time, initially targeting Jonny "The Gay Pimp" McGovern and his "Gays Gone Wild" album. But the finger wagging has shifted now to Adam Joseph whose "Faggoty Attention" video has reined supreme on LOGO-TV's "Click List" music countdown show for four weeks. Don't feel bad for Jonny, though. He's sure to be the target again now that his new album, "Keep It Faggity: The Gay Pimp Remix Project" has been released.
Love them or hate them, no one can argue one thing. These sparkly young artists are making people re-think the power of the "F" word.
Q:
What exactly is faggot music?
A:
(Jonny McGovern) I like to think of it as
dirtygayUndergroundfagpop
. We are making pop songs but dealing with gay specific topics.
Q:
What do you say to people (gay and straight) who oppose the use of the word faggot in your music?
A:
(Adam Joseph) You can run away from the word but it's not going to make it disappear.
Q:
Why is it important that the community embrace the f word?
A:
(McGovern) When I was a teenager dealing with coming out, the idea of being a "fag" was terrifying. But as I came out and came into my own I realized all of those "faggy" things that I was afraid of being are what made me truly myself. And as I got older I embraced the idea of faggotry as a great thing and I became less afraid to use it as a term of empowerment for myself and my crew. Make no mistake, it's like the N word. I don't stand for straight people using it in an ignorant way.
(Joseph) I refuse to give the word Faggot any type of negative connotation. I'm using it to empower or
fem
-power.
Q:
Is being gay a big part of who you are?
A:
(Joseph) If by being gay you mean having sex with men, then yes. If by being gay you mean going to gay bars and vogue battling, yes. If you mean going to the gym and trying to act like I'm straight, then no.
(McGovern) In NYC we get to live in a fantastic bubble where you can truly be yourself with out any apologies. That's not to say homophobia doesn't exist here, it does! We all remember a few years ago when Kevin Aviance was gay bashed in the East Village. Still, the nightlife culture that we come out of has always really pushed you to be as faggity and bold as you can be. People can do that anywhere but the East Village has really been the birthplace of the in yo' face fag pop stars.
Q:
Is it a coincidence that most faggot artists are coming out of New York's East Village?
A:
(Joseph) The East Village has been a breeding ground for up and coming out artists for quite a while. Legendary artists like Klaus Nomi, Johnny Dynell, Dean Johnson, and The Ones all originated in The East Village.
(McGovern) There's also a great NYC duo The KIKI twins, plus the gender bending pop group Da Lypstxx. But there are some hot artists coming out from the west coast too.
There's a kid out of LA named Limpwristed that's doing it faggoty.
Q:
What are you queens hoping to change?
A:
(McGovern) I'd like for it to be easier for people, especially gay youth, to access pop music that shows being gay for what it is: cool, fun, powerful and sexy! That says you can be as faggy as you wanna be and don't let nobody tell you different.
Q:
Jonny, your album "The East Village Mix Tape" really launched the Faggot Music genre. Of all the hot tracks, which was your favorite?
A:
(McGovern) It's hard to choose just one. I love all of them. I love Linda and Etickatoure's solo tracks because they sound so pop but when you peel away the layers they are extremely subversive. Gogo hottie Jay Star's track "This is How You Go-Go" is also a fave because its the masculine edge of faggity - it is sexy and real retarded. And of course "This is NYC Bitch" which was the song that started the whole project and features my favorite queen, Kevin Aviance.
Q:
"This is New York City Bitch" is fierce. When Kevin Aviance says "Who do you think I am, Rude Paul or something?", I cheered.
A:
(McGovern) I personally love RuPaul. When I was a very faggy senior in high school, I listened to "Supermodel of the World" album on repeat. It was originally meant to be like at the end of "Ladies Night" when Missy Elliot says "Who do you think I am Patti Labelle or somebody?" When Kevin came in to do his vocal he said "I'm gonna say it my way", and he sho' did!
Q:
On the heels of "The East Village Mix Tape" release came another McGovern original, "Gays Gone Wild" – produced by Adam Joseph. Were you guys as surprised as everyone else by the success of the "Somethin' for the Fellas" track?
A:
(Joseph) Hell to the Nah! I knew that song would be a smash with the gays. It's everything you need: growling bass, cunty beats, sexy boys, and a fat screaming black lady. It's pretty much the perfect equation for a gay underground hit.
(McGovern) It was certainly a departure stylistically from what I had done on "Soccer Practice" or "Lookin Cute" but I was really into the idea of Team Pimp. I thought if I was lil' 17 year-old Jonny McG and I saw a group with The Gay Pimp, two tranny rappers, a big black diva and a white soul cutie, I would have lost my mind over it. And I was right! We were number one on Logo's "The Click List" video countdown show for fourteen straight weeks!
Q:
The video introduced the world to the players of Team Pimp; Adam Joseph, "Erickatoure", Linda James and Maxine Inniss.
A:
(McGovern) It was exciting for everyone. Adam had already done his own solo video but he hadn't done something like "Fellas" where he was fag pop star, "A.Jo".
Q:
Adam, what is a nice blonde boy like you doing hanging around that motley crew?
A:
(Joseph) Those are my girls and I produced and sang all the background vocals on the track. I love my queens and those girls are some of the fiercest. By the way, who said I was a "nice blonde boy"?
Q:
In the album credits of "Gays Gone Wild", Jonny, you thank Jesus for making you a homo because "there ain't nothing better". What do you mean by that?
A:
(McGovern) I wouldn't trade being gay for being straight ever. What a bore that would be. Thanks Jesus!
(Joseph) I can't really imagine not being gay and why would I want to?
Q:
Jonny, how do you feel about Adam Joseph releasing the latest faggot anthem, FAGGOTY ATTENTION? Is he now your competition?
A:
(McGovern) Not at all. A.Jo is my lil gay hummingbird. I gave him his title as the blackest white lady in the world! We are on the same Team - Team Pimp.
He and I co-produce all my records. We are in the same house: the house of Sparkle Magick. Plus he is a true musician and singer while I am a comedian who loves croonin' dirty gay pop ditties!
(Joseph) The title of the song was Jonny's idea. I ran with it. I wanted a dance song that I could play in the clubs and I thought the scene needed another track that showed being gay as fun and something to be confident about.
Q:
Jonny's next release will be DON'T FALL IN LOVE WITH A HOMO. Though it's definitely a faggot track, it seems to have crossover potential. Do you think straight dance floors may play it?
A:
(McGovern) When I sing that song for an audience of straight ladies, they lose their mind! Panties flyin' on stage and ladies screaming! I think that if the national response is the same as the local, I might have a whole new fan base.
Q:
Adam, you have said in previous interviews that faggots can never be mainstream. Do you really believe that?
A:
(Joseph) When did I say faggots couldn't be mainstream? It's up to the audience in the end. There are so many gays working in the mainstream right now and gays are influencing our culture more and more. The only difference is I will talk about it when most others hide it or refuse to speak on it.
(McGovern) I think in America it may be true that faggots can not be mainstream except for a novelty hit here or there. But I feel like there is the possibility in Europe, especially the UK, where they are a lot more open for fagpop. I just hope I get along for the ride. But if not, the underground is worldwide baby and it's a fun place to be.
Q:
Tell us about the next Jonny McGovern album, KEEP IT FAGGITY.
A:
(McGovern) "Keep it Faggity" is subtitled "The Gay Pimp Remix Project". I love remixes that completely re-imagine a pop track for club consumption. It's a way to reinterpret and breathe new life into a song. Adam and I went back into the studio and totally reproduced and re-imagined some of my fave cuts from GAYS GONE WILD for the late night club scene. I also took my fave unreleased remixes of "Soccer Practice" and "Lookin Cute" and included them and there is also a rare track I did with the legendary DJ Junior Vasquez called " Run to the Dance Floor" which I wanted to see the light of day. Plus I unearthed a live acoustic recording of "Lookin Cute" which ends the set as a bonus track. It's a great record to party to.
Q:
In the East Village world you and Adam portray in your records, life is a non stop party of sex, drugs, and dance floors. Mainstream isn't giving much respect to partiers these days. Look at Britney Spears, Lindsay Lohan, Amy Winehouse...
A:
(McGovern) They are giving them millions of dollars and tons of publicity though.
(Joseph) The mainstream is obsessed with people who party hard. It seems like in America that it is the most important news for some reason. I like to party but it's not my first priority any more. I'm way to busy working on all this music!
Q:
Let's break it down for a second. What do you think about sex?
A:
(Joseph) It's great!
(McGovern) But the kiddies gotta make sure they wrap it up cause HIV is still alive and well.
Q:
Drugs?
A:
(McGovern) I don't do drugs. (Laughs) I have never even tried them before.
Q:
Dance floors?
A:
(McGovern) I love to shake it! I'll do retarted dances like telephone operator and naughty school marm. And I love when queens clear the floor for runway or a vogue battle!
Q:
If you had to give up two and only keep one, which would you keep (sex, drugs, or dance floors)?
A:
(McGovern) That is a cruel choice! That's like sophie's choice! But sex would probably rule the day.
(Joseph) I'd rather kill myself than have to choose between them.
Q:
What's next for faggot music?
A:
(McGovern) Tons of stuff!! First of all, my new release, KEEP IT FAGGITY: THE GAY PIMP REMIX PROJECT. Plus I will be making more videos from Gays Gone Wild. "Bossy Bottom" and "Girl, I F*cked Yer Boyfriend" are next. I will be producing "The East Village Mixtape 2" this summer.
(Joseph) I'm working on my next full length soul/R&B album. I'm also about to release a soulful house remix and video for the song "You're Mine" off of my first album. I just signed the group "LaMady" (This is NYC Bitch) to my label (JAH Records) and am about to start producing their first album.
Q:
How can the community support faggoty music?
A:
(Joseph) Buy it, Spread the word, respect it.
(McGovern) And stop hating on us. We're doing a good thing for the community.
Q:
When it's all over, what do you hope people will remember you for?
A:
(McGovern) That I made the world a gayer place!
(Joseph) I hope people will say I made songs that made them laugh and cry; beats that made them move; and I had a look that made them cream.
Jonny McGovern's KEEP IT FAGGITY: THE GAY PIMP REMIX PROJECT and Adam Joseph's FAGGOTY ATTENTION are available online now.
For more info, visit
gaypimp.com
and
adamjosephmusic.com
.
Written by: Joel Mancusic (with Mark Bruno)
Interviewed by Joel Mancusic