A GoPride Interview
Sofi Tukker
The band Sofi Tukker talks Grammys and Trump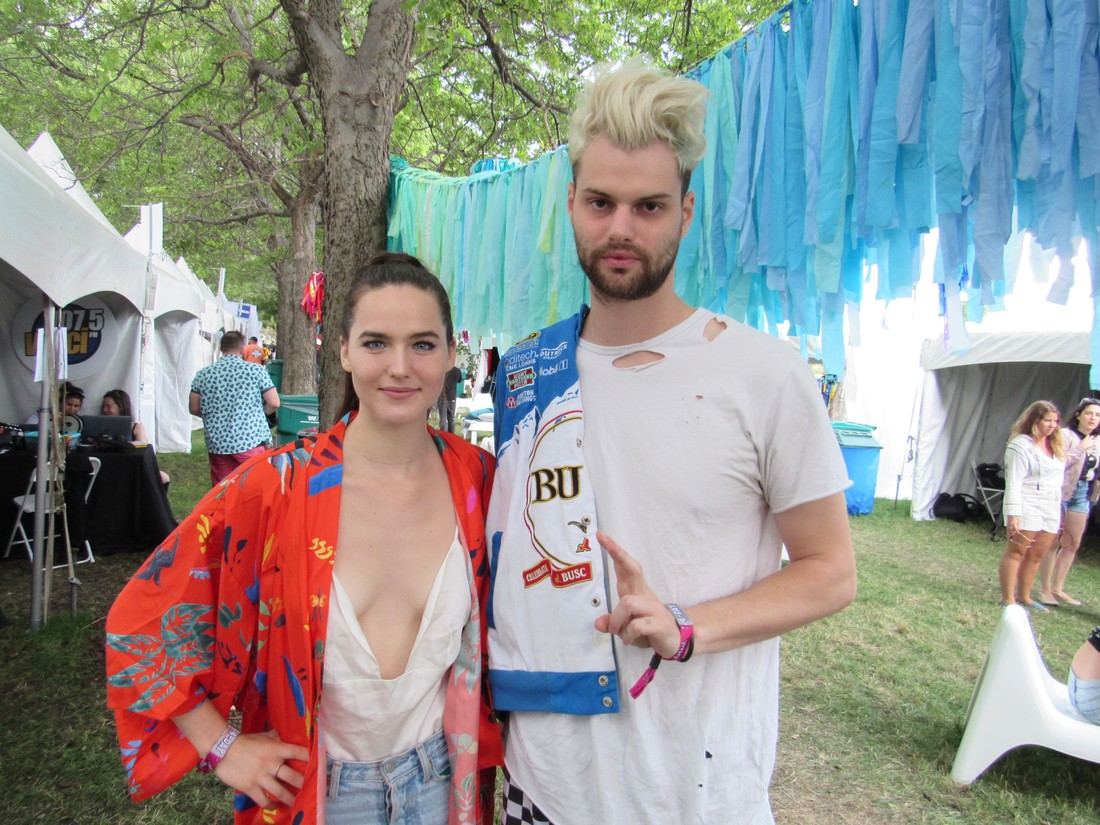 photo credit // jerry nunn
Sofi Tukker is a duo made up of Sophie Hawley-Weld and Tucker Halpem. With only one EP released called Soft Animals the two were nominated for a Grammy for Best Dance Recording with the single "Drinkee." The song is from a Brazilian poem and is a show stopper in concert. 
The band stopped to chat at Lollapalooza about their music. 
JN: (Jerry Nunn) I saw you perform the last time you were in Chicago. Talk about your live show and how you created that drum. 
TH: (Tucker Halpem) The book tree, it is made of books. We put contact microphones in all of the books. We tear out the pages in the books so they are not too heavy to carry around. We zip tie them onto the aluminum pipe circle. It is connected to the computer. We hit it with drum sticks. It will play different samples of our songs. 
JN: Did you come up with it?
SH: (Sophie Hawley-Weld) It took us a while. We wanted to come up with something different. It is one of a kind. We love traveling around the country and untying it every night. 
We started attaching microphones to fruits and vegetables, then to books. We worked with some intelligent people who could make it a reality. 
TH: We had it welded by welder near my house in Williamsburg. It is pretty high tech, low tech. 
JN: Was there one fruit that did not work out?
SH: All of them!
TH: The zucchini was the worst.
JN: It might depend on the ripeness of the fruit. 
TH: We would have to get new fruit every show. It was something we wanted nothing to do with. 
JN: The history of the band is you met at Brown in school, so you are smarties?
SH: We are pretty dumb [laughs]!
TH: Slow at least…
JN: Did you study Portuguese?
SH: Yes, I was studying it at Brown. I loved the language. 
JN: Then it turns into a Grammy nominated song. How was that?
TH: Crazy. We were so shocked. It wasn't even on the radar of goals at that point. We went and it was the coolest. 
JN: Was there a celebrity there that you loved?
SH: We saw everybody. They were just walking around. 
TH: A pregnant Beyonce!
JN: Your latest video for "Fuck They" was shot in Toronto. Did you like it there?
TH: We had the best three days ever. 
SH: It was so fun. 
TH: We chatted with Mac Boucher who does all the Grimes video. We were excited to work with him, being his biggest fans. He was excited to work with us. It was a really fun three days together. 
Now we are doing another video with him. 
JN: Was trans people using they as a pronoun did that have anything to do with the "Fuck They" song?
SH: No. After we wrote the song we didn't want to say fuck to the people that don't use gender specific pronouns. It is not about that. 
TH: There is also a band called They. We are not talking about them either. They is anyone that doesn't let you be yourself. The people that don't let you be yourself and make people's lives miserable is who we are talking about. 
JN: How did you get connected with Jake Shears?
SH: He worked with our manager. We became buddies. He is the most fun ever. 
TH: We went to his house in LA. It was the most fun ever with another songwriter. He is perfect. We all love each other and had a fun time. Hopefully some of his cheekiness rubbed off on that song with us. 
JN: Did you know you have a big gay fanbase?
SH: Yes. 
TH: We love it. 
JN: Talk about your Anti Trump song "Greed."
SH: We hate Trump. We have a lot of frustration. It feels so fucking good to do that song at our show every night. 
JN: You get it all out.
SH: We get to share it more importantly. We get to look out and perceive the energy back. We are having a temper tantrum with each other. It is a really healing thing for me. 
TH: It is a uniting feeling all over the world, in other countries. Everyone hates him, so it is really nice! 
SH: It is not necessarily the most constructive thing in the world but it feels good to unite and be physically present with each other. 
JN: Where does your style come from?
SH: I love to feel my body when wearing silk. It feels good and comfortable. 
TH: This is from a gas station in Mississippi when I was on tour. I don't I liked Nascar, but I like the dragon. I started wearing the spandex thing because it is nice on the plane. We are traveling all the time. I used to wear jeans, and I would get all sweaty. I like running and jumping around. Now I go for an at leisure vibe. If I had a normal job I couldn't wear this shit! 
JN: Plans for the rest of the year?
TH: Tons of festivals this summer, new songs, new videos, and a big North American tour with Odesza. 
Interviewed by Jerry Nunn. Jerry Nunn is a contributing writer to the GoPride Network. His work is also featured in Windy City Times, Nightspots Magazine and syndicated nationally. Follow @jerrynunn