This week, "The Lightning Thief: The Percy Jackson Musical" arrives in Chicago following a sold-out run in New York City, where it garnered 3 Drama Desk Award nominations, including Best Musical, this "winning adaptation" (The Hollywood Reporter). With more than 100 million copies of the book series sold worldwide, this global phenomenon has found a new home on the live stage in a "mesmerizing" theatrical event that proves "lightning can strike twice!" (TheaterMania).
As a son of Poseidon, Percy Jackson has newly discovered powers he can't control, monsters on his trail, and is on a quest to find Zeus' lightning bolt to prevent a war between the Greek gods. Based on the best-selling Disney-Hyperion novel by Rick Riordan and featuring a thrilling original rock score, "The Lightning Thief: The Percy Jackson Musical" is an action-packed theatrical adventure that has been celebrated by audiences and critics.
The national tour launches in Chicago for a one-week engagement January 8-13, 2018 at the Oriental Theatre.
ChicagoPride.com sat down with James Hayden Rodriguez who plays Luke, the main antagonist in the series. Rodriguez originated the role of Luke in New York City and is on the original cast album. His stage credits include The Visitor (The Public Theater), Spring Awakening(First National Tour), Man of La Mancha (Shakespeare Theatre Company), and Hairspray (Signature Theatre). 
MI: (Matt Inawat) James, first off what drew you to the Lighting Thief project?
JHR: (James Hayden Rodriguez) I was cast in The Lightning Thief about 2 years ago. I auditioned for the first production cast in New York. I was cast into Luke and I didn't know anything about The Lightning Thief or really what it was. They just sent me some music and stuff to learn and when I auditioned and got to my first day of rehearsal, I realize this thing is a lot bigger than I really imagined.
I didn't know about the book series and there is this whole fan base that I had no idea about! I just had to jump into it It was unlike any other theatre experience that I have ever had.
MI: So did you catch up on the books, movies and lore behind the Percy Jackson series?
JHR: Yeah, of course! I read the book series. THe musical that we do is based off of the first book in the series, so that was our source material for the musical. It's what we stick to and it has been our Bible through this entire thing. If we ever feel stuck we always revert back to that and think about what happened in the book. I think that the fans have been really appreciative of that.
MI: So give us a sneak peek into the production. What would theatre-goers enjoy that's familiar between the musical and the movie? What are they gonna love about it and what is a little bit different?
JHR: I think people who have already seen it are going to be super-excited to see it again, We've managed to make the show even bigger and upgraded a lot of things. We've really been able to be creative with how we tell the story - that has been most exciting for us!
But if you haven't seen the musical there are a lot of changes from the movie, so that is why I am hesitant to really talk about the movie, because it is another world. But, what I can say is we don't have the luxury of CGI, so what has been really exciting is to take the show and bring it back to the roots of what makes theatre so much fun, you know.
It's really so exciting to see how we have created this universe, these monsters and this quest that Percy Jackson goes on. Everyone loves this show, it doesn't matter your age.
MI: I have't seen the show yet. But I think I'll love how the show takes a huge, epic movie and turns it into an intimate production full of feeling and energy.
JHR: Absolutely! People laugh, people cry. They go through a whole experience in the theatre and everyone walks away happy and feeling empowered and still laughing and reeling from that two hour experience.
MI: Do you have ae favorite scene or message that emanates from the musical?
Interview continues after the photo.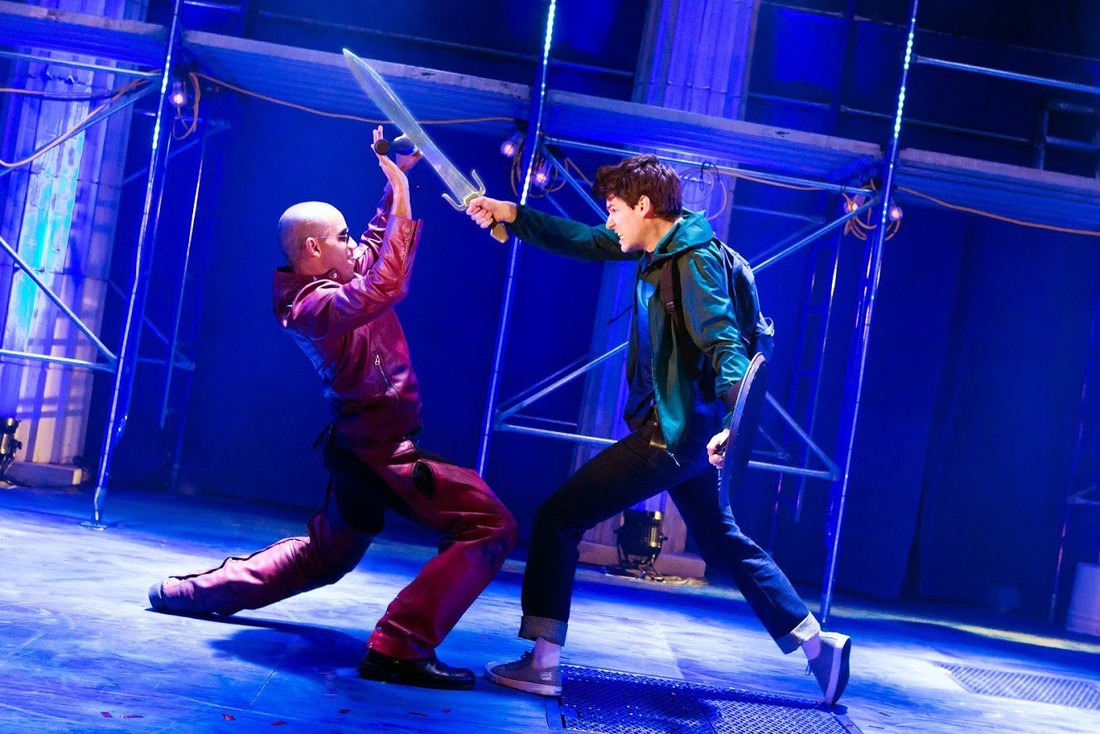 James Hayden Roderiguez as Aries and Chris McCarrell as Percy Jackson, photo by Jeremy Daniels
JHR: Yeah definitely. When I first started rehearsals, there is a song in the show called "Strong" that Percy's mom sings to him and she explains to him. Percy is dyslexic - and these are his insecurities that he grapples with and he feels like a complete loser and his mom knows that he is the son of a Greek god and she tries to explain that it is the things that are different about him that make you strong.
It just resonated so deeply and that it was going to become this overlying theme throughout this show. I think that is what people will walk away with... taking their insecurities and being able to recognize them and also use them as your strengths. It really is a powerful message amongst everything else that happens in this show.
MI: How did you make the Luke character your own character?
JHR: So Luke is Percy's camp counselor when Percy gets to Camp Half-Blood. Luke has been at this camp for about 5 years: he knows the ropes, he is the go-to guy and he becomes Percy's role model, essentially.
Luke sways the role of the "cool kid" throughout the show, but Luke kind of suffers from his own insecurities. He hasn't had a relationship with his dad, who is a Greek god, and he is kind of resentful of that. He is angry about that, so Luke struggles to make the right decisions because he holds on to that resentment and it effects his whole life.
I have been able to connect that with my whole personal experience with my lack of a relationship with my father. We went almost 10 years without speaking to each other before he passed away and there was so much anger that was just built up in that and I would just never admit that it was the reason I was the way I was - because of my lack of a relationship with him.
But in reality it affected me greatly and that was something that I got to learn in the year-long process I was with him in his cancer treatment before he died. So I have been able to inject a lot of my own personal experience into this character and it is one of my favorite things about this show is getting to really go into the depths and nuance of Luke and really learn something from him and really be able to give as much as I can to that character.
MI: Defintiely. Tell us a little bit about your own story. Where did you grow up? How did you get involved in theatre and who are some of your favorite roles?
JHR: My parents met each other in the Bronx, in New York City, in the 80's and that is where I was born and grew up for the first part of my life and then my mother and I moved - my parents split up - and my mother and I moved to Virginia. So I spent a lot of my childhood going back and forth between New York City and Virginia and just figuring out being a mixed-race kid and going from the inner city and the Bronx and rural like town in Virginia.
I was very confused about who I was and what was going on and what I was supposed to be... and I started doing theatre when I got to high school. I had been playing sports my entire life and when I got to high school one of my friends convinced me to do the musical - and it completely changed my life. I realized that those were my people and I felt that was where I was meant to be. I didn't get bullied a lot, but playing sports definitely there is this masculinity vibe that everyone feels they have to have and in the theatre you don't have that as much and it is a much more accepting community and people are allowed to explore more and to be themselves. It really was instrumental to me in figuring out who I was.
MI: Are there any theatrical role models that have inspired you?
JHR: THat is a good question. I don't know if there has been a single actor or actress... I have been a huge movie fan and theatre fan. I've seen a million things and I can find inspiration in so much, but there are definitely actors that I look up to as far as musical theatre goes.
Brian Stokes Mitchell is probably the first mix-raced actor I saw that absolutely blew my mind. He's brilliant. That was also a clear moment for me where I thought "I don't have to be this prodigy white kid to succeed. There are people who look like me who are starring on Broadway and winning Tony's." And that was a big moment for me.
MI: Is there a dream role in any play or musical that you would love to portray?
JHR: Yeah, definitely I have dream roles. I would love to play Fiero in "Wicked" and I would love to play Simba in "The Lion King".
Those are two big shows that aren't going anywhere. And two roles that I would just love to dig into for sure.
MI: So are you excited to be in Chicago?
Interview continues after the photo.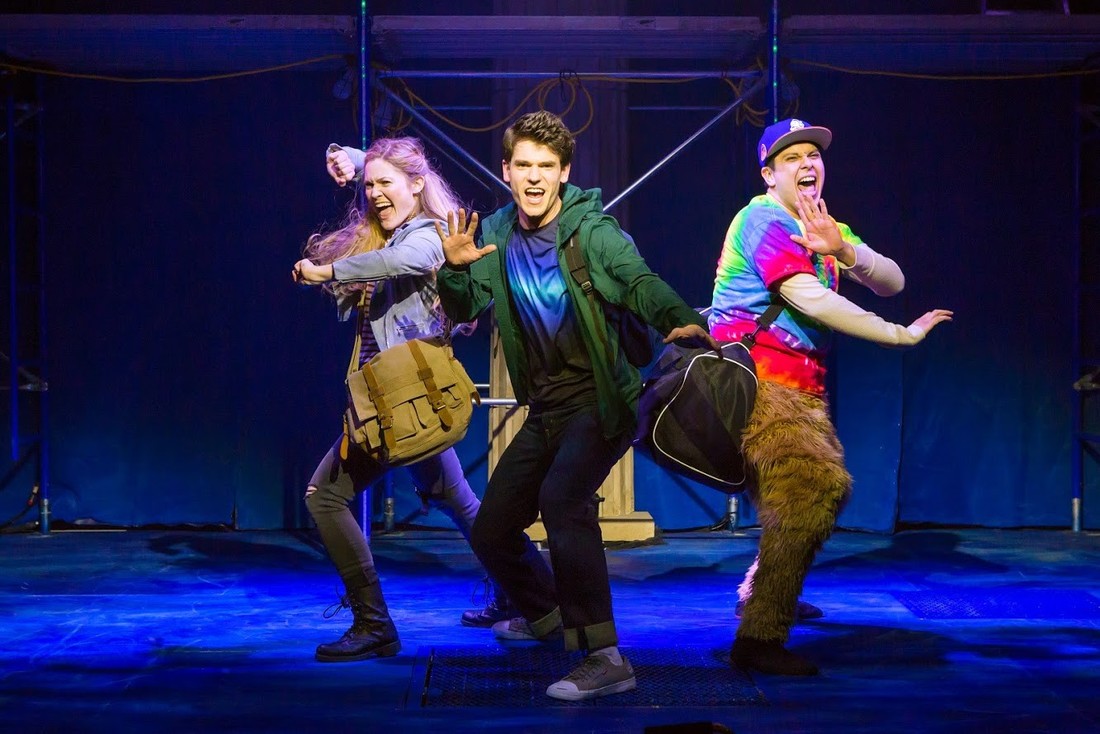 Kristin Stokes, Chris McCarrell and George Salazar, photo by Jeremy Daniels
JHR: Yeah, I am excited! I have only been to Chicago once. I was in college and going to school in Virginia and there was this audition for a musical that I was obsessed with. And the only audition was in Chicago. I drove to Chicago to audition and then right back to Virginia - so I didn't get to experience much of the city. I am excited to actually spend some time there!
MI: So do you have any places in Chicago that you absolutely have to visit? A specific pizza spot, restaurant?
JHR: I am a pizza fan and I have not done a deep dish before and i know that is Chicago's big thing.
MI: So what do you miss the most when you travel?
JHR: My family, of course. My dog. That is honestly probably the hardest thing is leaving my dog because they don't know what is going on. They just think you have abandoned them.
My husband is back home taking care of the dog. And I miss my husband, but he will be able to fly out and see me on the road. The dog won't, so he just thinks probably that I left him, so that is the hardest.
MI: Is there a specific charity or cause that is near and dear to your heart?
JHR: I'd like to promote resources for teens who contemplate suicide and possibly suffer mental illness. Too many kids commit suicide and LGBTQ teens are four times more likely to commit suicide than their straight counterparts.
That being said, The National Suicide Prevention Lifeline is a great resources and anyone can either donate or get involved by going to suicidepreventionlifeline.org or call 1-800-273-8255 if they're seeking guidance.
MI: This has been great chatting with you, but we're nearing the end of our time together - so one last question! If you summed up your entire theatrical life in one title, what would that title be?
JHR: Wildcard: the Underdog Musical.
MI: Thank you James! Can't wait to see your performance on-stage!
Music from the show
The full cast album has just been released on Spotify for streaming. Check out the album here.
Performance and Ticket Information
Individual tickets are currently on sale and range in price from $25-$80 with a select number of premium seats available. For more information, visit Broadway in Chicago at www.BroadwayInChicago.com. 
Tuesday, Jan. 8 at 7:30PM
Wednesday, Jan. 9 at 2:00PM & 7:30PM
Thursday, Jan. 10 at 7:30PM
Friday, Jan. 11 at 7:30PM
Saturday, Jan. 12 at 2:00PM & 8:00PM
Sunday, Jan. 13 at 2:00PM