A GoPride Interview
Blake Riley
Blake Riley interview with ChicagoPride.com
Wed. June 25, 2008 by Kevin Wayne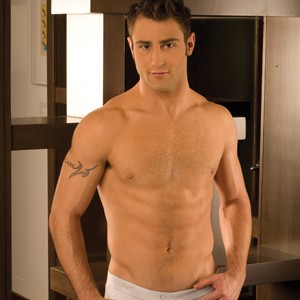 rascal exclusive blake riley
photo credit // channel1releasing.com
Blake Riley has taken the adult film industry by storm, winning the 2008 GayVN Award and 2008 Grabby Award for "Best Newcomer."
Now a Rascal Video Exclusive, Riley was found on MySpace.com two years ago by RandyBlue and just one month later was cast by Chi Chi LaRue in his first movie.
The 5'9" Texan (everything's bigger in Texas) talks to ChicagoPride.com about the career that seemingly found him and his upcoming appearance at Hunters on Thursday, June 26th.
Date of Birth:
01/28/86
Sign:
Aquarius
Residence:
Los Angeles
Hair Color:
Brown
Eye Color:
Brown
Height:
5'9
Position:
Vers
Shoe Size:
10
KW:
How and when did you get into the adult movie industry?
BR:
They found me on MySpace about 2 yrs ago.
KW:
You've been selected "best newcomer" by both GVNN and the Grabbys, how does that feel?
BR:
It's such an honor, I never expected them at all!
KW:
Was being a porn star always a passion for you?
BR:
Not at all, but I'm enjoying the ride!
KW:
What was the name of your first movie and the other actor?
BR:
Knob Bobbin'
and my scene partner was Patrick Fisher.
KW:
What surprised you most about your first porn experience?
BR:
The amount of people around!
KW:
Who is your favorite co-star and why?
BR:
Ya know I'm going to say Cameron Marshall, one of our other exclusives. It is going to be a hot scene, so definitely be on the lookout for it!
KW:
What a tease!
So, who works harder in a movie? Top or Bottom?
BR:
Just depends on the scene really but I'd say bottom.
KW:
Have you ever experienced any performance issues?
BR:
I'm 22 yrs old... I'm hard at the drop of a hat. (laughs)
KW:
How do you stay in such great shape?
BR:
Work out as much as I can!
KW:
Describe your ideal mate and are you currently dating?
BR:
Still trying to discover that and no I'm single.
KW:
Has your career affected your relationships?
BR:
Yes, it's the hardest thing about it!
KW:
Tell us... what is your "I'm turned on button"?
BR:
I guess my ears.
KW:
What is something in your home that would make a stranger think you were gay?
BR:
My gay porn awards? (laughs) That or the movie "To Wong Foo". (laughs, again)
KW:
What is something that might make a stranger think you were straight?
BR:
When they hear I have a fantasy to be with a girl... well until they hear the full details of my fantasy! (laughs)
KW:
WOW! What's the difference between Blake Riley in person and on screen?
BR:
A lot alike actually. (laughs) I'm just more timid in person.
KW:
When not traveling where do you call home?
BR:
Los Angeles
KW:
You're returning to Chicago for an appearance at Hunters. Are there any favorite places or experiences in the Windy City?
BR:
Winning the Grabby awards! It was such a great weekend!
KW:
It's Pride month... anything in particular that you are most proud of?
BR:
Being alive with friends and family
KW:
Finally, after porn what do you see in your future?
BR:
Hopefully finish school and become a chiropractor.
Blake Riley can give me a rub down anytime! Meet this sexy and popular star Thursday, June 26th at Hunters in Elk Grove Village. (
Event Details
)
Interviewed by Kevin Wayne