A GoPride Interview
Francesco D'Macho
Francesco D'Macho interview with ChicagoPride.com
Thu. May 8, 2008 by Tom Cannon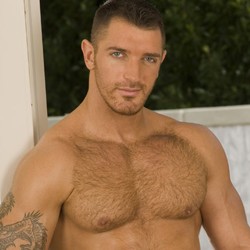 photo credit // www.hothouse.com
Gay Chicago Magazine's Tom Cannon talks to Francesco D'Macho on the set of his latest Hot House blockbuster Trunks 4: White Heat.

TC: How did you first get into porn?

FD: One of my best friends, also in the porn industry, sent a few pictures of me around to well-known companies like Hot House and got a very good response. So I thought to myself, "What the f_ck; let's give it a try." The thing that scared me a little was that it all happened really fast, without having the chance to think it through. About 10 days later, I was on a plane, ready for my first scene. I didn't know what to expect, but I ended up having one of the most rewarding experiences of my life.

I went to do my first movie being booked for one scene only. Since I'd never been in front of a camera before, the guys at Hot House wanted to see how I'd react to everything first. Well, I ended up getting in two scenes and on the cover too! When director Steven offered me an exclusive deal to perform for them, I was overwhelmed.

TC: How did you decide your porn name?

FD: Francesco is my real middle name, and I've always preferred it to my given name. So that part was easy. I actually had something completely different in mind for a last name, but Steven Scarborough suggested D'Macho. Sister Roma thought D'Macho was perfect for me, and so the deal was sealed. With a real Sister's blessing, how could I go with anything else?

TC: You seem to have an accent. What nationality are you?

FD: Damn, you spotted the accent. OK. So let me give you a hint: Pasta, the Coliseum and Sophia Loren. Yes, I'm Belgian! Seriously, I am Italian. I was born in Rome, a couple of blocks from the Coliseum. But now I make my home in Spain.

TC: How many movies have you made so far?

FD: Six fantastic Hot House movies but seven if you include the YouTube video I made of my first kiss with Francois Sagat.

TC: What was your first day on the set like?

FD: I was extremely nervous but trying desperately not to show it. I was playing it so cool. But I didn't need to worry. Everyone on the Hot House crew is so friendly and professional that my life in front of the camera is easy. My first scene was with the incredible Robert Van Damme. It was part of the award-winning all-sex leather movie Black 'n' Blue. I guess it has become famous for the part where Robert slaps me across the face. Really hot! What was lost on the edit was that I had initiated it and slapped him first. He was really surprised but went with the action. Either way, it's hot.

TC: First time you had sex, was it with a boy or girl?

FD: Let's just say that the first time I enjoyed sex was definitely with a boy. [Laughing]

TC: How old were you?

FD: 19.

TC: Has porn changed your dating life?

FD: That is a difficult question to answer. I would like to think that I haven't changed at all. But our experiences in life inevitably affect who we are. People might expect me to say that I met my boyfriend, Francois, through being in porn. But that wouldn't be true because I had met him before I started making porn movies. Sorry to be suddenly so serious. Porn has certainly given me more opportunities for dating.

TC: Who do you still want to work with onscreen?

FD: I met Dak Ramsey and Ty LeBeouf on the Trunks 4 set for the first time yesterday. Wow. Unfortunately, I don't have a scene with either of them in this movie. But I've already told Steven that he had better cast me with either of these guys very soon. Or even better, both of them together.

Of course, I would kill to film a movie with my boyfriend Francois Sagat. It would be so special for both of us. But, for now, we are exclusives with different companies so that will have to remain a dream for the future.

TC: Who has been your favorite screen partner so far?

FD: A silver Corvette and Christoph Scharff. But not necessarily in that order! I was in a scene with both of them yesterday. The chemistry between Christoph and me was intense. It is going to be a scorching scene. You should give us the 2008 Best Duo Grabby right now. [Laughing]

But I also want to say that I have filmed scenes with some amazing stars, including Robert Van Damme (Black 'n' Blue), Arpad Miklos (Private Lowlife) and Jason Ridge (Communion). It is so hard to pick one in particular. They have all been unbelievably hot.

TC: Have you slept with a fan?

FD: Not to my knowledge, by which I mean that I date and have sex with guys who turn me on, not just guys who want to be with Francesco because I'm in movies. Although I think Francois was a huge fan of mine before we met.

TC: You're coming to Chicago for the Grabbys soon. Anything special planned?

FD: Well, the best parts will be that I get to meet all the fans during the days at IML, and then at the Grabbys, I will be a trophy stud. I loved meeting the fans at the Folsom Street Fair in San Francisco and the AVN Expo in Vegas in January. Porn fans always seem to be so friendly. So I'm really looking forward to being at the Hot House booth. But I also love being on stage, so I can't wait for the Grabbys. And since Kent North is one of the cohosts, I've told him that he better make sure I win something even if my name isn't in one of the envelopes. [Laughing]

TC: What movies do you have coming out soon?

FD: I will be signing copies of Hot House's incredible leather movie Communion while we are at IML. I have been told that there will be plenty of copies hot off the presses. My scene with Jason Ridge is powerful.

Then, after that, you will see me in Tough Stuff, a construction worker fantasy. But I can't wait for Trunks 4 to be released so that everyone can see me with the beautiful Christoph Scharff.

Fans can keep track of my Hot House-related movies and events on the Hot Flash blog (Blog.HotHouse.com).

I'm also working at my new Web site. I recently launched version number two of my blog, which is now more interactive than the last one. People can comment on my posts. I find this a much easier way to interact with my fans. Check it out at FrancescoDMacho.com.

My life is so exciting right now. And I'm very grateful.
Interviewed by Tom Cannon