A GoPride Interview
DJ Manny Lehman
DJ Manny Lehman interview with ChicagoPride.com
Wed. March 19, 2008 by Duane Wells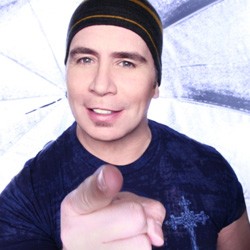 DJ Manny Lehman is a veritable force of nature when it comes to dance music.
First as a music executive and now as a one of the most sought after DJs and remixers on the circuit, Lehman has been among those responsible for pushing the boundaries of dance music in new directions. So when gay travel giant Atlantis decided to brand the sound of its wildly successful cruises and tours, Manny Lehnman seemed the obvious choice of partner.
Move: Atlantis Dance 2008
brings together the world's leading gay travel company with the man responsible for chart-topping remixes of Janet Jackson's "Come On Get Up," Cher's "When the Money's Gone," Sarah Brightman's "Harem," and Brokeback Mountain's "Wings," among other hits. The result is a collection that meshes the diva power of Kristine W, Ultra Nate, and Inaya Day, with a sound Lehman himself describes as "a bit more European" than what his fans have been accustomed to hearing from him.
With the
Move: Atlantis Dance 2008
CD cruising into stores now, Manny Lehmnan took a moment to reflect on some of his favorite places.
DW:
What city do you call your home away from home?
ML:
My home is LA but I feel like my home away from home is Miami. I spin in southern Florida a lot and I have many friends there. I have an affinity for that city... the Latin culture, the music, the night life... it speaks for itself.
DW:
What's been your most memorable travel experience?
ML:
The Atlantis European Cruise. I got to see so many ports of call in so many amazing countries.
DW:
What is your favorite place to play?
ML:
I love spinning in NYC, Miami, Europe and Montreal — they are all progressive in their own unique way.
DW:
Favorite breakfast spot?
ML:
There is an amazing breakfast place in LA called Toast on 3rd Street. They have everything from pure indulgence to the healthiest of food choices, not to mention that it's a great place for random celebrity sightings.
DW:
Coffee Bean or Starbucks? Or...
ML:
I love a good cup of Coffee Bean. Those Frappuchinos are off the hook!
DW:
Favorite lunch spot?
ML:
Lunch at The Ivy is plain & simply the classic Hollywood lunch: Country fanfare in an elegant afternoon setting in Beverly Hills.
DW:
Favorite restaurant for dining?
ML:
I am a huge sushi lover, whether it's Sushi Samba in NYC or my favorite, Katsuya in LA, nothing beats a good stylish Sushi Dinner.
DW:
Favorite place to shop?
ML:
I love shopping in NYC. All the shops and different styles of clothing you can get in such close proximity are always a shoppers dream.
DW:
Favorite place to relax?
ML:
At home. I travel so much that being at home is a luxury. Remember as Dorothy Gale from Kansas said "There's no place like home."
DW:
Favorite place to /hang out with good friends?
ML:
At a relaxed bar environment. There are the Abbey and Eleven in LA. They are nice spots to have a drink and hang out with your friends.
DW:
Favorite vacation destination?
ML:
Well I have two.. Hawaii is my tropical favorite, but I love Mykonos. It's heaven on earth. I wanna be an old man and own a Bed & Breakfast there.
DW:
Favorite spot to escape?
ML:
The movies. I like to turn off the world and go to a great film. Pure escapism.
DW:
Favorite spot on a rainy day?
ML:
In bed. No contest on that one.
DW:
Favorite spot after midnight?
ML:
In the DJ booth behind the turntables [and] CD players with a room full of people.
DW:
When you travel, where do you go that no one would ever expect to find you?
ML:
Online and at the comic book convention in San Diego
DW:
What's the one thing you simply can't leave home without?
ML:
My iPod. It carries and documents the soundtrack to my life.
DW:
What's the most important life lesson learned on the road?
ML:
Treat people as you would like them to treat you.
For more on Manny Lehman, visit his official Website at
MySpace.com/MannyLehmanOfficial
.
Article provided by
GayLinkContent.com
.
Interviewed by Duane Wells