A GoPride Interview
Leonardo Nam
Leonard Nam is perfect in 'Westworld'
I am a mega fan too so it is great to share this with everyone.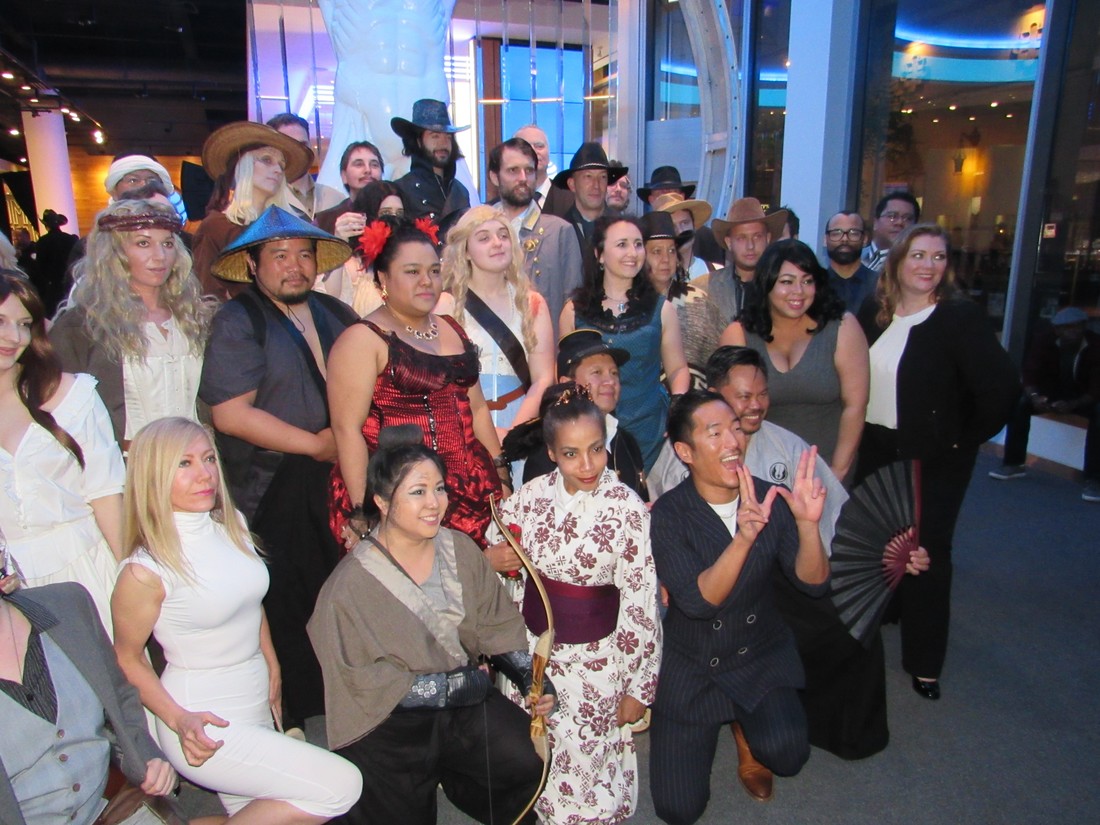 photo credit // jerry nunn
'Westworld' star Leonard Nam visits AT&T's flagship store on Michigan Ave.
Westworld is the HBO television show based on the 1973 film of the same name. The story is based in an American Old West themed amusement park with android hosts. High paying guests live out scenes with the hosts without worry of being killed. Things go off the rails as the androids rebel against the guests. 
The second season of the show began this year and airs ever Sunday. It was just renewed for a third season.
Leonardo Nam plays Felix Lutz, an employee of the Livestock Management division in the Westworld park. He works there as a body shop technician. 
He has a diverse background after being born in Argentina to Korean immigrants then raised in Sydney, Australia. He moved to New York at the age of 19 to pursue acting. 
His breakout role was in the movie The Perfect Score with Scarlett Johansson and Chris Evans.  He went on to several other movies such as The Sisterhood of the Traveling Pants and The Fast and the Furious: Tokyo Drift. 
He was in the Amazon show Betas among many other television shows before landing Westworld. 
Nam made an appearance at AT&T's Michigan Avenue Flagship store on June 2 to meet fans and enjoy interactive experiences included at the venue. He answered a few questions before the meet and greet. 
JN: (Jerry Nunn) Great to see you at this event. How is working with AT&T helping you reach viewers?
LN: (Leonardo Nam) I love the fact that people are here right now at this store. It shows they are interested in getting involved in Westworld. AT&T is a bridge for that. 
JN: How would you describe the show Westworld?
LN: The idea is that it's a theme park for adults and families can enjoy it. Essentially the show explores the evolution of sin. The understanding of humanity and how that fits in. 
JN: What was the first thing that went through your mind when you booked this gig?
LN: I screamed! I knew who was involved with it. I was excited to be part of a show that was going to be of such high quality. 
JN: Do you like to binge watch a show or watch it as it comes out?
LN: I watch it with the audience. My character Felix is a bridge for the audience. I am experiencing things as it happens. 
I read the script but the way it all comes back together is exciting to see. I watch it with friends and cast mates. 
JN: They keep secrets of the show under wraps. Is that fun to see?
LN: It is fun to have that as a common thread with everyone. At the beginning I want to know more. They will tell you everything you need to know, but the fun part is everyone is in the same boat. When I see them come out of their trailer I am trying to remember what we filmed last week. 
JN: The set looks expensive on TV, is it?
LN: It is really expensive. I walk into it thinking is this show I am in? It is fully done and sewn in. It is patiently made and beautiful. 
JN: Do you have a bestie from the show?
LN: Thandie Newton. Our crew is Thandie, Ptolemy Slocum, and I. We hang out together. 
JN: Did you see Thandie in Han Solo?
LN: Yes, I was at the premiere. She killed it in that movie. 
JN: In your career have you played gay?
LN: There was a movie before my first studio film called The Perfect Score, where I played a  in a student/teacher love relationship. It was  a great story to tell and called Nobody's Perfect. The director was Robert Tutak. It was an indie New York project. 
JN: Were you on the Flash TV show?
LN: Yes. I was just on that. 
JN: What else is coming up?
LN: I am doing a new movie called Phobias coming out later this year. I just did a movie called Perfect that also comes out later this year. 
I am still putting together a film. 
JN: You are busy. Anything you can say about the current season of Westworld?
LN: My part is really growing so I am excited to share that with the world as the episodes are rolling out right now. I am a mega fan too so it is great to share this with everyone. 
Everyone is in for a complete ride. It's a bit of a rollercoaster and it is just starting now. Keep watching!  
Look for the more props, costumes, and interactive experiences at AT&T Flagship Store, 600 N. Michigan Ave. through Sept 2018.
Interviewed by Jerry Nunn. Jerry Nunn is a contributing writer to the GoPride Network. His work is also featured in Windy City Times, Nightspots Magazine and syndicated nationally. Follow @jerrynunn
Serving the Chicago gay, lesbian, bisexual and transgender communities. ©Copyright 2019 GoPride Networks. All rights reserved.