A GoPride Interview
Guy B.
Guy B. interview with ChicagoPride.com
Sun. December 2, 2007 by ChicagoPride.com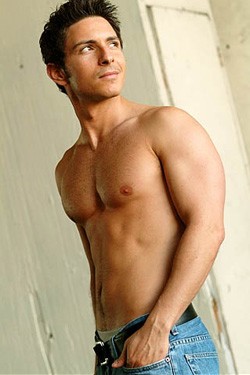 photo credit // marc cartwright
Seldom does an out singer come along with the combination of talent, tenderness and brawn possessed by Guy B. His debut disc WITHIN ME shows off an artist with an uncommon ability to marry passionate vocals and romantic lyrics to muscular grooves in a totally unique way. Taking his cue from some of the virtuoso pop and R&B talents who have inspired him along the way - artists like Luther Vandross, Brian McKnight, Boyz II Men, Whitney Houston, and Babyface - Guy has created an album that values vocal artistry and ear-catching melodies over the latest pop music fads.

But don't get the wrong idea - WITHIN ME is not a nostalgic homage to the past. Songs like the title track, with its up-to-the-minute beat and unique Middle Eastern influence, will remind pop fans of the state-of-the-art production found on the latest albums from Justin Timberlake, Robin Thicke, and James Morrison.

Born in Israel to parents of Moroccan descent, Guy immigrated to America when he was 3 years old, settling with his family in North Hollywood, California. "I was raised among people of every color, creed and nationality," says Guy about his childhood. "That kind of diversity has truly inspired me to see every human being as equal."

After a childhood steeped in pop and soul music, Guy B. became the lead singer in a group called Evolution. Writing and performing their own original material, the band was a touring staple all over Northern California. The pinnacle of their career came when they were asked to perform a year-long sold-out gig—5 shows a day, 5 days a week--at Universal Studios in Japan.

Upon returning from Japan in 2004, the members of Evolution agreed to disband, and Guy decided to go out on his own. Building a recording studio in his home, the singer achieved a lifelong dream of writing and recording his own material, songs that he had been quietly working on for several years. The result of Guy's long and arduous hours in the studio is WITHIN ME, an extremely personal musical statement that acutely expresses life's myriad joys and sorrow. As an out gay artist, Guy has also transformed the beauty and struggle of his ultimately liberating sexual journey into the uplifting spiritual thread that runs through each song on WITHIN ME, particularly the tracks "So What," "Invisible Wisdom" and "Illusion of Form."

Guy's spirituality also informs the pan-sexual, pan-religious themes conveyed in his video for "Within Me." Created by the singer and a talented team of collaborators who have worked with both Madonna and Pink, the video was readily added to LOGO's music video rotation, where it has been a staple for 4 months. The video remains perched in the Top Ten countdown after 12 weeks.

A big fan of the dance remixes, Guy has collaborated with superstar DJ Manny Lehman to produce an explosive remix of "Within Me". The singer's next endeavor will be to shoot the video for his second single "So What"; he has already teamed up with DJ Scotty K (who remixed Christina Aguilera's #1 dance mix of "Ain't No Other Man") to create an anthemic house mix of the song. Having opened up for dance queen Deborah Cox at the Pride Ball, Guy B. is looking forward to performing his dance hits at gay clubs around the U.S., as well as several of next year's Pride events.

A truly spiritual being, a proud gay musician, and a talented looker with an ear for a killer groove, Guy B.'s star is on the rise. Here, the singer talks about his musical evolution, his sexy image, and the pro's of being an out gay musician.

CP: When did you first become interested in music?

GB: I've always felt a great love for music, but I first became interested in making music around the age of 8 years old. Around that time, I remember hearing and watching Whitney Houston sing her head off and, at the time, that was the greatest love that I had ever felt! I know, I know!

(laughing)

I heard and felt something so deep and powerful through her music and singing.

CP: When and why did you decide to pursue music as a career?

GB: I think the conscious decision to pursue it as a career came when I turned 14 and was able to get a job and afford my own music lessons. I would work at a snack shop making $4.25 or something ridiculous like that and then spend that money on voice and music lessons.

CP: What has been the highlight of your career so far and why?

GB: In the early 2000's, I was in a boy band for 3 years called Evolution. We spent a lot of time honing our skills, our harmonies, our sound, our production, and our performance. When we were totally ready to make it really happen, the boy band craze was over. 'N Sync and The Backstreet Boys had hit their peak, and no one wanted to hear 4 guys singing together anymore. Fortunately for us, we were seen by a producer of a show that was happening at Universal Studios in Japan. They offered us a contract to do 5 shows a day, 5 days a week for a year. We were in a foreign country getting paid very well and treated like rock stars. The highlight was more about really experiencing the value and honor the Japanese people had for music and for artistic self-expression.

CP: What is special about your album?

GB: My album is my genuine truth. That is what I believe music is about. It connects to people who are open to the message of finding your strength and truth within and ultimately celebrating it. I've receive fan mail from really young people saying that my songs have helped them be more truthful with themselves and their families. That is what is special about my CD.

CP: What does your album/music say about you as an artist and as a person?

GB: My CD tells the stories of what I've been through. It honestly expresses situations and experiences that occurred along with the lessons that I've learned. I went through a place of discovering how much false evidence there was all around. Things that I used to take as face value were questioned. After the breakup of Evolution and a breakup of a personal relationship, I really started questioning what I thought was the truth.

What I discovered was "invisible wisdom." In my personal relationship, I had discovered "wandering eyes" and an "unemotional love". So I wrote about it, and through the writing came a lot of answers. The ultimate message is that the answers were not found outside me.

I realized that the answers are always "within me."

CP: What kind of image are you trying to convey with your photos?

GB: As with my music, I've always put effort into being honest and having morals, values, and a sense of self-respect. I am a gay guy, and sexuality is a fun and exciting part of my journey, but I don't intend to only appeal to gay men. Gay men are my peeps, and I do feel a connection to their journey because I am going through it as well. But so many different people can relate to that life journey because we all face difficulties that challenge our self-acceptance.

CP: How important is sexiness to your image and music?

GB: Sexiness is very important because it's something to celebrate and have fun with. Part of being an artist is the ability and freedom to express what, unfortunately in a lot of places, is not allowed. I am on tour in Japan at the moment, and a bunch of other artists from the States were just commenting that perhaps the reason many Japanese fans appreciate us as artists is because we are able to express things they cannot. I enjoy my sexuality, and playing with it is fun and appealing.

CP: How did you decide to use photos of you with you shirt off as part of your album package? Is this purposely targeted to a gay male population?

GB: It was not a deliberate thing. The particular photo on the back of the album, where my pants come down very low, was not a posed shot. It was taken on the set of the "Within Me" video when I was kneeling on my knees on a bed waiting for the lights to be set up for the shot. My photographer, Marc Cartwright, was standing at the door and just randomly took the shot. When my graphic designer saw it, he was inspired to create what is now back cover of my album.

CP: Have you ever been pressured to stay in the closet for the sake of your career?

GB: When I was in a boy band, I felt that pressure of having to portray a certain image. Now if it ever gets raised I say "So what?"

CP: Does being an out artist hinder your career?

GB: I've been asked that many times, but I really don't know. Being out has fulfilled me like nothing else. I am proud that I set out to be as honest as I can as an artist. Being completely honest absolutely liberates me in every way, not just creatively. It really provides an experience where I connect to amazing people who are of a like-minded nature. That opens up a lot of doors because I think that the true leaders are about that fearless journey. I don't really know what would have happened if I took a different route. I doubt I would be as fulfilled. I think gay artists are at the brink of having a lot more available avenues to expose their music to people.

So I like to think that being out has only created more opportunities and possibilities.
Interviewed by ChicagoPride.com
Serving the Chicago gay, lesbian, bisexual and transgender communities. ©Copyright 2019 GoPride Networks. All rights reserved.