A GoPride Interview
Kate Nash
Yesterday Was Forever: Kate Nash returns to music with new album
Making art is an amazing thing to do, so if anyone sucks the life out of it I want to remove them from my life.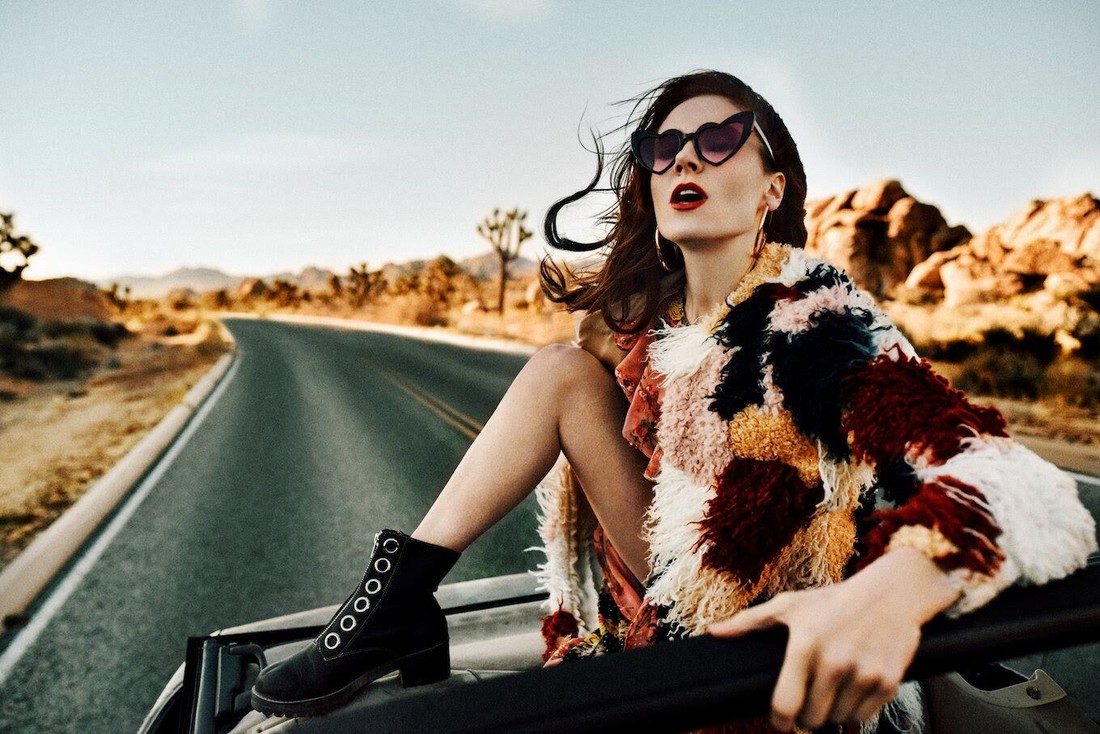 Singer Kate Nash continues to make quirky music that bridges the gap between pop and punk. She just released her fourth studio album "Yesterday Was Forever" that follows that trend. 
Her riveting festival shows at Lilith Fair, Coachella, and Lollapalooza have brought her wide attention over the years. With performances at Manchester Pride and songs that address directly her gay following, she has been a champion for LGBT rights throughout her career. 
Nash is now moving into acting with the Netflix show GLOW where she plays wrestler Rhonda "Britanica" Richardson. The show covers the Gorgeous Ladies of Wrestling originally created by David McLane and was picked up for a second season that has not aired yet. 
The talented performer talked about her new projects and an upcoming trip to Chicago. 
JN: (Jerry Nunn) Remember me, your favorite gay reporter from Chicago?
KN: (Kate Nash) I do!
JN: What did you learn on this album from your previous music?
KN: I feel like this album is going back to my pop roots out of all the experiences that I have had so far. It feels like a hybrid of all three of my records. I had a difficult experience making it. I wasn't sure how I was going to put it out or continue as an independent artist. It was extremely informative because it encouraged me to stay independent. I was able to look at it objectively at the end because it took so many years to put it together. It was very emotional for me to make it. 
Sometimes when you make a record it is such a time capsule, and you are determined about what is on it because it represents how you were then. It was cool that this time I was able to see it in hindsight and see that it made sense for the record. 
JN: I saw the video for "Life in Pink" and saw lots of LGBT folk in it. Were these friends of yours?
KN: Yes. I loved watching Liz Nistico from Holychild work when we did a video in Mexico so I wanted her to direct the video for me. We just shot it at this cool house in LA. It was so fun making that video. 
JN: You videos seem to have a homemade feel to them. Is that your vision?
KN: Yes. I like to collaborate with people, but I also have a strong sense of who I am and what I want to tackle there. Making videos with my friends has always been my thing because it is more comfortable and a more enjoyable atmosphere. 
I have made videos that were not fun and I don't want to do that again. Making art is an amazing thing to do, so if anyone sucks the life out of it I want to remove them from my life. 
JN: You have a song called "Karoake Kiss." Do you have a favorite karaoke song to sing to?
KN: "Total Eclipse of the Heart" is my favorite because I like to start big. I also like performing Eminem. 
JN: That would be hard. 
KN: I grew up singing Eminem so I know his songs pretty well, so it is an impressive one to stick in there. 
JN: How did you get on the show GLOW?
KN: I auditioned for a show called The Devil You Know that never got picked up. It was with Eddie Izzard and Karen Gillan. The directors were Jenji Kohan and Gus Van Sant. It was set in Boston about the Salem witches. 
Because of that Jenji saw my work and I got the opportunity to audition for GLOW.
JN: Did production come up with your character or did you have any input?
KN: It was kind of both. Rhonda wasn't really defined. I just took the little bit that was there and worked on her background, who she was, and her inspiration. I presented that to Liz Flahive and Carly Mensch, our creators. They loved where I took the character.
There 14 of us, now 15 so there is a lot of room to develop things on your own. It is not always centrally focused on one character. 
I don't really know why I felt very connected to Rhonda. I found her really easy to help create. 
JN: Were you nervous about going topless?
KN: Yeah, I was definitely nervous. I think a woman's body is way more political than it should be. There is so much pressure for us to look a certain way. Being nude is a political decision for any woman to make, which it shouldn't be. 
It was really empowering and I am glad I did it. I think it has helped me with a lot of body issues. I didn't realize how much I thought about it and how much it affected me. It was crazy. It was just my body. I am naked every day, but it is so intense thinking about other people seeing me naked in a public way. 
It shouldn't be such a big decision for a woman to make. If someone decides to do it either way, not everyone should have a huge fucking opinion about it, but they do. 
JN: Are you close to the other cast members?
KN: It is so amazing. I feel like I am in a dream because it feels to good to be true. I love the women on the show so much. We got an intimate relationship with each other really quickly because of the nature of wrestling and learning to do something so physically hard. We were all a little scared of it since we had no experience doing it. This made us bond really fast. 
They are funny, talented, and supportive. I walk around and think, "This is the coolest thing ever!"
I am having a really good time being with great women who inspire me. Some of these environments are not enjoyable to work in so we feel lucky to work with people like this. I am so grateful to have this job! 
JN: Do you have a favorite piece of '80s clothing that you wear?
KN: Some of them are extremely uncomfortable. I do like these pink ridiculous shorts that are basically underwear. There is a t-shirt that says "Wet" in vinyl across it. I think it's so funny that there's a baby pink cropped shirt with a collar and "Wet" on it. 
JN: The hair and makeup must be fun.
KN: It is a lot to sit through every day especially during big wrestling looks. It is really fun to see what they come up with. 
JN: Did you the documentary and female wrestling before?
KN: Definitely. 
JN: Since you are done filming season two, you are free to tour. I saw you play the Park West before. Are you bringing the Girl Gang?
KN: Yes, I am bringing my all girl band and together we will bring the sass for sure!
JN: Should I encourage readers to wear pink?
KN: Yes, why the fuck not? Wear bunny outfits, I always encourage people to be their freakiest selves. This is a place where everyone is safe. My shows are amazing. People make friends there and will stay friends for years. I have such great fans and the safest environment. I'm so happy. 
JN: How do you decide what to play?
KN: It is quite hard. People want to hear new stuff, but not too much new stuff. They want to sing along to everything as much as possible. Getting the balance right is playing new stuff but also the golden oldies. I want them to feel inspired when they leave. 
It is hard to navigate, but I will figure it out!
See Nash mash it up at Park West Friday April 20 with ticket at JamUSA.com.
Interviewed by Jerry Nunn. Jerry Nunn is a contributing writer to the GoPride Network. His work is also featured in Windy City Times, Nightspots Magazine and syndicated nationally. Follow @jerrynunn