A GoPride Interview
Colton Ford
Colton Ford interview with ChicagoPride.com
Wed. October 17, 2007 by Bryan Ochalla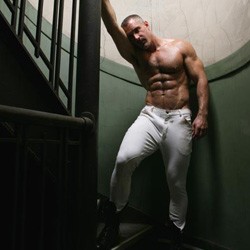 photo credit // joe oppedisano
You may think you know all there is to know about Colton Ford. Well, think again.
Yes, Ford (born Glenn Soukesian) was featured in a number of gay porn flicks between 2001 and 2002, but did you know that before he entered "the industry" he was an aspiring singer who performed with the likes of Chaka Kahn, Salt 'n Pepa and Vanessa Williams?
Since walking away from adult entertainment in 2002, Ford has been working his way back into the industry of his first love—music.
Now living in New York City, the hunky performer may be busy prepping his latest effort—an album titled
Tug of War
, which will hit store shelves early next year—but he wasn't too busy to spend a few minutes on the phone earlier this week talking about his musical beginnings, his reaction to those who can't get over his porn past and his recent experience on the set of here! TV's
The Lair
.
CP:
(Bryan Ochalla) You've been in New York City for six months now. How do you like it so far?
CF:
(Colton Ford) Professionally, it's an amazing place to be. It's much more user-friendly for me to be out here and accessible to everyone helping with my music career. I'm still adjusting and acclimating socially, though, but that always takes a while.
CP:
I don't think many people realize how long you've been singing. It isn't just something you decided to do after getting sick of porn, is it?
CF:
I've been singing all my life. I had a single out in 1988 with Jon St. James, who produced Stacey Q and Bardeux, among others. Then I got signed to another deal in 1992 and was paired up with Frankie Knuckles for his second album. Due to creative differences with Virgin Records, though, I got replaced with a diva. They had a problem with me being a white dude.
Four years later I had another deal with Virgin and about half-way through the album there was an upheaval at the label and I got shelved. I got another deal after that, but as the paperwork was beginning to flow the label went under.
I put out another single a few years ago called "Everything" and then got to work with Pepper Mashay on a remake of "Signed, Sealed, Delivered," which climbed to number nine on Billboard's Hot Dance Club Play chart.
So, music has been an on-going thing for me—it's something I've always done.
CP:
It must have been difficult to go through all of that and not become a bit jaded about the industry...
CF:
It was, but it's a challenge everyone in this industry has to face. There are a lot of talented people out there that we will never hear from because at some point they just said "f*ck it." It really isn't reflective of their belief in themselves or their talent, though—at some point it becomes about quality of life for some people.
I remember Frankie Knuckles telling me at one point, 'This is what being an artist is all about. You do your thing, you take it as far as it will go, you get knocked down because it doesn't take you to the place you envisioned, and then you get back up, regroup and press forward.' That's been my approach ever since.
CP:
I'm guessing you have to have a particularly strong resolve considering your past in gay porn comes up in nearly every interview and review.
CF:
Well, it's certainly part of my story, and it's not something I'm ashamed of. I recognize there are people who aren't going to be able to look past it, and I certainly don't want to force them to do that. I just hope that at a certain point the music will get to them and they won't be able to dislike it.
I actually think I have a much bigger audience because of my porn experience than I would have if I was just another singer out there trying to land a gig. My past affords me certain benefits I otherwise wouldn't have had and it also creates a few obstacles I otherwise wouldn't have faced.
I think curiosity is a really strong force, though, and I think some people will come to the table just to try and figure me out. Many of them are going to be skeptical and won't expect me to be any good, but hopefully I'll surprise them.
CP:
Do you feel like there's an opportunity for you to push people's buttons by being honest about your past? Considering how many people in the purchase porn, it seems funny to me that any of them would be aghast about an ex-porn star trying to do something else with his life. Do you want to make people aware of that kind of hypocrisy?
CF:
I think I'm already doing that by approaching the situation the way I am and the way I have in the past. It's something I'm going to address in my next video, for "That's Me", too. I consider it my declaration: This is who I am. I'm multi-faceted and I'm embracing all of my shit, so get over it already!
The irony to me is that I can take a picture with my shirt off and by virtue of my porn background it will be deemed pornographic, whereas somebody else with a different background that does the same thing will be perceived in a completely different way.
That's OK, though. I'm definitely not going to pull back and compromise who I am, which is a naturally provocative person.
CP:
Music isn't the only form of entertainment you're focusing on these days; you're also acting a bit, too. Most recently you played a small role on The Lair—how did that come about?
CF:
I've always enjoyed acting. I did a lot of theater in high school and college, and I've done little things here and there ever since.
I first became associated with here! when Regent Releasing picked up my documentary, Naked Fame. At one point I read for a small part on Dante's Cove, and even though the producers seemed to like it I didn't hear back from them for some time.
A month and a half later, though, the casting director for The Lair called me and offered me a part on that show instead. I took it and had a blast doing it. Everyone was great—the cast and the crew.
I have a few more things in the works—some interesting scripts have come my way recently—that hopefully will allow that part of me to continue to blossom.
For more on Colton Ford and his upcoming album, go to
www.coltonfordmusic.com
.
© 2007 GayWired.com; All Rights Reserved.
Article provided in partnership with GayLinkContent.com.
Interviewed by Bryan Ochalla