A GoPride Interview
Hedda Lettuce
Hedda Lettuce interview with ChicagoPride.com
Tue. October 9, 2007 by Kevin Wayne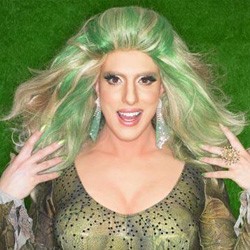 photo credit // www.hedda.com
Lettuce Talk with Hedda Lettuce
Drag comedienne and glamour-puss Hedda Lettuce is running for president and is making a campaign stop in Chicago on Saturday, October 13 at Chicago's Lakeshore Theatre. "Why make that difficult decision [between a woman and a black man]," Ms. Lettuce asks, "when you can get the best of both worlds in one candidate and vote for me: Hedda Lettuce."
With movie and TV appearances including "To Wong Foo Thanks for Everything, Julie Newmar", NBC's "The People's Court" and a memorable cameo on "Sex and the City" as Samantha's ex-beau turned Bingo Drag impersonator, Hedda Lettuce has quickly become one of America's most recognizable drag performers.
Created by New York actor Steven Polito in 1994 this high-heeled stand-up is a standout in her field. The
New York Times
calls Hedda a "Satirist... Singer-impressario..."
The Advocate
hails her as "One of the best and brightest under thirty."
Before making an appearance in Chicago, Hedda Lettuce took a moment to answer a few hard-hitting questions in this ChicagoPride.com interview.
CP:
(Kevin Wayne) Who is Hedda Lettuce?
HL:
(Hedda Lettuce) Comic, singer, light dancer, activist, mother, daughter and hand model.
CP:
Where are you currently living?
HL:
The Chelsea Hotel, New York City.
CP:
What makes you stand-out above the others?
HL:
My kindness, my humor and my huge of knockers!
CP:
Do you consider yourself a nice person or a diva?
HL:
Somewhere in the middle. How about a nice diva?
CP:
Like the other divas, do you make any special requests for your dressing room?
HL:
No midgets and only green M&M's.
CP:
Is this your first visit to Chicago?
HL:
No. I was in town for just a blip two years ago.
CP:
Welcome back! So what are your expectations for this trip to the Windy City?
HL:
I expect my wig to be blown off my head so I've taken some precautions -- I have glued the sucker to my head! I also can't wait to see the sights, the wonderful museums and that shiny reflective bean sculpture.
CP:
In addition to your talented physical comedy and parodies, what exactly can we expect from your performance at the Lakeshore Theatre?
HL:
Lots of political humor with a light edge plus some very fun videos.
CP:
To say that you are politically outspoken is an understatement – in fact you are currently running for President – what issues really get you fired up?
HL:
Trans fats! Transgendered people should be thin and intolerance of any kind -- especially lactose intolerance.
CP:
Free speech seems to be an issue of passion for you. Have you ever experienced censorship?
HL:
Yes at Boston Gay Pride two summers ago. It was a bit heated but any press is good press, right?
CP:
Another issue for you seems to be equal rights. What is your take on gay marriage?
HL:
Gay marriage? I have
never
heard of such a ridiculous thing in my life. What will they want next babies?
CP:
Let's hit a few personal questions… are you in love now?
HL:
Yes with someone in a very high political office. I can't talk about it at this time.
CP:
Hmmm. What are some of your pet peeves?
HL:
When your toes hang over the front of your open toes shoe -- that is called giving shrimp.
CP:
What's currently under and/or next to your bed?
HL:
A bible, a gun and a picture of my dear old grandma -- Bedda Lettuce.
CP:
If you could trade places with anyone for a few days, who would it be?
HL:
Hmm....I think it would be Condoleezza Rice. I would love to see what goes on behind the scenes. Or perhaps Pamela Anderson.
CP:
What's in the works for you?
HL:
My Christmas show in NYC -- A Hedda State Christmas at the Metropolitan Room, 34 West 22nd Street, Dec 13-15/ 20-22/ 28-29.
CP:
Any final thoughts for your fans in Chicago?
HL:
Move over Oprah, Hedda is in town!
Hedda Lettuce, you receive our endorsement!
Don't Miss the Chicago premiere of a Provincetown, New York City, Movie and Television Sensation -- The Hedda Lettuce Show, Saturday, October 13th at the Lakeshore Theatre, 3175 N. Broadway.
(
Event Details
)
Learn more about Hedda Lettuce at
www.hedda.com
Interviewed by Kevin Wayne