A GoPride Interview
DJ Hector Fonseca
DJ Hector Fonseca interview with ChicagoPride.com
Wed. August 22, 2007 by Matthew Harvat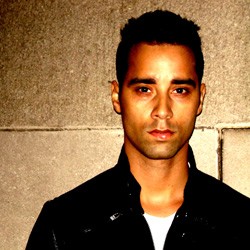 "I would like to share some of my music with you, so email me if you are interested. Thanks, Hector" is how my relationship with super producer/remixer/DJ Hector Fonseca started almost three years ago. If...
IF
I'm interested? Having followed Hector's brilliance in the dance music industry for a couple years at that time, I could not respond quickly enough to his offer.
After all, this is the guy that brought us Jahkey B's "Heartattack" -- a track every DJ used to get their dance floor to ignite with energy and sex-appeal. "Yes, thank you. I look forward to hearing from you and more of your music when you have a moment" was my email back to him. What I wanted to say was "gimme, gimme, gimme all of it right now! Woo-hoo! I win! I win! I get to have awesome music no one else will have!" ...I refrained. The rest is DJ orgasm history.
Unreleased versions of tracks are key to any DJ's set and Hector never fails to deliver. Headquartered in New York at Peter Rauhofer's underground dance track label Star69 Records, Hector has been turning out amazing remixes for the last 4 years with such artists as Missy Elliott, Beyonce and Kellis, to name a few. Like Tony Moran, Eddie Baez, Paulo and even Rauhofer, Hector has his own style and artistry that comes through loud and clear in his production work.
Now for the first time, DJ HECTOR FONSECA is coming to spin his magical sound in Chicago this weekend at
Circuit Nightclub
, 3641 N. Halsted. Hector and Circuit MOM will be teaming up along with VISUWIL to bring you "Down On The Farm" this Saturday, August 25, 2007.
This former model found his way to the DJ booth by studying the music styles of club legends David Morales, Frankie Knuckles and Danny Tenaglia in the late 80's and early 90's. Hector brings his own unique fusion of funky rhythm, tribal sexiness and electronic edge that instinctively connects with his audience. He tells a story with his DJ set, which, in my opinion, is the best way to experience a DJ.
Born and raised in New Jersey, he was only a snapshot away from New York club life. His first "mix-tape" (yes, they really did do mix-tapes back in the day in hopes clubs or promoters would listen to them) landed in the hands of legendary TUNNEL promoter Mark Berkley. Hector made the connection with New Yorks hipsters and hopped right over that velvet rope into nightlife without ever looking back.
In 2007, Hector furthered his reach by being name "Hottest DJ" by
Out Magazine
and headlining numerous high profile events such as Carnival in Rio and various Pride celebrations around the world where thousands showed up and danced all night to his well received dj sets. No doubt Chicago will be a permanent addition to his well traveled headphones.
I wanted Chicago to know a little bit about this international DJ star before he hits the decks this Saturday, so we did a quick interview over the phone while discussing what music I would use for the Circuit MOM show during his set.
M:
(Matthew) Do you have any formal music training?
H:
(Hector) No. No formal training. I guess I am self taught. I feel it in my heart.
M:
What interesting jobs did you have before becoming a music producer, remixer and DJ?
H:
Well, I was a model and actor turned DJ. (laughs)
I guess it's the never ending New York story, right?
I was modeling during the day but going out to Twilo and Tunnel at night. I loved house music and basically grew up going to hear Frankie Knuckles, Junior, David Morales. I could not get enough of this type of music (house) that they were playing.
Eventually, I picked up an ear for the house music sound and made my own mix tape... you know the rest.
M:
Did you like modeling? Most people would think it's very glamorous and sexy. Especially in New York!
H:
Modeling is glamorous, but for the men you never make the huge money. You don't get to express yourself creatively. And a lot of times, unless you are friends with the booking agent or casting agent or your willing to "do" stuff, you don't get the jobs. With DJing, I thought-'the better I get at this and the more I practice, the better I will be able to get out there and really express myself and show my true being' ...and make money!
M:
Whats on your iPOD right now?
H:
I don't own an iPOD! (laughs)
M:
Me either! I'm going to wait until they catch on. Right now, its just a fad.
So what music do you listen to when you are not working in the studio?
H:
Well, I am an MTV junkie. But I listen on the Internet to BBC online. They seem to be a couple steps ahead there. What's hot there now, will be hot here in a couple of months. A lot of Internet radio stations, too. My Blackberry is my MP3 player and right now it's got Dangerous Muse, Lilly Allen, One Republic and Amy Whinehouse.
M:
She's a mess.
H:
She
IS
a mess, but I love it.
M:
Musical influences growing up?
H:
When I was a kid, I lived for Olivia Newton John, Michael Jackson, Duran Duran... (pauses) FALCO!
M:
"Rock Me Amadeus... amadeus... amadeus... HA!
H:
In college (Penn State), I was more into the industrial and techno music. Early Moby, Front 242 and stuff like that. And then of course came house music.
M:
First time in Chicago?
H:
Yes! First time visiting and DJing there. I cannot wait to see the city.
M:
Single? Married? Dating?
H:
I am recently single and kinda dating... no... single. I mean you can't be realistic and try dating someone that you meet in say, Vienna. Sure, he's the most amazing guy, but he's in VIENNA?!... (laughs) The whole travel thing is hard on my dating possibilities.
M:
Favorite club to have spun in?
H:
Parking in Montreal. As a DJ and artist, it is the perfect place to let loose with your own music instead of playing specifically (commercial tracks) for the crowd. The Montreal audience expects it of you.
And then there is Brazil. They just show up in masses and are ready to party. Everyone is gorgeous and sexy. Week International is the hot club to spin there. You can't help but get into a sexy groove with your music. The DJ booth is usually crowded with soap opera stars, hustlers, bank investment guys -- it's insane!
Stereo in New York is one of the best parties to come along in a long while. It's the best mix of people in NYC. It's got fashion people, porn stars, society. The vibe is amazing and the sound system makes every record sound amazing. Resident DJ's include Peter, Offer, Paulo, me and Ralphi Rosario is coming.
M:
Favorite vocalist? Dream artist to work with?
H:
I'd be lying if I didn't tell you Madonna. I really think she is amazing at what she does.
I am remixing the new Beyonce and she has always been high on my list.
Sia. She is an AMAZING artist. The way she writes is truly amazing. She has this really cool raspy-jazzy thing going on that I love.
www.siamusic.net
Check her out.
Blondie is probably another one. I ran into her once while she was walking her dog and I was walking mine. She struck up a conversation with me about my dog leash and I had to hold it in and not scream "OH MY GOD, YOU'RE BLONDIE AND WE'RE TALKING ABOUT DOG LEASHES AND I LOVE YOU" (cracks up)!
M:
Greatest rock n roll voice of all time?
H:
Kurt Cobain.
M:
Ever been in jail?
H:
No. NO, wait that's not true! (laughs) Once in college for drinking.
M:
First thing you do when you get out of jail?
H:
HAVE SEX. (laughs)
M:
Well... um JAIL…SEX... looking the way you do??
H:
(cracking up) Actually when you're in jail, you might get worn out with sex... so I would say get scrubbed down and a good manicure and pedicure.
I can be a little vain sometimes.
M:
Sometimes?
Kidding!
Well, being a former model and all...
H:
and being in the dating scene in New York, too. You have to be vain. You can't walk down 8th Avenue looking busted, these queens will call you out!
Hector has released his first mixed compilation "NY Club Anthems Vol. 2" on Star 69 records to rave reviews both by his peers and consumers. His tour has stopped in Miami, Sao Paolo, Mexico City, New York and this weekend in Chicago.
Dust off your best cowboy hat and come be a part of the future of dance music with DJ Hector Fonseca and Circuit MOM this Saturday. (
Event Details
) I am very proud to continue to bring Chicago the best in DJ talent. See you from the stage!
www.hectorfonseca.com
www.myspace.com/circuitmom
Interviewed by Matthew Harvat
Serving the Chicago gay, lesbian, bisexual and transgender communities. ©Copyright 2019 GoPride Networks. All rights reserved.