A GoPride Interview
Skott
Great Skott comes to Lollapalooza
When I started writing songs it was instrumental video game music that I was producing when I was 13 years old.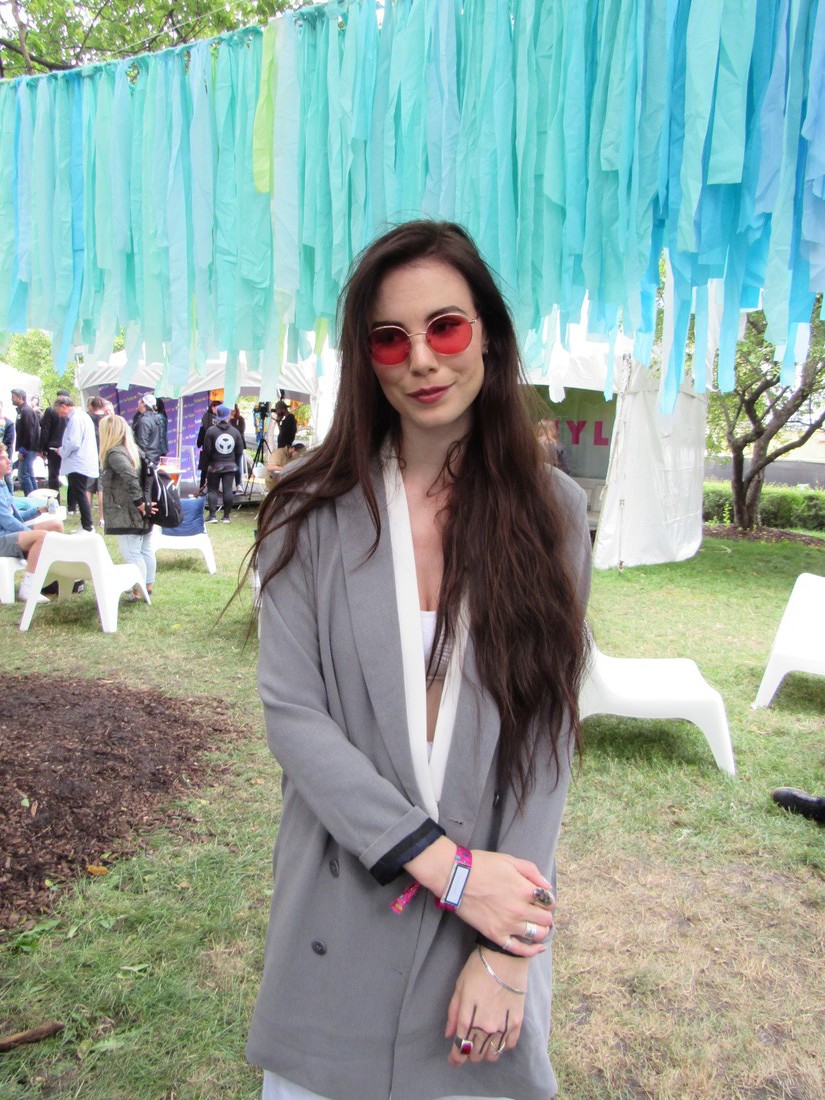 photo credit // jerry nunn
Scandinavian singer Skott just made her first U.S. festival appearance at Lollapalooza with her haunting vocals. Artists from Katy Perry and Lorde have taken notice of her. She is currently on tour with Phantogram and will be with singer M0 in the UK this fall. Her full length album is expected in 2018.
She sat down for an intimate chat backstage at Lolla this year. 
JN: (Jerry Nunn) Start off with where did you grow up?
S: (Skott) I grew up in Sweden in a village. It was a special village because it had very strong traditions. One of them is folk music and violin. I grew up with me and my sisters playing the violin since we were babies. 
Everyone would play. We would find a meadow, or a barn where we would just jam, usually with full costumes. It is how I see music. 
JN: What is your full name?
S: Pauline Skott. In Sweden it has the two dots above the O. 
JN: Have you learned anything from touring with the band Phantogram?
S: I think they are really cool onstage and communicating with their audience in a very lovely way. 
JN: Your latest single "Mermaid" has a video with a swimmer in it. Who is he?
S: He just a swimmer. He's an actor and no one that I know. He's in a David Beckham commercial. 
There are many metaphors in "Mermaid." It is a love song. It is about not being able to move on from a broken heart. In the video I am a ghost of the past or someone that is gone. Time moves on, but he is still in the past. 
Love is powerful. Sometimes it will make you drown. This song is about the other side of it, that drowning can be a good thing, that you give in, and let yourself be swept away by love. There are two sides to the song. One is very dark, and one is very light. 
JN: I have trans friends that love mermaids because there is no gender. 
S: Oh that makes sense. I had never heard that. Cool! 
JN: Do you have a favorite tattoo?
S: I actually do body art, so I don't have any tattoos. I draw them on. It is art. I treat it like jewelry. It is a way to express myself. This is one right here. It is the Skott crest so you will find this everywhere.
JN: How did it feel to have Katy Perry and Lorde be fans of your work?
S: It felt good and unexpected. I didn't expect to give that kind of attention. "Glitter & Gloss" was the first song that I released. I was shocked by the tweets. 
JN: I met M0 at the last Lollapalooza. You are touring with her?
S: Yes. She is so sweet. 
JN: Maybe coming back to Chicago after the UK?
S: I hope so. I really like Chicago. This is my first time here. 
JN: Have you done anything fun?
S: No, it is has been two shows in two days. 
JN: Is there something you want people to know about you as an artist?
S: When I started writing songs it was instrumental video game music that I was producing when I was 13 years old. I was aiming to become a composer for video games. That is how I started making songs. In the early stages I didn't use my voice at all until I became older. 
JN: What is your favorite video game?
Interviewed by Jerry Nunn. Jerry Nunn is a contributing writer to the GoPride Network. His work is also featured in Windy City Times, Nightspots Magazine and syndicated nationally. Follow @jerrynunn
Serving the Chicago gay, lesbian, bisexual and transgender communities. ©Copyright 2019 GoPride Networks. All rights reserved.