A GoPride Interview
Spencer Ludwig
Rising star Spencer Ludwig brings the groove
The LGBT community knows how to have fun.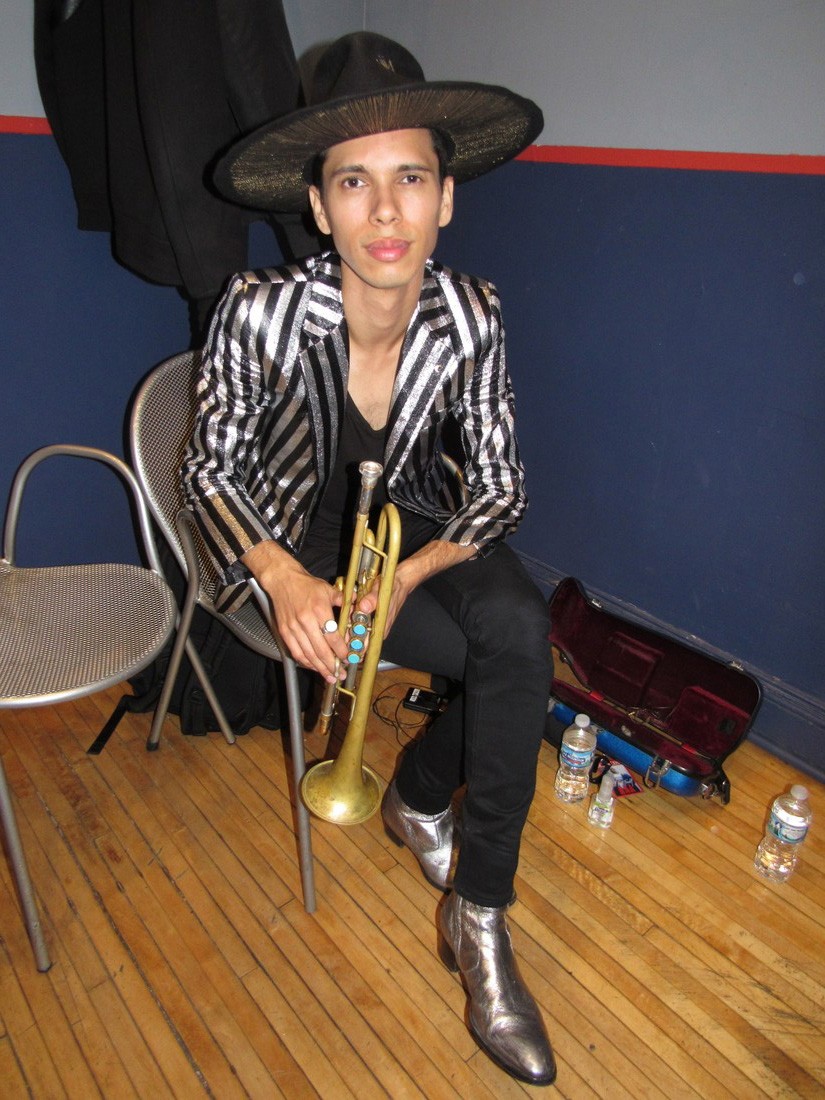 photo credit // jerry nunn
Spencer Ludwig blew up the world of music with a stand out performance on the trumpet for Capitol Cities. As a former member of the band, his playing was heard on the international hit "Safe and Sound."
He also performed with Foster the People, Fitz and the Tantrums, and St. Lucia. 
Ludwig now is a solo act with singles "Diggy" and "Right Into U." 
While out on tour with Bebe Rexha, he spoke backstage about his career on the rise.
JN: (Jerry Nunn) Hi, Spencer. Have you been to Chicago much before this?
SL: (Spencer Ludwig) I have played several of the Rich Melman venues like Studio Paris. Nightclub, The Underground as well.  This was post Capital Cities to do DJ sets. I would play trumpet and DJ. 
I wasn't improvising original music. I was hungry to make a name for myself as an original artist. 
JN: I interviewed Capital Cities at a music festival one time. When the group performed I remember you sticking out from the rest of the band. 
SL: Thank you. I came into myself as a performer with Capital Cities. I discovered the fun of the stage and the potential of being a performer with them. 
JN: You have been performing since you were very young?
SL: I went to a a very eccentric art school in Los Angeles. I started gigging when I was 16 years old. I was playing little venues and joining garage bands. I played the Sunset Strip, The Viper Room, and The Roxy. 
JN: You are from California?
SL: Born and raised in Los Angeles. I went to high school and college out there. I moved to Brooklyn three years ago. I love it there. 
JN: What is your ethnic background?
SL: I am half Filipino and half Russian American. 
JN: Do you speak any foreign languages?
SL: I am working on Spanish. I don't fluently speak any other language other than music, which is the universal language of the world. There is an alphabet associated with it. I really consider it a language. 
JN: Did you consider yourself a band nerd a school?
SL: I did. I didn't play trumpet all throughout high school, just my last year. Before that I was playing French horn in an orchestra and saxophone. That is about as nerdy as it gets. I have always been a band nerd, but I didn't have a trumpet foundation. I studied the trumpet once I got to college, then I focused on jazz and the fundamentals. 
JN: Did you like the movie Whiplash?
SL: That was my experience. I had a really hard, dramatic jazz band teacher. When I saw that film I felt like I was watching my high school. The teacher would say, "You will remember me when you think you are doing well. You will remember me telling you, You suck!" That was his way of encouraging us. It worked with me, because I am competitive. I wanted to prove him wrong. He might have known that, but either way that was his style. 
A lot of great musicians came out of my school. 
JN: Who is French Horn Rebellion?
SL: They are local New York guys. The artists that surrounded Capital Cities was very small. We got to know each other on Twitter or Soundcloud. We just bonded. I was very lucky because when I played on the Capital Cities album I was asked to be featured on their album. I was on their album. I was on many albums as a trumpet player. Since being singed to Warner Bros. two years ago moving forward my features will be trumpet and vocals. The time of just playing trumpet is a thing of the past for me. I am really focused on singing, songwriting, and trumpet playing. 
JN: Being your own artist is your goal then?
SL: For sure. Very shortly mid way through Capital Cities I felt like I wanted to earn all of this myself, and not ride anyone else's wave. I got here on my own. 
I had been hoarding this music for a year. It finally brought me back into the cycle of traveling here in Chicago. 
JN: Do you have a release date for an album?
SL: Not yet. We are just playing coy with the people. We want to see how they are reacting and which songs they are reacting to. We are taking our time. The album is done, and completely finished. We are watching the numbers on Spotify, and Apple Music to decide on the right time. 
JN: Are you dying to release the music?
SL: I was, but I see other artists dropping album with a month of buzz, then it disappears. I have this artillery to release over time. It is helping to build momentum and interest. It is a bigger story. 
It is coming out this year, but more material might come out before the album. 
JN: Do you like comparisons to Prince or Bruno Mars?
SL: I love that. First of all they are influences of mine. I tried to create a style that incorporated the best characteristics from those genres and artists. If people recognize that I am glad. 
JN: Talk about the dance moves on "Diggy."
SL: I feel like a little bit of choreography goes a long way. It adds a little to the show. I personally enjoy seeing that in other performances. I tour without a full band. We have to make up for the energy a drummer, bass player, and guitar player would fill. Choreography lets the audience gaze back and forth. I think perspective is important too. 
I like to climb things. Since this is not a headlining show I don't have the full stage to walk around. I don't want people to just look forward. They are looking up, down, or to the side. That is what the dancing is doing. 
JN: The video for "Diggy" had a diverse group of people in it. 
SL: It was important to have a diverse cast for me, especially being a mixed race myself. I didn't want all one color, plus I like the look of the ambiguous characters. 
The dancing was very important. I wanted distinct moves to be considered the 'Diggy." That is displayed in the footwork of the video. I steal from the video and bring that footwork into the live show. The moves we do onstage are derived from the video. 
When I showed up for the video shoot they were just going to have the dancers dance around me. I wanted to learn the moves. I don't consider myself a professional dancer, but it is a good attitude to have. I am not special. Everyone can learn anything. You have to focus and put time into it. 
JN: Where did the song "Midnight Special come from?
SL: It is a story about my LA nights. I would come back from tour to Los Angeles. For 48 hours I would try to have the time of my life. I would tell my friends to meet me at a club in LA called Teddy's. The night would start there and it would keep going all night. It would start at midnight and keep going. 
JN: Where does your style come from?
SL: My dad and my mom were both very stylish. My mom was an international model. My dad was a boutique owner. He had a clothing store that sold clothing from around the world. They always looked the part. 
It is comfortable and natural for me. I like to put something on for the show. It is like going to work. My work is the stage and having an outfit is important. 
JN: You are being marketed to the LGBT community. How do you feel about that?
SL: I love it. The LGBT community knows how to have fun. I can appreciate that. That is what my music is supposed to provide. It is to cater to the audiences that have a good time. 
I have been going on a parallel tour going into LGBT clubs. Sometimes those are the better shows, because I walk in and they are ready for a good time. It is easy and fun. That is how it should be, so I enjoy it. 
I also love the parallel of how disco broke in the '70s which was through those clubs and the DJs spinning music. I feel that is what I am doing. I am trying to break through in an underground way. 
JN: Are you still going to DJ?
SL: I will but I want to throw in original material. There will be a song, make sure there is a mic to sing, play the trumpet a bit, and have a mix. 
JN: Let's play the Nunn Name Game. One word to describe these artists you have worked with. Foster the People?
SL: Falsetto.
JN: Fitz and the Tantrums?
SL: Golden. Every song he writes is award worthy. 
JN: RedOne?
SL: Genius.
JN: Cherub?
SL: Party.
JN: St. Lucia?
JN: Genuine. 
JN: Bebe Rexha.
SL: Hot. 
JN: Katy Perry?
SL: Queen.
JN: What are the rest of your plans for 2017?
SL: To tour nonstop. I don't want any days off. I took two years off to make the music, now I want two years of no breaks. I want to share this music. I want to reach bigger audiences. I tasted a big tour with Capital Cities, but I want to do this my way. I don't want it to stop!
Interviewed by Jerry Nunn. Jerry Nunn is a contributing writer to the GoPride Network. His work is also featured in Windy City Times, Nightspots Magazine and syndicated nationally. Follow @jerrynunn
Serving the Chicago gay, lesbian, bisexual and transgender communities. ©Copyright 2019 GoPride Networks. All rights reserved.