A GoPride Interview
The Posies
Picking The Posies Backstage
That song is a surreal examination of the times we live in.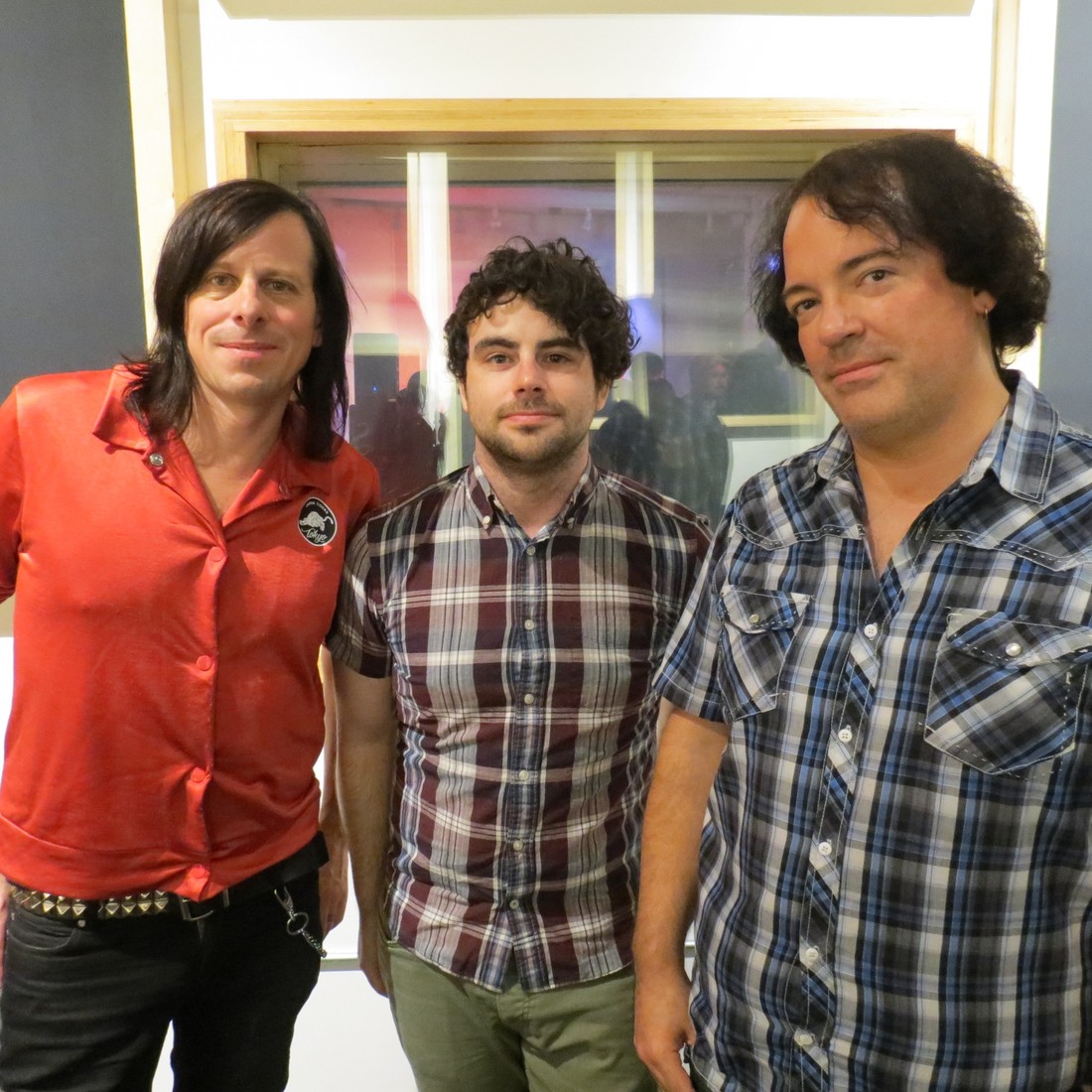 photo credit // jerry nunn
The Posies talk backstage about music, Michael Stipe, and new member
The Posies had a string of radio hits with "Golden Blunders", "Dream All Day" and "Solar Sister." The band formed in Washington with core members Jon Auer and Ken Stringfellow. They graduated to major labels and released several albums. 
They performed with Burt Bacharach on his song "What the World Needs Now Is Love" for the Austin Powers soundtrack. 
Their eighth album Solid States was released this year with a first single titled "Squirrel vs. Snake." 
Nunn had dinner with the band to discuss this latest album before a Chicago show. 
JN: (Jerry Nunn) You both have been in the band since the beginning?
KS: (Ken Stringfellow) Jon and I formed the band as we were best friends in high school. We had different bands together. I was 14 and Jon was 13 when we first started playing together. This was about 34 years ago. 
Jon's dad had a home studio so we just played around in it after school for kicks. We started making well crafted songs that didn't rely on anything other than their own composition to exist. 
This was during a time of dance music revolution. All the things we take for granted in the EDM world were being invented in the '80s. Pop music coming out we felt relied on the production value. We wanted to do songs that went the opposite way. Our songs could survive without any production value. We set out to record for those tunes. The first album was just the two of us. We had played two acoustic shows at that point so there wasn't really a band. It was more of a concept. 
JN: Did you have a name yet?
KS: Yes. We out it out as The Posies. We released it on cassette in 1988. Things began to happen with the radio almost immediately. 
JN: College radio?
KS: Commercial radio. We were on both. We had put the cassettes in a couple of record stores and we didn't think they would even look at it. Within 72 hours they were playing it on the radio. We were not really prepared for it. 
I found two friends that lived up the street from me to play gigs with us. This all happened in 16 days. We went from zero to one hundred. 
JN: You put out several solo albums. What inspired that?
KS: The pace never really slowed down. After ten years of making albums I don't think we had time to appreciate what we had. It was time to do something else at that point. 
JN: Is anyone still living in Washington where the band is from?
KS: It is just the three of us now. Jon and I both live in France and Frankie lives in LA. I still feel like a Seattleite. My friends and family live there. When we play Seattle it is considered a hometown show. 
JN: When did you join the band, Frankie?
FS: (Frankie Siragusa) I joined in March of this year. I have been interfacing for a couple of years. I have known Ken since 2012. I worked on his last solo record. 
JN: What took so long to make this latest record?
KS: We do a lot of different things. I think doing things with long breaks in between allows it to be surprising and fun. We are definitely in the opposite of a routine. 
We want each album to be a unique statement and not rehash things. 
JA: (Jon Auer) It also just worked out that way because we have so much going on. We didn't plan to have such gaps between each record. 
JN: What did you want to do differently with this album?
KS: We didn't want to track it in a studio with a traditional live band sound. We wanted to do something more fanciful than the puritanical approach. I think we needed to break the mold as a band. That gave us the opportunity to use other types of sounds, and put those sounds in the forefront. We added Frankie playing drums after the fact. 
JA: We didn't think about how we would perform it live, we just went for it. We found out a computer greatly helps. We are playing to some tracks as well. Frankie is from a generation that is used to playing with metronomes. He plays with a machine like it is normal. 
JN: You must learn a lot from them, Frankie.
FS: I have been learning from them since 1983. 
KS: The last drummer we had played with died out of the blue after playing with him for 15 years. We had Frankie join after getting to know him helping out on projects. He knows everything about our music. 
We know what it is like because Jon and I are huge fans of Big Star. We wound up playing with the reunited version of the band. I was an R.E.M. fan in high school and played with them. 
JN: What happened to Michael Stipe?
KS: He's relaxing. I think he felt a lot of pressure to look a certain way as a performer. He's married and happy. 
JN: I asked Natalie Merchant one time if she knew he was gay when they were dating. She said they were really together as a couple. 
KS: He used to alternate between girls and guys but I think gay just finally occupied his interest. He's a very open minded person. 
JN: Where did the song "Squirrel vs. Snake" come from?
KS: That song is a surreal examination of the times we live in. It is an actual YouTube video that I saw. 
FS: Guess who wins?
JN: Sounds like a sad ending…
KS: I am not sure the snake wins. Squirrels are assholes!
Interviewed by Jerry Nunn. Jerry Nunn is a contributing writer to the GoPride Network. His work is also featured in Windy City Times, Nightspots Magazine and syndicated nationally. Follow @jerrynunn
Serving the Chicago gay, lesbian, bisexual and transgender communities. ©Copyright 2019 GoPride Networks. All rights reserved.