A GoPride Interview
DJ Seth Breezy
DJ Seth Breezy blows into the Windy City for IML Weekend
Wed. May 18, 2016 by Anthony Meade
I'm really looking forward to bringing the sexy tribal beats for you guys this year.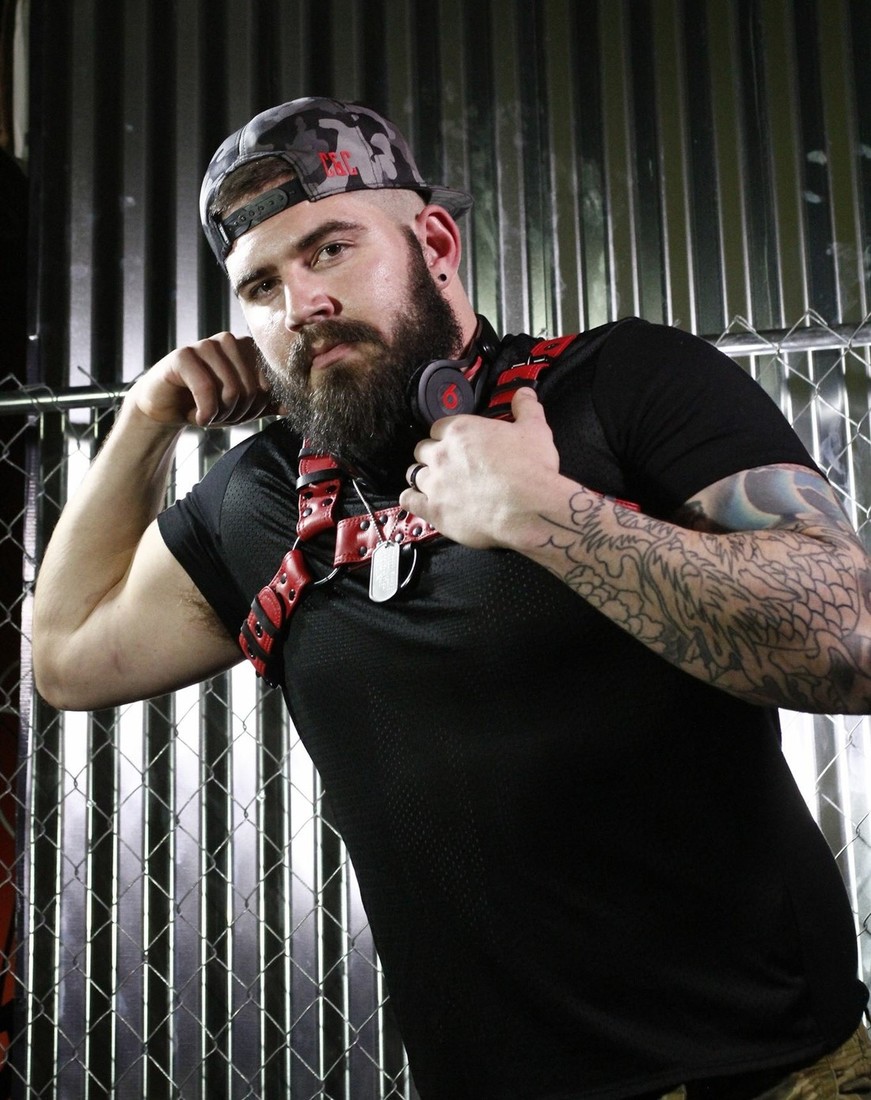 It's about to get Breezy in the Windy City this Memorial Day weekend when Atlanta (Zion, Heretic, Jungle) DJ Seth Breezy makes his IML debut on May 27 at Chicago's Manhole. DJ Breezy has played crowds in Atlanta, Toronto, Austin, Dallas and San Francisco. He has also DJ'd charity events such as Bear BBQ "Ready for Hope" in Atlanta and the Purple Party in Dallas.
With his education in audio engineering and production, Seth is not only branding himself as a DJ/Producer, but he is also the co-owner of the Atlanta-based event production company, BeefyBoy Events, along with his partner Kevin Rusie. The duo, who are also planning a wedding next year, have been igniting the southern nightlife for years and are now - for the first time outside of Atlanta - ready to take on the IML crowds in the Windy City. DJ Seth Breezy is also a resident DJ with the number 1 gay dating app in the world, SCRUFF, as well as the very popular gear fetish company, Fort Troff.
DJ Seth Breezy will bring his tenacious beats and heavy drops to Manhole's IML opening party. ChicagoPride.com photographer Anthony Meade spoke to Seth from his Atlanta home, which he shares with partner Kevin.
AM: (Anthony Meade) When did you start DJing? What or who were your early passions and influences? What inspired you to become a DJ?
SB: (Seth Breezy) I first started DJing in 2008. Shockingly my first passion was not music, basketball was always my first love. After becoming more comfortable with who I was, I turned to music and found another new passion for mixing music, this is where DJs/Producers like Peter Rauhofer really influenced me.
AM: What do you personally consider to be the biggest moments in your artistic career so far?
SB: I recently had the opportunity to spin the first half of the closing party for Dallas Purple Party. I feel like that performance was my introduction to the big leagues I think I nailed it.
AM: What are your biggest challenges as a DJ? What is it about DJing, compared to, say, producing your own music, that makes it interesting for you?
SB: The biggest challenge for me as a DJ is that I am always trying to out perform myself. Each set I try do better than the last time I performed. I think producing my own tracks keeps me always working and keeps my sets fresh.
AM: How important is building a real relationship with the music you're playing for your own approach? There's so much music out there, is it even possible to build meaningful long-term relationships with and artist or CD?
SB: It's very important. If I'm not into the music then you it shows in my set. I play tracks that are 5+ years old so I manage very long relationships with my music.
AM: Is there a criteria other than pure subjectivity, for selecting what to play at a gig? What would you say is the DJ Seth Breezy sound?
SB: The DJ Seth Breezy sound is chuggy, very percussive, big builds, and emphatic drops.
AM: Thanks to developments in software, DJing, playing live and producing have moved closer together than ever before, allowing DJs to change a track down the tiniest detail. How do you make use of these possibilities in your sets and is there a benefit?
SB: I use Traktor while DJ, this gives me the ability to create loops on the fly as well as sample sounds from other tracks to use as instruments for upcoming tracks.
AM: Audience is crucial for a DJ, and yet it seems to be a fragile one. How do you see the balance between giving the crowd what they want and treating them to something new?
SB: I always start off my sets with playing a couple popular fun vocals to gain the audience's trust. After you gain their trust it is a lot easier to then start your journey with them.
AM: What's your perspective on the relationship and the balance between technological advances, music and the art of DJing? How have particular technologies changed your style of DJing?
SB: I started off as a bedroom DJ. Mixing my two fave tracks together was something I would do through DJ softwares such as Serato and Traktor. I think they are great tools for learning how to start DJing but should not be relied on so heavily.
AM: You have been playing in Atlanta at the Heretic and the Jungle regularly for over a year now. You have played Chicago, Austin, Dallas, Seattle. Do you keep in mind the city that you're playing in when you are making a set for that particular event or gig?
SB: I always take the city into consideration when building my set, although back to my previous comment, I've learned that if you gain the audience's trust early then you have more mobility to do what you want.
AM: You have done a lot in a very short time. You DJ'd in Chicago this past January at Manhole. This will be your first time playing IML here in Chicago. Are you excited about it? What can the IML audience expect from you?
SB: I'm very excited about it. IML holds a very special place in my heart. The Victory Party in 2011 was my first time attending a big party and now having the opportunity to DJ an event during IML weekend feels great. A lifetime goal of mine is to DJ the Victory Party. [laughs] 
AM: Is this your first time to IML? What do you think of the culture and the history about the Leather Community?
SB: I've attended IML a total of 3 times now. I love it. The vibe from the people is very inviting and relaxed. I think the culture and history of IML is fascinating. The men and women who are behind this weekend are very dedicated to the life. IML isn't just a weekend for a lot of these people, It's every day. I find that very respectable.
AM: You lived in Chicago briefly before returning to Atlanta. What was some of the things that you like and love about Chicago?
SB: I love the people of Chicago. For the short time I lived there I felt as if I was very accepted. The thing I miss the most for sure is Hollywood beach.
AM: What else professionally and personal do you have lined up the rest of the year? I understand wedding bells are in the very near future.
SB: Kevin and I are planning a wedding in the next year for sure which is so exciting for both of us. Professionally I will be in Toronto (Pitbull) on May 21st, San Francisco (Dore Alley) July 31st, and Atlanta (Xion Halloween) October 30th.
AM: Thank you for taking time for this interview. Any final thoughts or words for your Chicago IML audience?
SB: I just want to say thanks to all of my Chicago family for always having my back and support. Thank you for the guys over at Manhole for bringing me out again and I'm really looking forward to bringing the sexy tribal beats for you guys this year. 
Beefyboy presents GRUNT with DJ Seth Breezy, Friday, May 27 at Manhole in Boystown, Chicago.
Interviewed by Anthony Meade