A GoPride Interview
Joe Fiore
Having a (Fur)ball!: an interview with Joe Fiore
It's gonna be a one of a kind, memorable night for Chicago. Fun, furry and festive for all!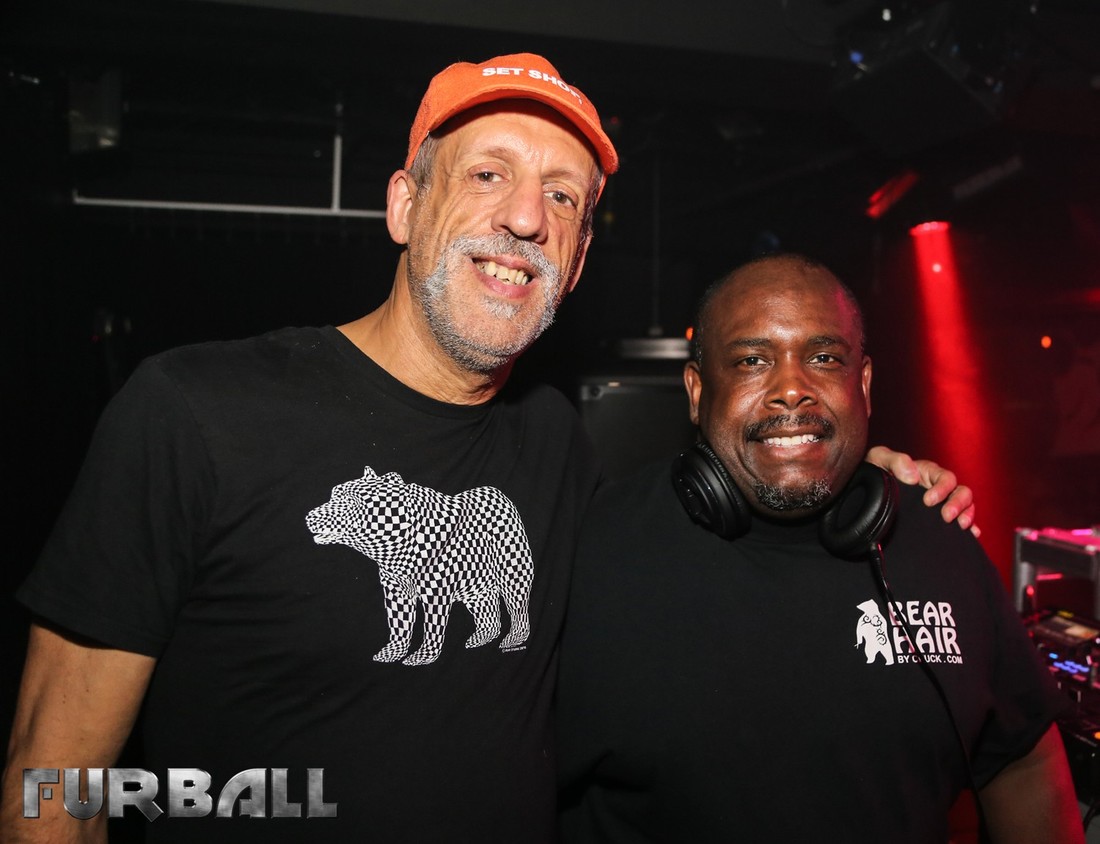 joe fiore with dj corey craig, furball nyc, jan. 2015
Furball brings all the fun you can "bear" to Chicago's Metro.
Joe Fiore knows how to throw a party. The creator of the national bear dance party Furball (that's right, bears like to dance, too!), Fiore, and his company Joe Fiore Productions, have been organizing parties for 10 years. They do it all, from creating to promoting to spinning.  Starting off by managing Dance:208, charity fundraising dance parties at the New York LGBT Community Center, Fiore worked with world-class DJs such as Hex Hector, the late Frankie Knuckles, Man Parrish and Honey Dijon. Fiore has created numerous New York parties including Cubhouse, Furball, Rockbear, Underbear, Drenched at Rockbar, Mr. Black, Element, and Santos. He also co-created Keep On Dancin' and Mustache Garage. As a promoter, Fiore made his mark with XXL-NYC, Black Party and Blowoff.  Furball parties are now held in New York and Provincetown, with theaddition of New Orleans and London this year. I spoke with Fiore prior to the Furball in Chicago, taking place on May 23 at Metro (http://metrochicago.com/furball-chicago-052315/). For more info on Furball, visit www.furball.nyc.
Gregg Shapiro: Joe, how did you become involved in party planning and promoting?
Joe Fiore:   I always wanted to be a DJ and loved dancing.  I wanted to help out behind the scenes to learn more about DJ'ing and wound up being pushed up front running parties.  I volunteered for the NYC LGBT Center dances and wound up running 18-20 dances a year! I then took my show on the road.
GS: What was the first party you planned and promoted?
JF:  Dance:208, the dance fundraisers for the NYC LGBT Center. Two dances a month from September to July (featuring musical styles such as) '80s, garage, classics and prom.
GS: What's the formula for a successful party?
JF: Know your crowd. Early on, an established promoter gave me the advice to figure out who my crowd was.  (Also) great music! You can have everything else but if your music isn't igniting the  crowd your party is dead in the water.
GS: How would you say that the gay party scene has evolved over the years?
JF: It's gotten more splintered. (It) used to be you could do a weekly party and everyone showed up. Now every party has to be an event [laughs]!  Also, with the internet and all the apps, it's harder to get folks' attention and keep it. But not impossible [laughs].
GS: Do you have an all-time favorite party that you planned and promoted?
JF:  Furball with Frankie Knuckles as DJ.  Frankie spun for me three times for Furball and it was like having James Brown sing at your birthday party [laughs]!
GS: Do you have an all-time favorite party that you attended that someone else planned?
JF:  The Folsom Street Real Bad party in San Francisco this year was pretty amazing, as well as the last Black Party at Roseland NYC.  (Some) other favorites were Blowoff, Body & Soul and Horse Meat Disco.
 GS: Do you still attend all or most of the parties that you plan and promote?
JF: Yes.
GS: What is the genesis of Furball?
JF:  It started off as one of the Dance:208 parties at the NYC LGBT Center.  There was much resistance, and I had to persist for over a year due to the assumption that "bears don't dance."  I got the community to back me and threw the first one in January 2004 with DJ Jack Reina. People thought there'd be a small turnout. 500 people showed up [laughs]. And the second event drew almost a 1000 people!  Obviously, bears like to dance. They just don't like to be judged, which they often were at mainstream gay clubs.
GS: How many Furballs take place in any given year?
JF:  Right now there are four in NYC, one in Chicago and one in Provincetown.  But I am going to debut Fire Island Furball in June as part of the first ever Fire Island Bear Weekend. And I am on the verge of signing on three more cities.
GS: How would you say that Furball differs from city to city?
JF:  The basic character stays the same – furry, sexy, good music, cheap drinks. But the timing or the music may differ a little.  Obviously the promotion may also vary from city to city. A party at a seaside resort is different than one in November in NYC [laughs]!
GS: Is there a city in which there isn't a Furball in which you would like to schedule one?
JF:  I would love to do a Furball in Vegas or in Sydney during Mardi Gras!
GS: From your perspective, how has bear culture evolved over the years?
JF:  It's gone from being a subculture to mainstream with all the positives and negatives which that might imply.  I found that years ago it was a much more exclusive culture but there has been a sea change and it has become much more inclusive of all types and runs the gamut from traditional old school bear runs and beer blasts, to bearded hipster parties in the woods or alterna-bears and musclebears!  Everybody wants "bears" now. There was even a bear in a major role in HBO's Looking.  But there is still a solid hardcore bear community with its own tribal rituals and meeting places.
GS: What can people expect from the Furball at Metro in Chicago in May?
JF:  Last year was Furball Chicago's debut during Bear Pride/IML weekend with San Francisco/Australian DJ Paul Goodyear and local talent DJ Ron Geronimo who made their Furball debut. We far exceeded expectations and got 800 folks in attendance and lines down the street! This May 23 I am very excited to have London DJ Hifi Sean make his Furball debut alongside Ron again.  This time people are anticipating the party so I think it could be even bigger.  The roof is gonna blow off the Metro [laughs]!  Ironically, Hifi Sean has previously played Metro Chicago as Sean Dickson in the `90s band Soup Dragons!  Metro is an amazing historical venue.  We will have a nice mix of Bear Pride, IML crowds and locals, with gogo bears and cubs. There will be drink specials, visuals and lots of room!  The space and the energy was amazing last year. I expect it will be again, adding in the holiday weekend vibe.  It's gonna be a one of a kind, memorable night for Chicago. Fun, furry and festive for all [laughs]!
Interviewed by Gregg Shapiro. Gregg Shapiro is both a literary figure and a music and literary critic. As an entertainment journalist, his work appears on ChicagoPride.com and is syndicated nationally.