A GoPride Interview
Erika Jayne
'Pain Killr': Erika Jayne talks about her hit single and upcoming show at Roscoe's
I feel very at home with gay and lesbian community. They have been very accepting of my records and my shows.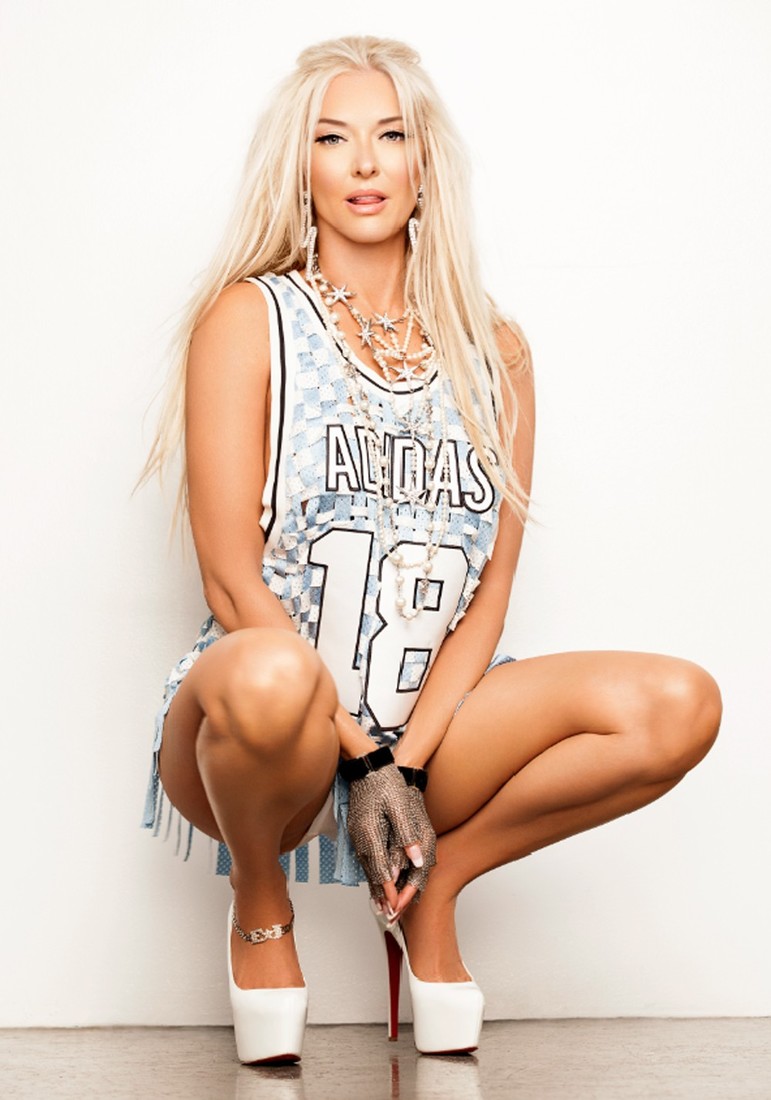 photo credit // joseph labisi
Pop singer Erika Jayne has built an impressive resume in the dance world. She recently landed her seventh Billboard dance hit with 'Painkillr', putting her in a category with Rihanna.
Now she is working on an upcoming EP with support from producer Scott Storch, Semi-Precious Weapons and Flo Rida.
Jerry Nunn spoke with the songtress about her hit single, new album and her upcoming show at Roscoe's.
JN:
(Jerry Nunn) Hi, Erika. Where are you calling from?
EJ:
(Erika Jayne) LA.
JN:
You are a southern girl living in LA now?
EJ:
Yes, Atlanta born and raised!
JN:
Do you watch the Atlanta Housewives on Bravo?
EJ:
I do not.
JN:
You are returning to Roscoe's. It has been awhile.
EJ:
It has been a couple of years. I am super excited though.
JN:
I interviewed you at the venue last time you were here.
EJ:
When it was snowing.
JN:
It was freezing.
EJ:
But it was fun. I had a good time.
JN:
You have been going out to gay bars as part of a tour recently.
EJ:
Yes, we have been out promoting in the LGBT community.
JN:
What is your connection with our community?
EJ:
I feel very at home with gay and lesbian community. They have been very accepting of my records and my shows. It is always great to have that kind of fan base. I enjoy performing for my gays, you know? That is the way it is.
JN:
One of my friends wears your t-shirt all the time.
EJ:
Well, I am going to be throwing out some more so tell your friend to get there!
JN:
You just recently traveled to Asia?
EJ:
Yes and I am getting ready to go back. December fifth is my first show in Korea in Seoul. I will be performing around Asia until the 17 of December.
JN:
What are the fans like there?
EJ:
They are great and super fans. I have song called "You Make Me Wanna Dance" that was specifically tailored for the Asian market. We made a cool video for it in Manila over the summer. It is a great project for me and a great fan base. They could not be more supportive and just cool people.
JN:
The fashion is interesting isn't it?
EJ:
One hundred percent. It is very creative with lots of color.
JN:
How long is the flight?
EJ:
I want to say about 14 hours but it is worth it.
JN:
The latest song is called 'Painkillr.' Is there a video out?
EJ:
There will be one out within days. It's really hot. I'm very proud of it.
JN:
Are there black feathers involved?
EJ:
You saw it on Instagram, yes, but I think it is more marabou.
JN:
What is the inspiration behind this song?
EJ:
It is from a darker, grittier place. I wanted to escape a little bit so that is why I wrote a song about it.
JN:
How does it feel to have seven songs on the Billboard charts?
EJ:
I think the first record 'Rollercoaster' was 2007 so seven years ago. It feels great to have seven number ones. What is better than that? I don't know.
JN:
You have accomplished a lot in a short amount of time.
EJ:
Well, thank you. I try to keep myself super busy and achieve goals I set for myself.
JN:
You have an upcoming EP coming out?
EJ:
Yes and I have a new single coming out called "Crazy" which is produced by Scott Storch. We made a great video to it. That should be out within weeks. So that is a few different projects going on in different parts of the world at the same time.
JN:
So working with Semi Precious Weapons on new music too, does that make it more rocking?
EJ:
Oh my god, I love Justin Tranter!
JN:
He's very nice.
EJ:
Yes, exactly.
JN:
His personality is very strong.
EJ:
I was just talking to him yesterday. I love Justin. He's a star.
JN:
Lady Gaga used to open for him.
EJ:
Right. He could explode at any time. He's a real performer. He sings, writes, and the guy is incredible.
JN:
You worked with Flo Rida. How was it working with him?
EJ:
He's a nice man and a gentle guy. He's sweet.
JN:
It looked like you bonded well for the video "Get It Tonight." I saw some chemistry.
EJ:
Hey now, you got to pretend you like each other. Listen, he was a nice guy and it was a fun video to shoot.
JN:
When I met him his ring was so big that it scratched my hand.
EJ:
Oh that big blue diamond?
JN:
Yes!
EJ:
I agree, it is big and he squeezed your hand really hard, right?
JN:
Yes.
EJ:
It broke my hand too so we are in the same group. I feel the same way.
JN:
I guess we have our thing to remember him by. That's really funny.
EJ:
Yes, we bond over Flo Rida's ring cutting our fingers.
JN:
What is something about you that people don't generally know about?
EJ:
I'm a crazy, southern, loud tomboy at heart. That is who I am. I love being Erika Jayne. She is great but no one could be Erika Jayne 24 hours a day seven days a week. She's exhausting. She's over the top all of the time. I'm a simple girl from the south. I love to eat and play with my animals. I love my friends and family. I am just a normal human being like everyone else.
JN:
I like that side to you because people don't see that onstage.
EJ:
Well here is the thing. We are in the fantasy business. Erika Jayne is a fantasy character. She's a real part of me but not 24 hours a day. Nobody can keep that up. To borrow from Rita Hayworth, she said she wasn't Rita 24 hours a day. No one can be Marilyn Monroe all day either. Maybe Joan Crawford could herself 24 hours a day! If anybody could I bet you she could, honey.
JN:
Do you miss southern food living in LA?
EJ:
Yes, yes, yes. My grandmother, who is ill with Alzheimer's now, always made fried chicken, mashed potatoes, macaroni and cheese, even fried okra, which I know sounds gross but I like it. I love all of that good ol' stuff like biscuits.
JN:
You just described my refrigerator. I grew up in Tennessee.
EJ:
Where?
JN:
Close to Nashville.
EJ:
I have some cousins that moved to Nashville. They love it.
JN:
I miss the food.
EJ:
I miss the food, too. All of that good cooking.
JN:
I hear your accent coming out now.
EJ:
It's always when I am around a fellow southerner. When I have a cocktail or two it really comes out.
JN:
When I have a margarita it's all over.
EJ:
It's, "Hey, how y'all doin'?" We turn into rednecks.
JN:
I feel like I got to know you better in this interview.
EJ:
Probably because we were in a loud bar and it was freezing outside.
JN:
I will come see you again at Roscoe's.
EJ:
Please do. Come say hey and we will have a shot or drink.
JN:
Sounds good!
Look for sweet Jayne at Roscoe's, 3356 N. Halsted St., on Friday, Nov. 7. Visit roscoes.com for more information.
Interviewed by Jerry Nunn. Jerry Nunn is a contributing writer to the GoPride Network. His work is also featured in Windy City Times, Nightspots Magazine and syndicated nationally. Follow @jerrynunn